With summer in full swing there are a number of products people typically start looking at. Among the most common is evaluating their speaker needs, as they begin to party, go on adventures, or just hang out in the sun. One of the more popular choices is Monster's recently released DNA Max speaker. It boasts a number of solid features, including the ability to pair a total of 99 at once. Does DNA Max live up to this reputation, or are you better off buying something else?
Similar to Monster's headphones, DNA Max has lovely packaging. The slipcover shows various use cases, along with highlighting specific functions like wireless charging. Under that is a lovely box that flips open with a comment from Head Monster, Noel Lee, and everything neatly arranged beneath a protective cover.
Right off the bat Monster makes a strong impression by including a robust range of accessories. These include the same high quality USB-C cable found with their headphones, Qi wireless charger, and even a wall adapter. This is a massive step up from a number of other products out there, as even phones, tablets, and computers are starting to shy away from wall adapters.
Before moving onto the speaker itself, I want to talk about the included Qi charger. Since Qi is a standard, DNA Max can potentially be used with any wireless charger, along with the included stand working with phones, headphones, or whatever. The only downside is DNA Max's size/shape will limit which chargers work with it, along with the included charger requiring rather specific placement for a phone to charge. Still, the concept is much better than most speakers that only support a specific, often additional purchase, accessory.
I Can't Believe All of This is Included
At first glance I actually appreciate the direction Monster went with DNA Max. At 10″ x 5″ x 6.5″ it's distributed quite well. It will fit in my briefcases front pocket, or just barely in my Nomatic 6L sling outer pocket (won't zip though). Not only does it fit a wide array of compartments, there are no exposed areas to potentially damage the speaker when loading either.
That is just one of the surprisingly thoughtful design points. Like most IP67 Waterproof speakers there is a fabric covering design to protect DNA Max. Where Monster went a step above is adding a small area where the seam is to prevent that line from being present. This is something none of my other speakers do and it gives DNA Max a much cleaner look. That side also has a small gap for a lanyard or wrist strap. Technically this is also an included accessory, though it's so minor Monster doesn't even mention it's included.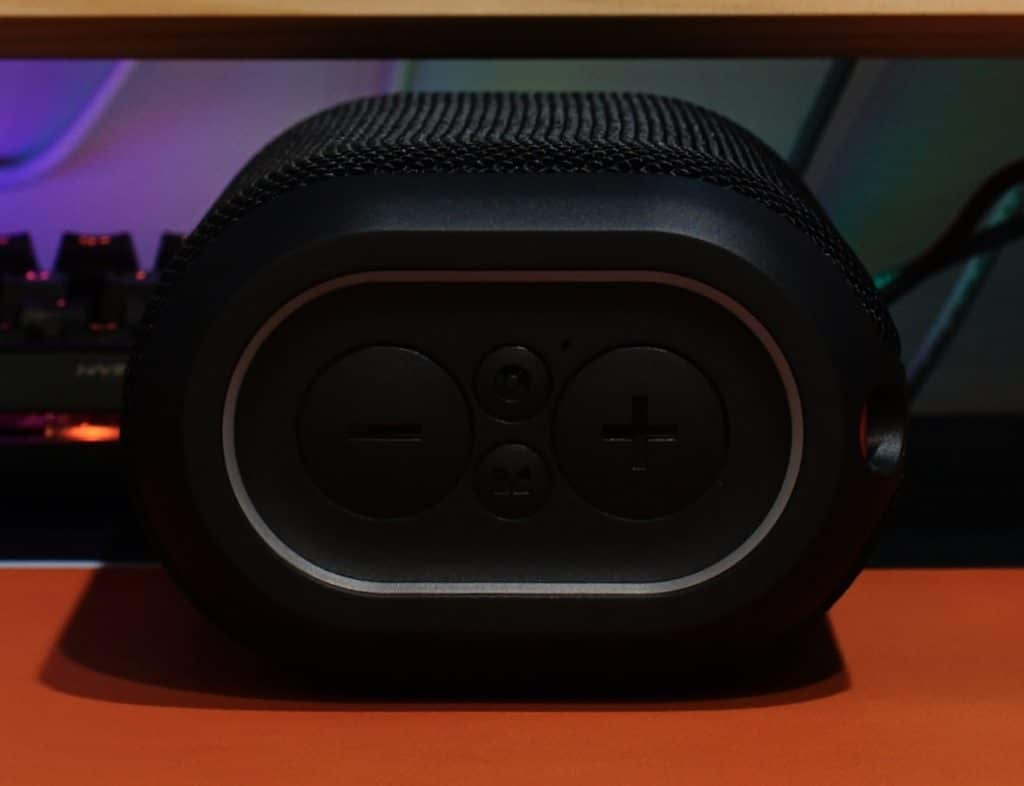 On top are four buttons. These include volume up/down, a toggle for party mode pairing, and power that doubles as play/pause when powered. There are some small touches, like increasing/decreasing volume has an illuminated visual cue what is going on, as does party, Bluetooth, and other things. The side also has a dedicated Bluetooth button if you want to quickly swap devices.
While Monster did a great job with look, DNA Max is a little on the weaker side for external connections. In fact, the only connection is a multipurpose USB-C connection. This can be used to charge DNA Max, or an external device. This works fine, though some might prefer other options like JBL Charge 5 using an antiquated USB-A port. Those hoping for a wired connection will unfortunately be out of luck.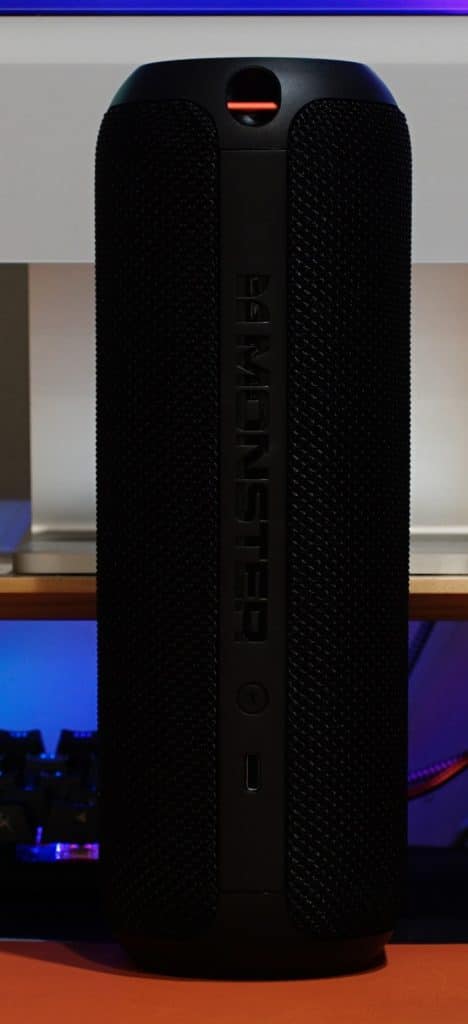 Performance is surprisingly good for a Bluetooth speaker. DNA Max boasts a feature called Omnidirectional Sound, which is designed to fill a space through four evenly distributed speakers. I can confirm regardless of placement I received pretty good sound from DNA Max. Even up close the two sides sounded so similar I couldn't actually tell which side had the logo without actually looking for said logo.
When playing some of my favorites DNA Max generally met expectations. Even songs with a lot of bass performed surprisingly well. I wouldn't say it's to the point where I discover new elements to my favorite songs, but there was enough where I could easily see myself using it at a party and being satisfied.
That said, I found more impactful songs, especially those with a lot of bass, sounded best with the included calibration. Given there is currently no application it can not be changed. This limitation also impacts things like the auto-off timer as well. Still, as a whole I'd take this over a good number of speakers I currently own.
Where it honestly worked best for me was paired to my XGIMI projector. It might not be the ideal use case, though it was small enough to pair well with any portable projector. With that the Omnidirectional Sound filled the room nicely for one activity or another.
Part of what helped DNA Max excel in this setting is the amount of power it can output. Even at low levels it's considerably higher than you might expect. With the right song loud enough it can actually be a somewhat oppressive sound.
Monster DNA Max Review Verdict
For the most part DNA Max is a pretty good speaker. Not only does it look great and fit in a wide array of locations, including every accessory you could want is a massive win. There are some annoying quirks, like the interference heard at low levels/shortly after a song is paused, or application support, but in most situations it's going to meet expectations. And with life getting increasingly mobile, it's a strong accessory to pair with a phone, portable game console, or even a projector in a wide array of colorful designs.
[
Editor's Note:
Monster DNA Max
was
provided to us for review purposes.]