Every company and person has a different answer to the wrist rest issue. Some include a hard plastic piece, typically held there by magnets, others do nothing and a few, like HyperX, make it an optional accessory. This product has remained a staple in their line up for years, but with new sizes and increased focus, the line up has expanded to include a full size, TKL, compact and even a mouse. Since we recently covered their Alloy Origins 65, I thought it would be nice to revisit this and see if it's the perfect accessories or just good in theory.
Similar to the other HyperX products we've covered, the packaging was updated in the same way we saw with the Pulsefire Mat. This makes sense, as this is arguably one of their simplest products. Even on the front it's described as a cool geek memory foam rest, along with the size of the product. Even on the back things are basically restated. On the inside is the rest, covered in a protective plastic bag and little more.
Unlike a lot of these reviews, I've actually had and used their original full size rest for a couple years now. Unsurprisingly, the look and feel remain the same, though the new ones make the logo a lot more visible, something that may or may not be due to the age, and overall feel. Unfortunately, it retains the same loose fabric, which if your experience is anything like my own, will eventually pool unattractively on the bottom. On a high note, the cooling gel remains active on the older one, something I'd expect from the newer one as well. Outside of that, the bottom has slightly larger rubber grips, something that honestly shouldn't make a difference as both remain firmly held in place.
One thing that is interesting about the various new sizes is how they all work together. With the mouse being about 9″ it's a little on the big side. It takes up a substantial portion of the area, with a lot of dead zone. Due to this, it can actually be hard to place where you want it, especially if you use a rest with your keyboard as well. With the others, usage depends on the product.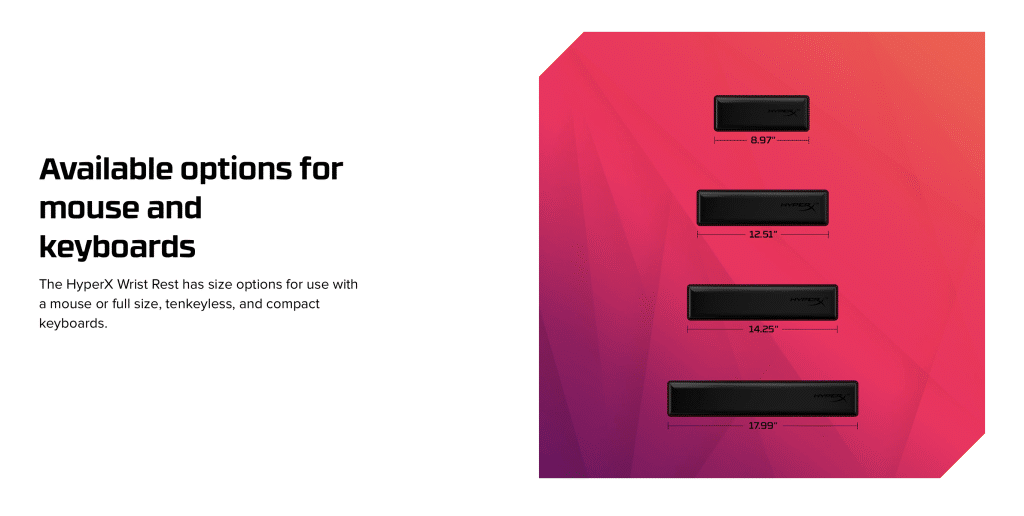 With the full size wrist rest on a combat keyboard there is about 6″ of empty space. It doesn't look nice, though it gives ample room for wrist placement. When using the compact, there is a small amount of extra space, meant to accommodate the 65, which looks great at either size. Unfortunately, the only one I lack, TKL, is a good compromise if you don't have great wrist placement. I personally keep them further apart, something that places my wrists on the edge of the rest, something that wouldn't happen with the TKL, even if that leaves a small gap.
An Idea of How the Various Sizes Look in Person
Another thing to keep in mind is how different sizes can be. Things like a Ducky keyboard or one of HyperX's Alloy Origin 60/65s will work fine with a compact, though it's always important to measure your existing keyboard. I have an Apple Magic Keyboard from when I bought my iMac and that leaves about 1.5″ of extra space. Many slimline keyboards like that or my really old HP one are going to be an issue, one that will likely require some compromises to use.
HyperX Wrist Rest Review
Having used a wrist rest for years, I do suggest one to anyone that does frequent typing. They do help and things like the cooling gel feel nice to the touch. That said, HyperX makes a solid product, it's just important to consider your needs. I would personally say the mouse is too big, especially if used with another rest, something that can also be true for a number of keyboards. It also isn't great when the fabric starts to pull and droop on the bottom, something that should happen at some point. Thankfully, they're not a massive investment and can be freely replaced overtime if need be. For these reasons I'd say if they match your need it's worth giving a shot.
[Editor's Note: None of the HyperX Wrist Rests were provided to us and was purchased at the reviewer's expense.]