Bungie released an expansive 16 minute look at their highly anticipated Destiny: Lightfall expansion.
The video touches on the narrative players can expect, upcoming Strand classes, and the vast array of quality of life improvements. There are also some hidden teases, like one player noticing a currently unrevealed exotic bow called Verglas Curve.
This video also builds on a number of details recently revealed that has players excited for Destiny's future. Yesterday, there was a new blog post dedicated to addressing concerns players had with the crafting system, with an outline of what to expect over the next year posted before that. Destiny 2: Lightfall also brings with it the highly anticipated armor changes, and more.
Similar to Destiny 2: The Witch Queen, Bungie has partnered with SteelSeries, and ControlFreek to offer uniquely designed accessories.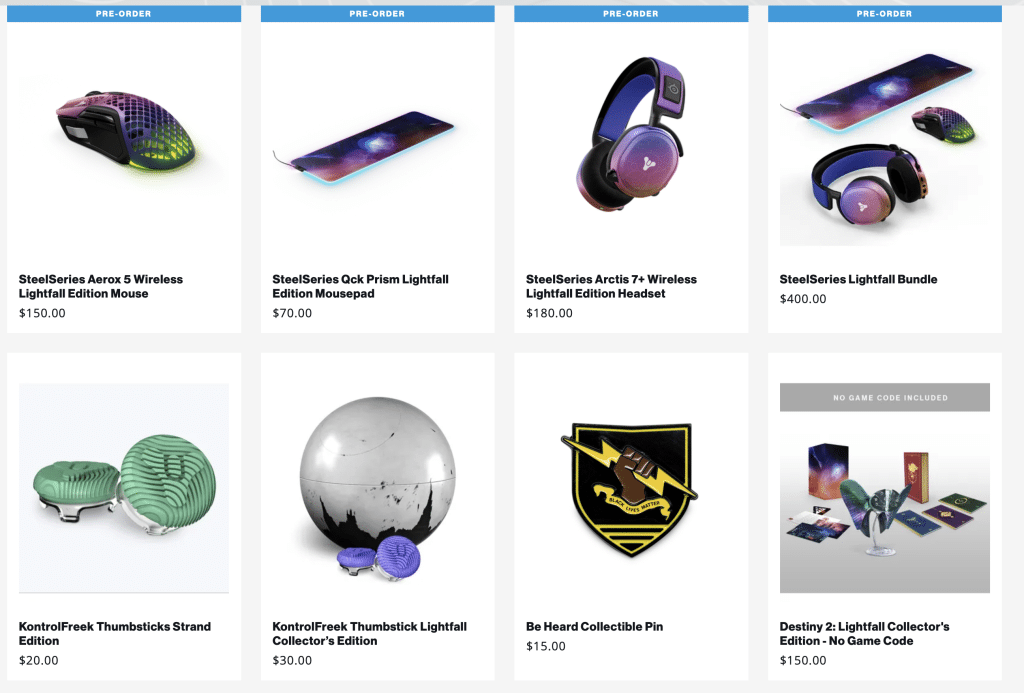 The collaboration includes a specially designed Aerox 5 wireless mouse, Qck Prism mousepad, Arctis 7 headset, and thumbsticks. These are all available through Bungie, SteelSeries, or ControlFreek for the following prices.
Arctis 7+ Wireless Headset | Destiny 2: Lightfall Edition – NA: $179.99 | EMEA: €199.99 | APAC: $199.99
Aerox 5 Wireless Gaming Mouse | Destiny 2: Lightfall Edition – NA: $149.99 | EMEA: €159.99 | APAC: $159.99
QcK Prism XL Mousepad | Destiny 2: Lightfall Edition – NA: $69.99 | EMEA: €69.99 | APAC: $69.99
Nova Booster Pack | Destiny 2: Lightfall Edition – NA: $34.99 | EMEA: €34.99 | APAC: $34.99
KontrolFreek Performance Thumbsticks | Destiny 2: Lightfall Edition – NA: $19.99
A blog post revealing the collaboration confirms players who purchase any of these items will also receive the Viral Celebration emote, and Luminescent Precision emblem.