When it comes to annually released sports games, it's usually hard for them to innovate all of the time. Most gamers feel like sports games only offer roster updates without improving the visuals, gameplay, and game modes.
We see this all the time with EA Sports' Madden series. Madden usually removes features yearly and brings back game modes to advertise them as "new." However, things are generally much better with 2K Sports' NBA 2K series. Thankfully, NBA 2K23 is not your average annual sports game because it features a mode that fans loved back in 2010. 
The main thing that makes NBA 2K23 better than most sports games is the fact that it adds the Jordan Challenge mode that first appeared in the legendary NBA 2K11. Instead of 10 challenges, 2K23 has 15 games that you have to play through as Michael Jordan.
The Jordan Challenge features games that defined Jordan's legendary career including his NCAA win, as well as many of his NBA Championship games. You will have to complete specific missions and quests if you want to earn all of the 45 stars to unlock some MJ rewards.
Some of the missions in the game may require you to score 63 or 69 points in one game. There are even missions where you have to get a certain number of rebounds or assists. The challenges aren't too tricky mainly because Michael Jordan mostly has a 99 overall rating throughout his career. It shouldn't take many gamers a hard time scoring many points as Michael Jordan!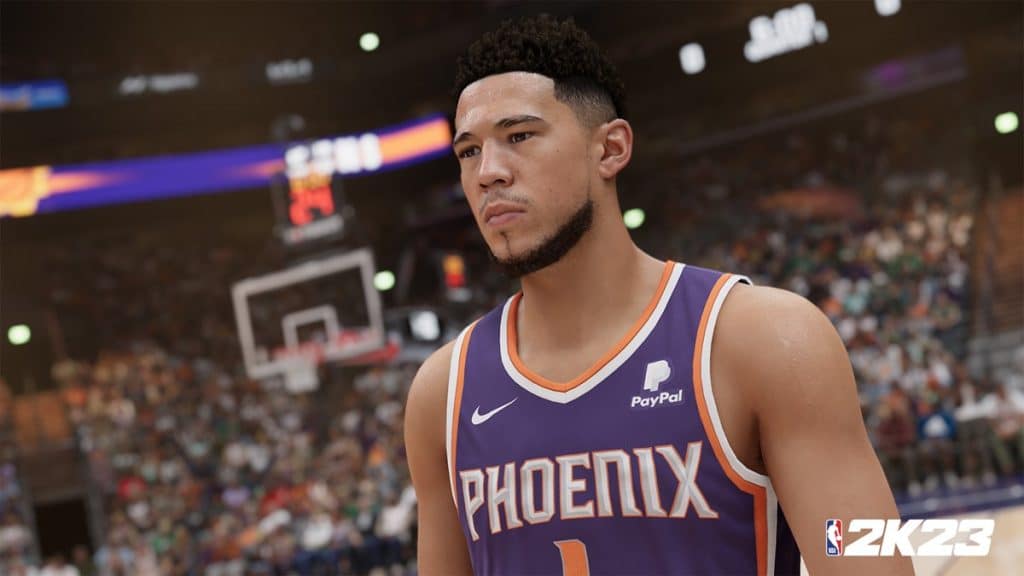 In terms of gameplay, I feel NBA 2K23 is slightly more accessible compared to NBA 2K22. If you change the game sliders, shooting and the overall gameplay feel much more forgiving compared to last year's game. The shot meter is much easier to time as all you need to do is let go at the top of the meter to get a perfect green-colored release. 
Graphically, NBA 2K23 is still among the best-looking games on the Xbox Series X. Every current NBA player has been faced scanned, and all of them look very realistic. You will also see the sweat on their faces as the game progresses. 
That being said, some legacy NBA stars look a bit off. Michael Jordan seems awesome, but a young Steve Kerr has beady eyes. It's strange because the older coach version of Steve Kerr looks accurate. 
Outside of the Jordan Challenge, many of the same game modes from past games reappear in NBA 2K23. The returning modes you can expect are MyCareer, MyTeam, MyNBA, and more. The WNBA features some of the same game modes, too, if you want to play as the women. 
MyCareer is a little different this year because you don't start from college. Instead, you are already drafted into the NBA ahead of your main rival, Shep Owens. Shep Owens is jealous because you got drafted to a team before he did.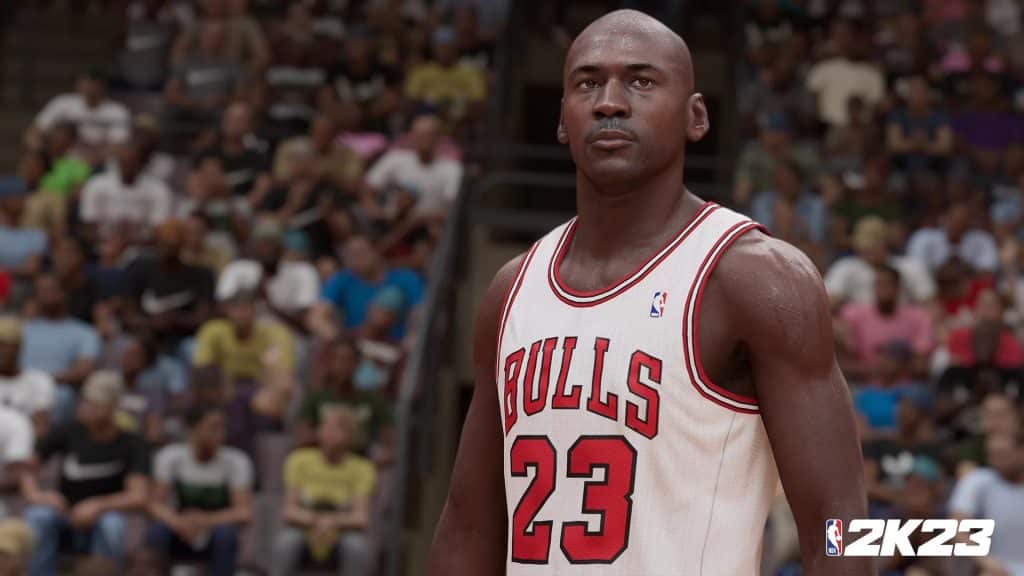 Much like other MyCareer modes, you can roam around a city to do different quests aside from just playing basketball. Aside from playing basketball, there is a continued storyline in this mode where you have to upkeep an excellent social media presence. Shep Owens also tries to sabotage your reputation. 
Some may think the MyCareer mode features too many cutscenes and fluff objectives. If you want a more streamlined experience, the WNBA career mode is straightforward and doesn't feature a lame storyline that you have to follow. 
As for the gameplay, you will still need to spend a lot of time grinding if you want to upgrade your skills and attributes. That being said, I found this year's MyCareer slightly more accessible compared to some of the previous games.
Speaking of grinding, MyTeam is still one of the more painful game modes in NBA 2K23. The game sliders aren't effective here because you need to rely on the ratings of the cards you open. The only star I managed to get in the beginning was Ja Morant. The rest of the cards I got were, unfortunately, lesser players. 
To get "better" at MyTeam, you need to grind lots of hours to afford better card packs. Alternatively, you can even just pay real money to get the cards and players that you want. Because of this, MyTeam just becomes a predatory mode that forces you to pay money to get better at it.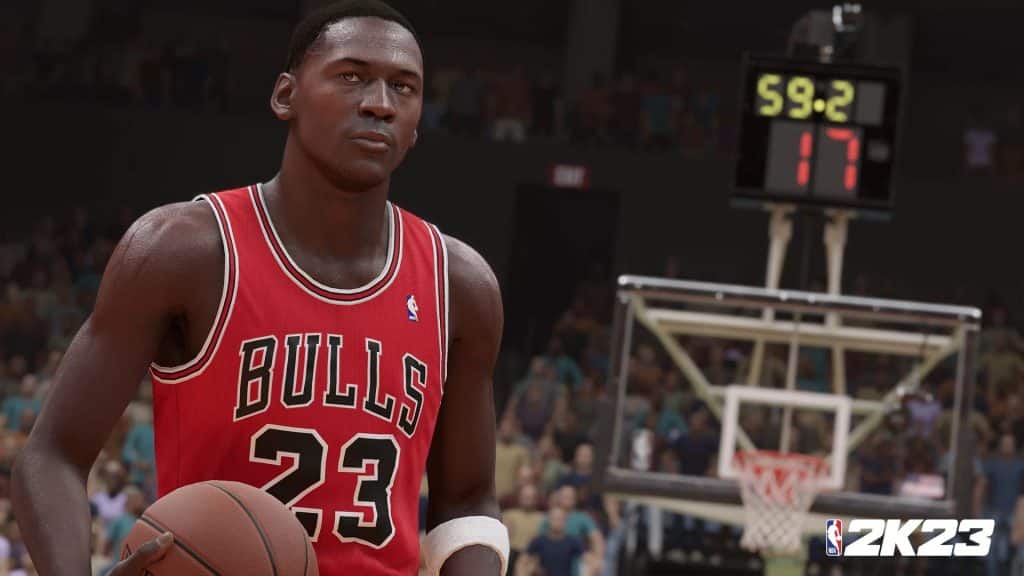 Another issue I had with NBA 2K23 this year is still bugs and glitches. When I played the game at launch, the shot meter disappeared for a few minutes so I didn't know how to shoot! 
There is also a weird thing that happens during the highlights of the Halftime Report. The game shows missed shots, fouls, and other turnovers when you view the highlights. It's the first NBA 2K game I have ever played that shows players missing shots as a "highlight". 
NBA 2K23 also has the annoying glitch where a message pops up at the bottom of the screen telling me to update the game. The message never seems to go away even though I have updated the game with its latest patch!
Aside from a few glitches, NBA 2K23 is still one of the better sports games in 2022. Unlike the lazy efforts of Madden NFL 23, NBA 2K23 features referees, cheerleaders, halftime reports, and realistic gameplay. 
Many people will start to appreciate this year's edition thanks to the inclusion of the Jordan Challenge. However, many of the other game modes in NBA 2K23 play similarly to previous editions of this franchise. 
NBA 2K23 Review Verdict
If you are a big Michael Jordan fan, I will say that NBA 2K23 is a must-buy. The Jordan Challenge is arguably more significant and better than the same mode featured in NBA 2K11. The rest of the game is familiar, although it's still packed with lots of content.
[Editor's Note: NBA 2K23 was reviewed for Xbox Series, and a copy was provided for review purposes.]