One of the thrills of following Nippon Ichi Software's various RPGs was the running jokes. Laharl typically appears talking about how he is going to be the main character, Valvatorez has his whole sardine thing and you get the point. Among the most interesting choices was bringing characters from other titles into these worlds. Now people could experience Gig, Priere, and Zetta, without experiencing those games. As Sony lost backward compatibility, a lot of these experiences have been lost, with the characters existing more in the crossovers than their actual adventures. This has made the Prinny Presents games so nice. Instead of having to track down the original games and platforms, players can finally experience various titles from the past on a modern platform. While the first collection brought over a familiar face and Soul Nomad, Prinny Presents NIS Classics Volume 2: Makai Kingdom: Reclaimed and Rebound / ZHP: Unlosing Ranger vs. Darkdeath Evilman brings two of the most requested titles from Nippon Ichi Software's past. With so much anticipation, is it a badass adventure, or were the characters better in their brief cameos?
Makai Kingdom: Reclaimed and Rebound is a really different take on what Nippon Ichi Software had done in the past. It starts by introducing us to Zetta, the Overlord of Overlords, who is trying to prevent his netherworld from being destroyed. This is done by protecting a book, which mentions Zetta stupidly destroying his Netherworld, an event that occurs immediately afterward with him destroying the book. Having to think fast, he bounds his soul to the book and turns into the iconic book form that is commonly associated with him.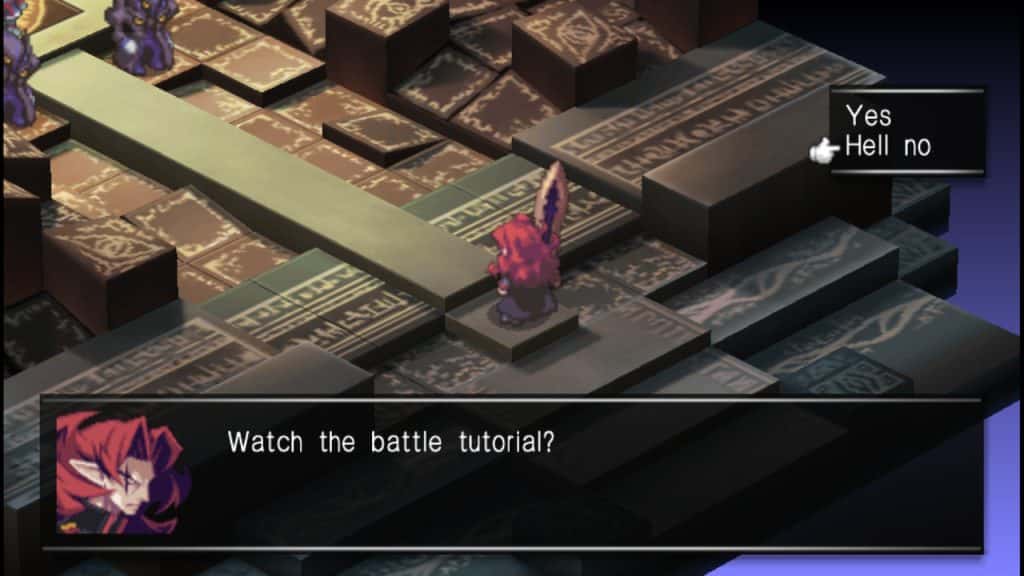 Part of the Charm of Zetta
The adventure plays out in a rather straightforward way. Zetta needs to recreate his netherworld, while also fighting foes near and far, as he slowly rebuilds. Similar to Disgaea: Hour of Darkness, teasing is pretty common, with the various characters taking a moment to take a shot at Zetta or add an amusing twist, such as his initial castle is actually just a doghouse. Over time the story builds to one of realizing mistakes of the past, along with rediscovering the right path, which makes for an exciting loop.
ZHP: Unlosing Ranger vs. Darkdeath Evilman is basically a spoof of the super sentai series, with the usual Nippon Ichi Software charm. This adventure begins in a world where a baby is born that is prophesied to save the Earth. This, naturally, attracted various foes to come and kill the Super Baby before that can occur. Before fighting the final foe, Unlosing Ranger is accidentally killed and a random bystander takes his place. Unfortunately, contrary to what Unlosing Ranger said, you're not successful and would die if you weren't saved by a mysterious force. From here players need to build their skills and learn what it means to be a hero and defeat Darkdeath Evilman.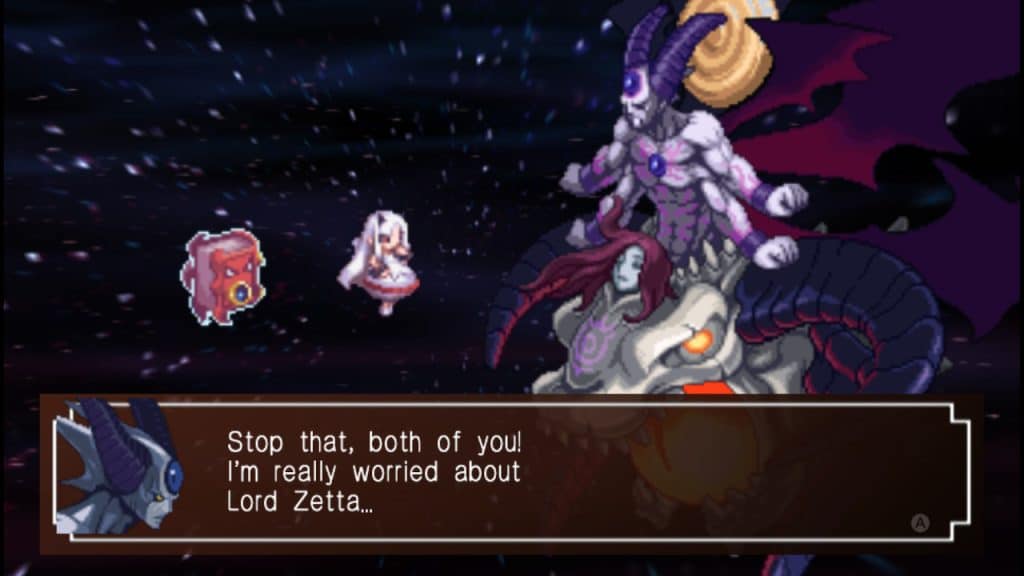 This makes for a fun adventure, one that is a little bit more on the humorous side. Those who enjoy tropes and meta-humor will likely greatly enjoy this adventure, even more so if they understand what it's going for. It also features some fun twists that make the journey worthwhile.
Similar to the last collection, Prinny Presents NIS Classics Volume 2: Makai Kingdom: Reclaimed and Rebound / ZHP: Unlosing Ranger vs. Darkdeath Evilman features two really different gameplay experiences. Those familiar with Disgaea and Phantom Brave will likely immediately understand Makai Kingdom. The turn-based tactical RPG rewards positioning by allowing players to potentially damage multiple foes if they're in the right spot. One fun aspect is a lot of popular designs from Disgaea appear in some capacity, something that should amuse long-standing fans who missed out. It also offers its own slightly different take on the concept.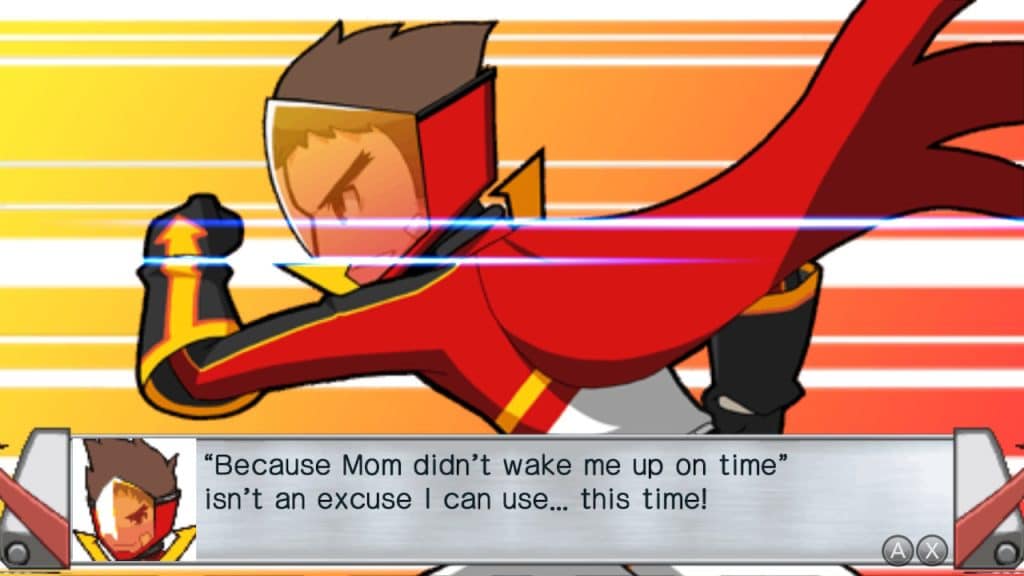 Type of Humor You Can Expect from ZHP
Typically players would need to figure out how to defeat every enemy on the map without losing. This can sometimes be long or tedious, especially on maps with a wide number of foes. Makai Kingdom simplifies this by allowing players to leave once a set score is achieved. Those looking to avoid defeating the hardest foe might be disappointed to know they're often required to hit the minimum, though it allows for a more haphazard way of playing or brute-forcing encounters if you just want to finish the story.
As for ZHP: Unlosing Ranger vs. Darkdeath Evilman, it's very different from the other games in the collection, being more similar to things like Legasista. While it retains the turn-based mechanics, it's an action RPG of sorts. Missions involve crawling through a dungeon, and using resources and luck to make it out alive. As a result, players will need to eat, pay attention to enemy locations and use items to defeat foes. Part of what makes it hard is each item has durability, meaning each use will bring it closer to breaking or losing much of its power.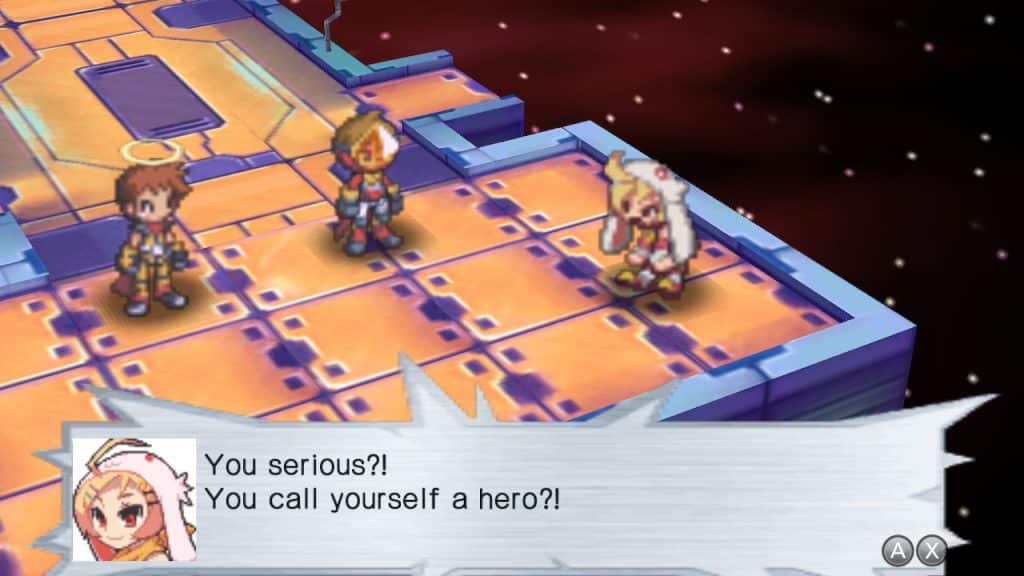 Where tactics come into play is knowing both what to buy and use in any given dungeon. Things like food are invaluable, as are certain armor/weapons. The positioning also helps, especially in harder locations, though they can be solved by managing risk or using skills to defeat multiple foes at once. It also boasts some neat mechanics, like certain leg items can block traps or impact the world differently.
Where both titles fall short is that they're basically straight ports of the PSP versions of each title. This does mean Makai Kingdom gets the Petta Mode content, which includes new scenarios featuring Petta, though little more than that. I bring this up because it really shows the age of both games. I made sure to capture some spoiler-free pictures from both adventures where you can see the graphics are not too impressive. Unfortunately, this also applies to load times, which are rather long all things considered.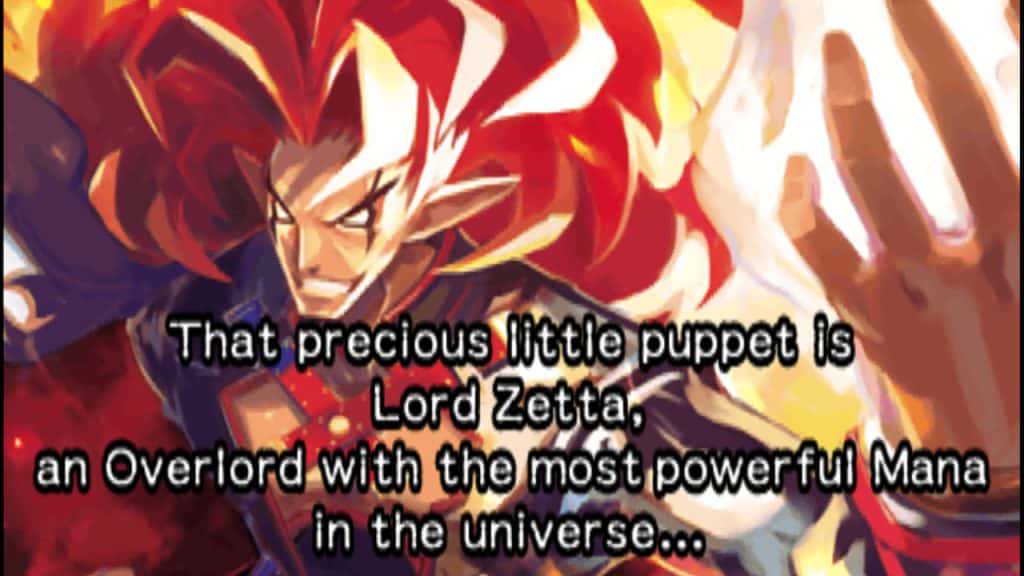 Prinny Presents NIS Classics Volume 2: Makai Kingdom: Reclaimed and Rebound / ZHP: Unlosing Ranger vs. Darkdeath Evilman Review Verdict
For a lot of players, simply being able to play these two titles is going to be more than enough. It's a shame they didn't get a fresh coat of paint or some other tweaks, though they absolutely aged better than some of the other titles. Not only do both adventures have neat stories, but there is also more than enough content to keep you busy. As long as the graphics are not a dealbreaker, I strongly suggest giving them a go, if only to see what Zetta remains as one of the most popular characters in the Disgaea universe.
[Editor's Note: Prinny Presents NIS Classics Volume 2: Makai Kingdom: Reclaimed and Rebound / ZHP: Unlosing Ranger vs. Darkdeath Evilman was reviewed on Nintendo Switch and a copy was provided to us for review purposes.]