Square Enix found success with People Can Fly's cooperative sci-fi shooter, Outriders, which managed to recruit over 3.5 million super-powered soldiers to battle the monstrous forces on Enoch. Since then, the developer has been toiling away at providing the not-a-live-service game updates to make the looting and killing more satisfying. This initiative saw its first boost with New Horizon in November 2021. But it was at that same time People Can Fly revealed that they had bigger plans for the game in 2022, specifically a full expansion titled Worldslayer. Today, the team is ready to show the world the first glimpse of the fruits of their labor.
Outriders Worldslayer gives the player-created Outrider a whole new journey on which to embark. The added 5-10 hour campaign picks up right after the main story and sees the Anamoly-empowered supersoldier square off against one of the first Altered, Ereshkigal. And she's no slouch when it comes to immense power. Ereshkigal will undoubtedly provide a notable obstacle in the Outrider's pursuit of preserving humanity, which has been complicated due to the destabilized nature of Enoch brought on by the devastating Anomaly.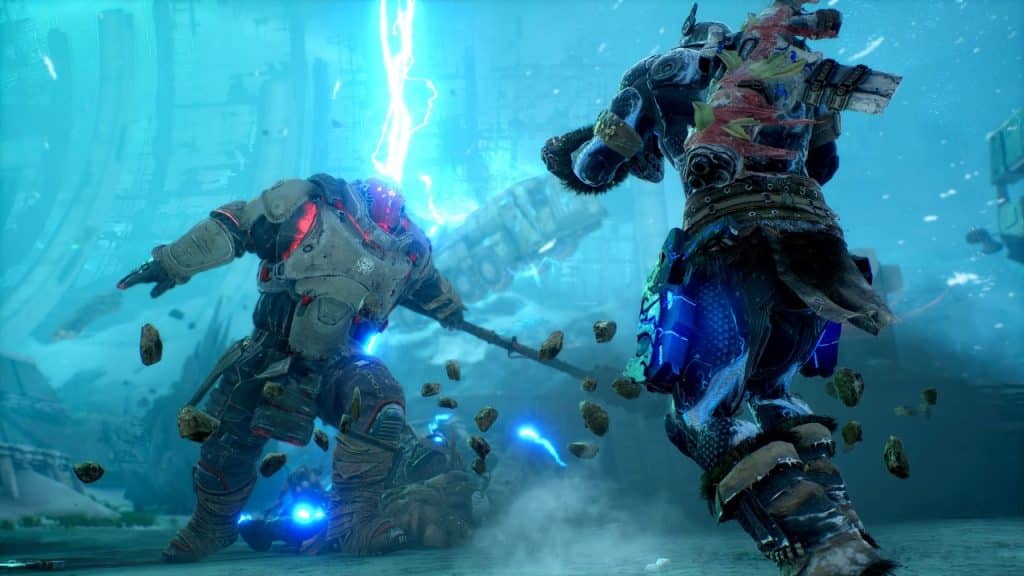 We had the opportunity to go hands-on with this new expansion to check out what's on the horizon of this looter shooter. The demo kicked off with the Outrider and their grizzled team journeying to a frozen tundra, one so cold that aerial monstrosities are plummeting from the skies petrified in ice. It's an effective opening in displaying the unstable state of Enoch in the wake of the Anomaly's heightened impact. Our team of three Outriders navigated the icy landscape, battling deadly fauna and hostile humans. Diving back into the low-cooldown pacing of Outriders gibby killing flow came easy. And it's not hard to recall why there's much fun to be had taking a Diablo-esque approach to building overpowered characters. As a Trickster main, that typically includes zipping around the battlefield and plugging baddies up close with a shotgun.
Those time-bending powers came in handy as I blasted through the new maps positioned in the outer ridges of Enoch's alien world. The expansion also boasts new enemy types to further shake things up in these distant locales. The enemies we encountered weren't complete game changers — in all honesty, not much of what we saw deviated too far from the established formula, including some overly macho dialogue — but they certainly added some much-needed diversity to the opposition's lineup. The Snow Behemoth included in the barren, icy tundra and the dual blade-wielding Fisherman boss found in the eerie swamp level that followed had our trio constantly on the move and spamming skills as soon as they refreshed. People Can Fly may have pulled a bit from their Gears of War days, but they certainly don't want players hunkering down behind cover for long. Aggression is the name of the game, and Worldslayer keeps that spirit at the forefront.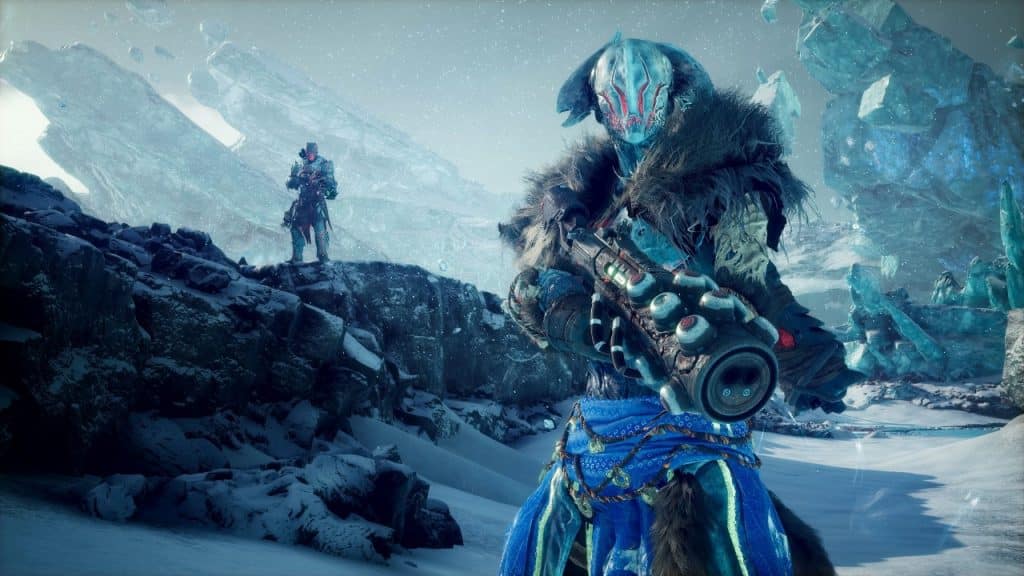 Digging through the character options in Worldslayer, players will take note of a new PAX class tree. The added PAX system gives each of the four classes two new specialization trees, further enhancing abilities. The Trickster, for example, can spec into the Spectre and Exploiter trees with new PAX points, available after level 30. Additionally, Ascension Points provide longer-term, incremental growth for developing Outriders. The post-level 30 progression system is bolstered through battle experience. Earned points can be spent on boosting four categories: Brutality, Endurance, Prowess, and Anomaly. Each of the categories contains 50 levels, for a total of 200 Ascension Points needed to hit the cap for everything.
You will definitely want to spend time fortifying your Outrider to best prepare for the new Apocalypse Tiers, made somewhat easier thanks to several quality of life changes affecting numerous aspects of player characters (ex: the Pyromancer's Torturer set has its AoE damage revised). Previously, we worked with World Tiers during the main campaign and Challenge Tiers in the endgame Expeditions. Apocalypse Tiers completely replace the latter of the two, acting as a more natural extension of World Tiers, and go as high as level 40. In fact, the Apocalypse Tiers can even be used to rerun the core campaign as a sort of pseudo-New Game+ option. But that isn't the main draw of the Challenge Tier replacement.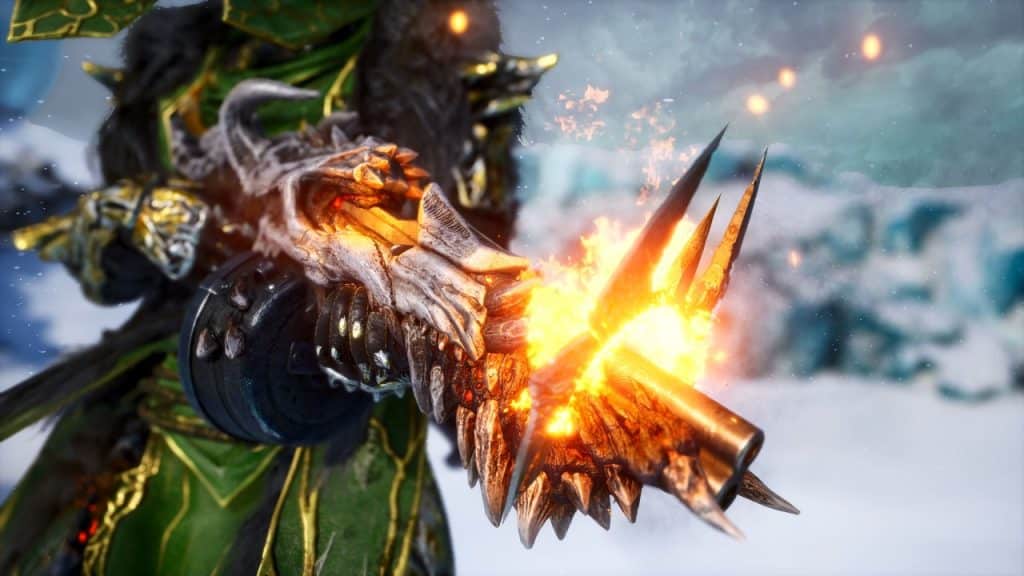 Playing on an Apocalypse Tier difficulty opens up the opportunity to earn Apocalypse gear drops (and their associated Dust resource). These Epic and Legendary gear variants come with three mod slots instead of the standard two-slot max seen previously. With around 100 new Legendary items coming with Worldslayer, including two new 5-piece Legendary armor sets per class, you will want to push into Apocalypse Tiers for the best possible loot for crafting OP builds. After all, that's basically the main draw of Outriders and People Can Fly is ready to enable players to become even more broken.
Worry not if the 5-10 hour length of Worldslayer mentioned earlier caused you reservations. The story missions are not where your newfound Apocalypse gear will be put to the test. That honor will go to the completely new endgame, Trial of Tarya Gratar. People Can Fly is keeping their lips tight on this endgame endeavor separate from the revised Endgame 2.0 Expeditions. We will be given a deep dive on this mode later this summer.
Even if you have never stepped foot on the surface of Enoch, Worldslayer will enable newcomers to immediately boost to level 30 and jump into the expansion without missing a beat. Or you can secure a pre-order for Worldslayer to gain immediate access to Outriders and start progressing through the vanilla game. Plus, that pre-order bundles in the bonus of being able to dive into the new content 48 hours ahead of its official June 30th, 2022 release date. Needless to say, there has never been a better time to jump into the boots of the infamous Outriders.