Reddit user Guthwulf85 reported they had a special Elden Ring PlayStation Stars campaign, and collectible.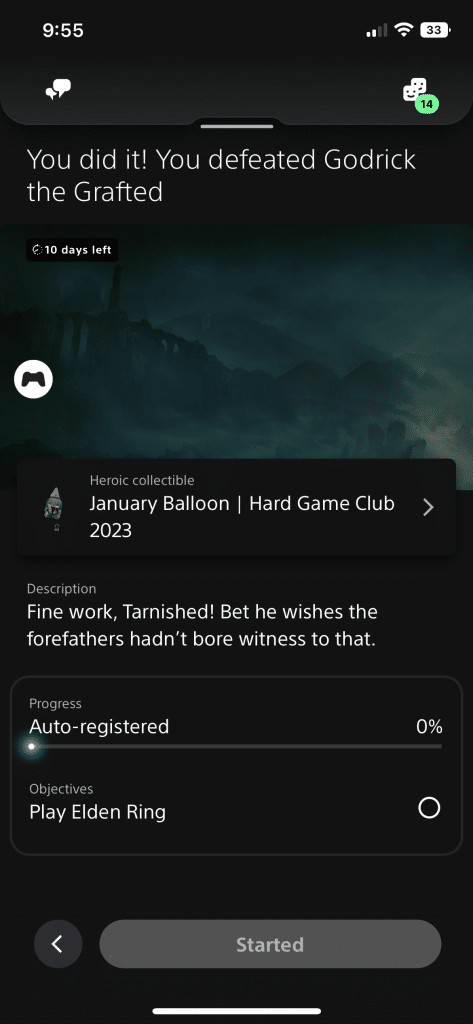 While it is in Spanish, apparently defeating Godrick unlocks the challenge, with the collectible itself unlocking by simply loading the game. After the initial post we ended up getting the campaign. As previously reported, it's unlocked by defeating Godrick the Grafted, with the collectible unlocking after booting Elden Ring.
What makes this collectible interesting is the similarities to the previous Returnal campaign. That also required beating the first boss, along with unlocking a collectible that also looked like a balloon.
This campaign will last approximately two weeks, so make sure to act fast if you want to add it to your collection. For anyone on the fence about trying to unlock it, there were reports of players unlocking the Returnal campaign after it started, so if you haven't done it there is a chance you can still earn this unique collectible.
Update: We attempted to unlock it after the fact, and the campaign appeared roughly two days after earning the trophy for defeating Godrick. Other users have reported similar experiences, so if you're on the fence I think you'll be safe to unlock it.
Since we were able to earn the collectible, you can find a better image of it above. For those unfamiliar with Elden Ring, it's a balloon of Miriel, Pastor of Vows reading a book. When viewed it spins showing a cartoonish version of a turtle shell on the opposite side.