Sony announced their annual PlayStation wrap-up was released for 2022.
For those unfamiliar with this promotion, the wrap-up is an overview of everything you accomplished in 2022 up to that point. These include most played games, trophies earned, time played, platform breakdown, along with amusing figures from various Sony releases.
These tend to be a lot of fun, as you can share these with friends, and see what they accomplished as well, or share via social media.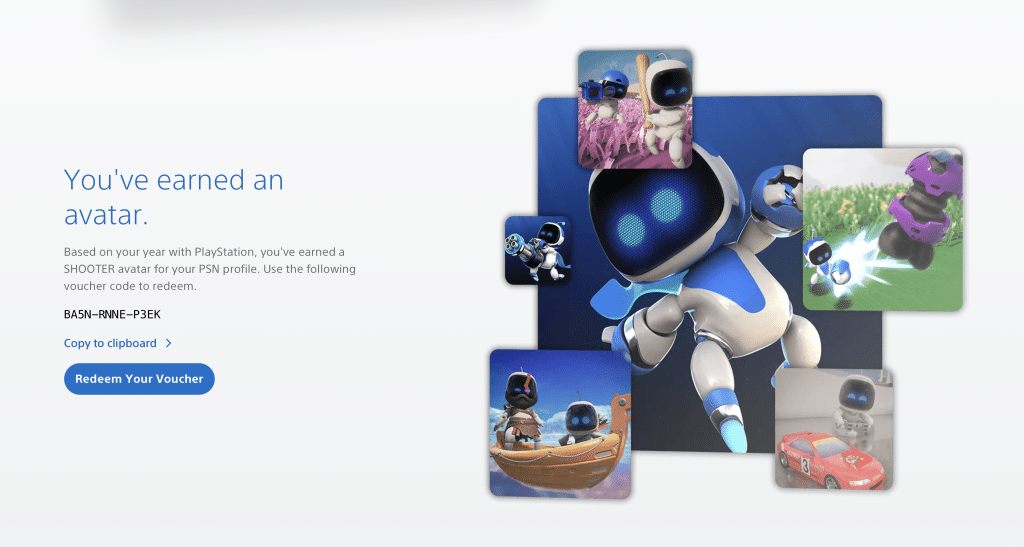 As an added bonus this year, players who view all their stats will earn a special avatar based off their most played genre. Each of these use Astrobots characters, either in an iconic scene, such as the cover art for God of War, or performing a related task. These codes are universal, and meant to be shared with others.
As of now it's not confirmed how many exist, though it's likely six as the image above showcases all currently known avatars. Thankfully, various reddit users banded together to post their code, resulting in a potentially full list of six for both US and EU.
PlayStation Wrap-up 2022 US Codes
2LJB-8JND-4H9G Sports avatar

BA5N-RNNE-P3EK Shooter avatar

CPDR-JFN9-TJA2 Action-Adventure avatar

C5CD-C2NJ-R239 Wrap-up 2022 avatar

H75N-8HNP-H5EP Fighting avatar

MNNX-CXNG-L6GB Racing avatar

Reddit
PlayStation Wrap-up 2022 EU Codes
4NAG-MQN6-B3FG Sports avatar

E2EC-A4NE-NK8C Shooter avatar

G82P-9GN6-LX56 Action-Adventure avatar

XJAK-XHN5-J6NQ Wrap-up 2022 avatar

88QQ-GPN2-C4JB Fighting avatar

MKQG-B9N7-H3KE Racing avatar

Reddit
If this isn't exciting enough, Sony also released a special PlayStation Stars collectible for today only.