The Ghostbusters franchise has been going on since the first movie came out way back in 1984. While fans like the original two movies and Ghostbusters: Afterlife, many people dislike that all-female 2016 reboot.
Much like the film franchise, Ghostbusters video games have also had an inconsistent reception. Angry Video Game Nerd fans will remember how bad the original NES game was back in the day. Many people may also forget a 2016 Ghostbusters game was released too, and it was predictably crappy. 
The most famous and best Ghostbusters game ever released was 2009's Ghostbusters: The Video Game. It was great; a remaster was released ten years later for last-gen consoles in 2019. Now we are in 2022, and an even newer Ghostbusters game has been released. 
The latest Ghostbusters game to be released is none other than Ghostbusters: Spirits Unleashed. This game is now available for PC, PS5, PS4, Xbox Series X/S, and Xbox One. Although the game has a very limited single-player mode, Ghostbusters: Sprits Unleashed is best played with friends via online multiplayer.
The first thing I want to say about the game is the fact that it includes both Ernie Hudson as Winston Zeddemore and Dan Aykroyd as Ray Stantz. Since these two are in the game, it's safe to say this is a part of the original movie's timeline and isn't a terrible reboot.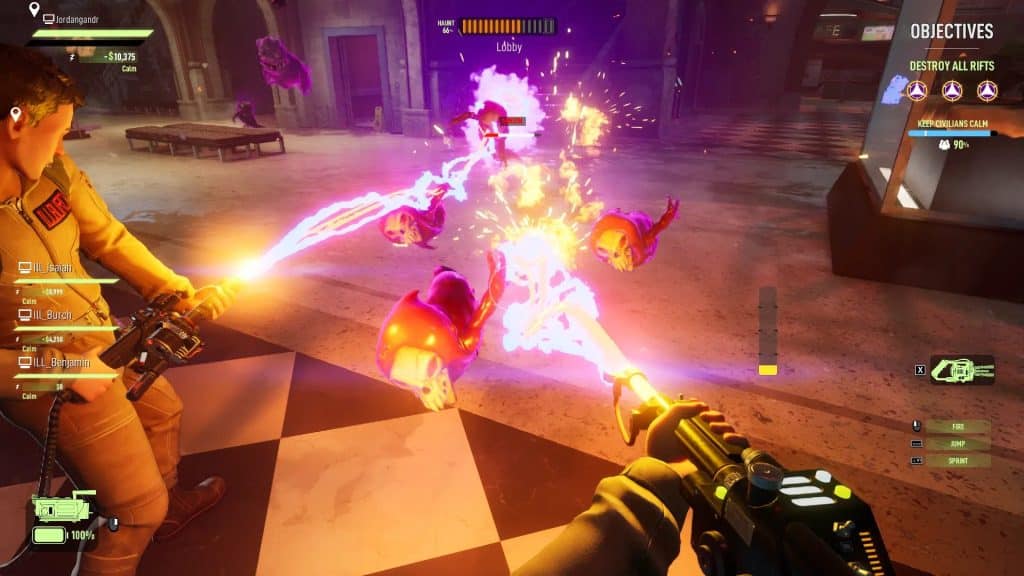 Sadly, Bill Murray isn't in this game whatsoever. I'm not sure why he refused to be in the game, but it could be due to his high likeness fee. It doesn't matter if he's in the game or not because you will be playing as your own custom-created character anyway. 
What I like most about the game is its lengthy and detailed tutorial mode. In this universe, Winston is the new boss of the iconic firehouse, while Ray runs a supernatural-themed shop simply called 'Ray's". 
While this game includes a custom character creator, sadly, the options are pretty limited. That being said, you can choose to be either a male or female character, plus you have a range of body types and hairstyles to select from.  
As for the game itself, this is a simple 4v1 match where four humans must go out to different locations to capture a straightforward ghost. Most people will want to play this game online because it's more fun and competitive. 
However, if you don't have an online connection, you can still play this game yourself. Ghostbusters: Spirits Unleashed allows you to play with AI bots if you don't feel like playing with real-life players for whatever reason.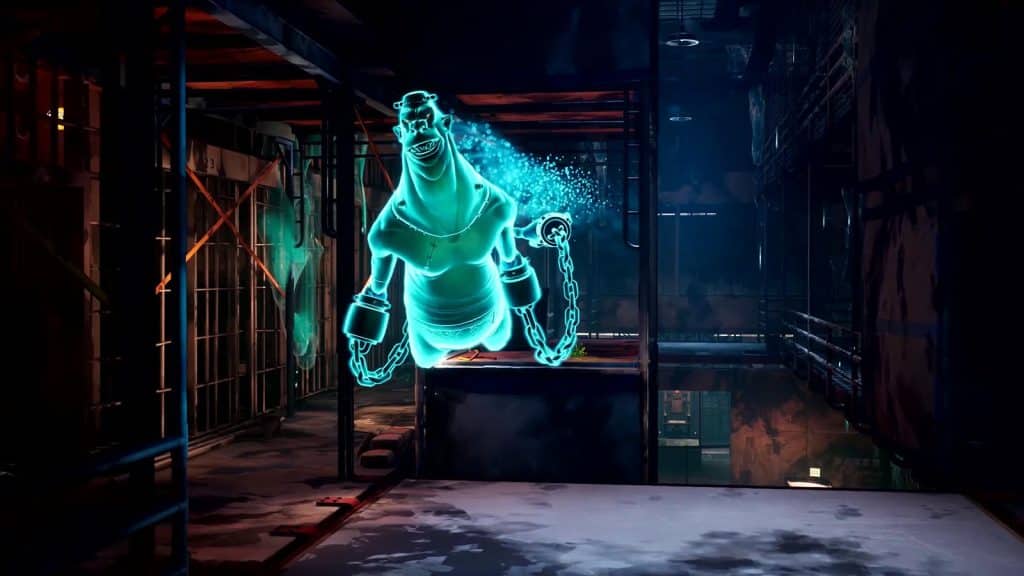 Anyway, most people will have to start playing the game as a Ghostbuster first. You will be armed with a proton pack to shoot at ghosts, plus you also have a PKE meter that acts like a radar to find the haunting spirit. You will also be armed with a trap too to capture ghosts with.
Your goal in the game as a Ghostbuster is to close all three rifts in a level and also ultimately capture the ghost inside your trap. This is easier said than done because the ghost can be very cunning and uses a lot of tricks to prevent it from being captured. 
Capturing the ghost is easier because you have a time limit. If the citizens are scared, this will increase the haunt meter. If the haunt meter reaches 100%, it's game over for the Ghostbusters. 
The ghost can also attack the Ghostbusters by covering them all in slime. You will have to remove the slime if you want to use the proton pack again. Players can also "die" if they're fully covered in slime, so other players will have to go and revive them.
By completing a few Ghostbuster matches, you will finally get a chance to play as a ghost. Playing as a ghost is challenging because you're by yourself, although being a ghost is arguably the more enjoyable way to play Ghostbusters: Spirits Unleashed.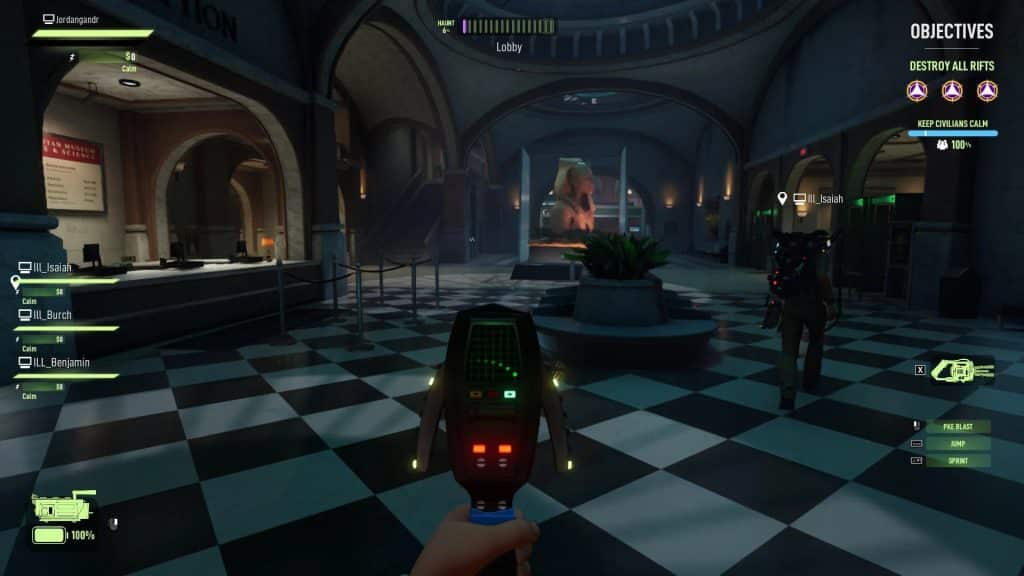 Being a ghost is fun because many extraordinary abilities are available here. Ghosts can phase through walls, summon minions, slime citizens and even take control of inanimate objects. The latter ability is cool because you can hide from the Ghostbusters by staying in one location. Ghosts can also move inanimate objects that will haunt the NPCs even faster.  
As fun as this game is, the main issue I have with Ghostbusters: Spirits Unleashed is its lack of content. There is no real single-player campaign, plus only one game mode is offered to you. Not to mention there are only five different maps that you can play on.
The visuals are also on the simplistic side, although they do look cartoonish. Thankfully, I didn't run into any bugs or glitches playing this game, and the online multiplayer experience was pretty smooth for me so far. 
Ghostbusters: Spirits Unleashed Review Verdict
Overall, Ghostbusters: Spirits Unleashed is a fun multiplayer game that fans of the franchise will enjoy. The only things holding the game down are the lack of content and limited single-player offerings. Outside of its flaws, it is still a fun game for a short while.
[Editor's Note: Ghostbusters: Spirits Unleashed was reviewed on Xbox Series X, and a copy was provided to us for review purposes.]