One thing that makes gaming unique is how content ages. While movies, TV series, and to a lesser extent, books change over time, many of these classics remain tremendous and can still be thoroughly enjoyed. However, many games don't age well or are lost to the original platform(s) they were released on. Companies have improved over time, with the Prinny Presents NIS Classics collection giving players a real chance to experience the games that helped make NIS what it is today. With volume one, we saw a guaranteed hit with a weird entry; volume two made two of the most requested titles playable; with the latest, volume three, giving their first attempts at a tactical RPG and another commonly referenced game. Given so much hype and expectations, is Prinny Presents NIS Classics Volume 3: La Pucelle: Ragnarok / Rhapsody: A Musical Adventure an absolute must for fans, or are players better off with their current knowledge?
This adventure starts with La Pucelle: Ragnarok, an exciting take on the familiar battle between light and dark. Here, players control Prier, her brother Culotte and their teacher Alouette. Over time you learn that Prier hopes to become the Maiden of Light and eventually fulfill the prophecy.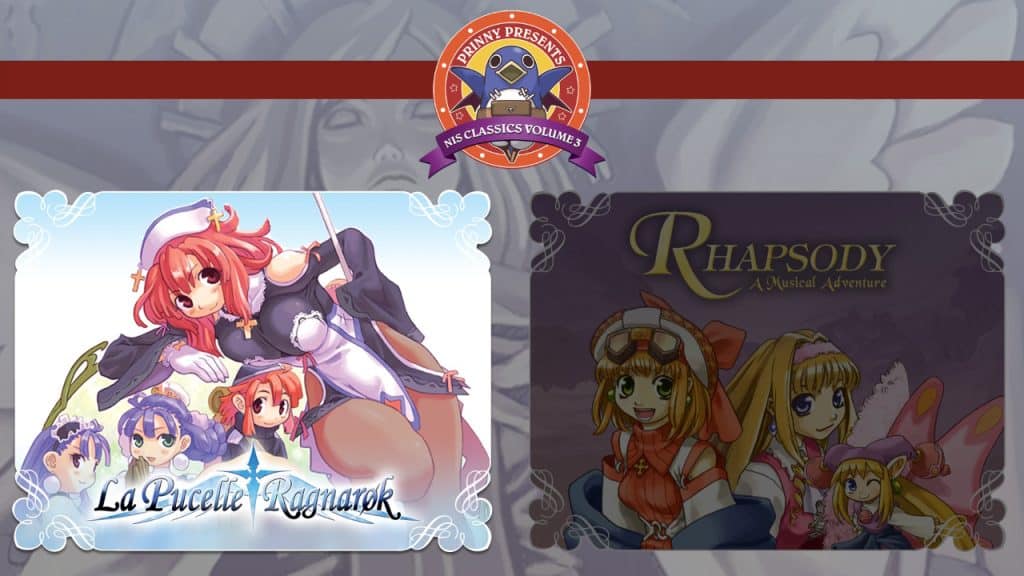 It makes for an exciting journey, even if you have a vague understanding of where she ends up, especially since choices dictate how the narrative progresses. But, what will likely stand out to many old fans is how it feels like a prototype for what would eventually become Disgaea: Hour of Darkness.
In terms of narrative, Prier is a bit of a hot head, and her reactions help drive the history and jokes forward. Her headstrong personality makes her somewhat endearing, especially in some crossover fights where she feels perfectly with Hero Prinny or Rozalin. As for gameplay, it's a shockingly similar tactical RPG, with only a few changes.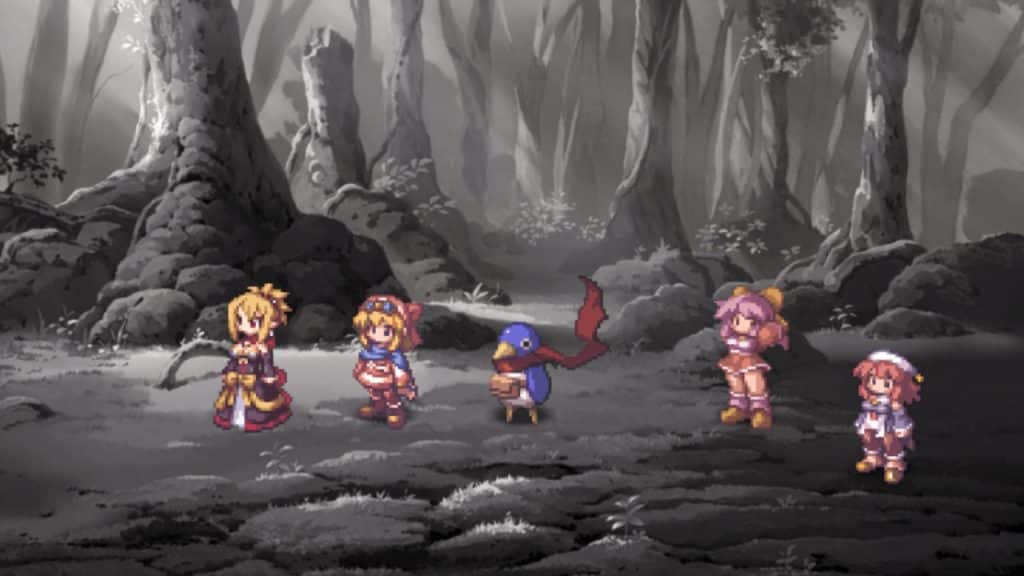 Crossover Characters Add Some Amusing Dialogue
Right off the bat, the construction, layout, and mechanics are reminiscent of their games going forward. Every character can move a set number of squares in various directions, along with special and regular attacks hitting enemies within their range. Even Geo Effects are present; they're just a lot simpler in presentation and effect while also being a little more complicated in execution.
For these reasons, along with this being based on the later remake, it feels pretty modern. The only dated mechanic is how characters attack. Instead of attacking the field, they have their battle area that takes a moment to load. Multiple characters attacking the same enemy will load in the same sequence unless a special attack is used. The only downside is that an enemy that dies early will waste their attack.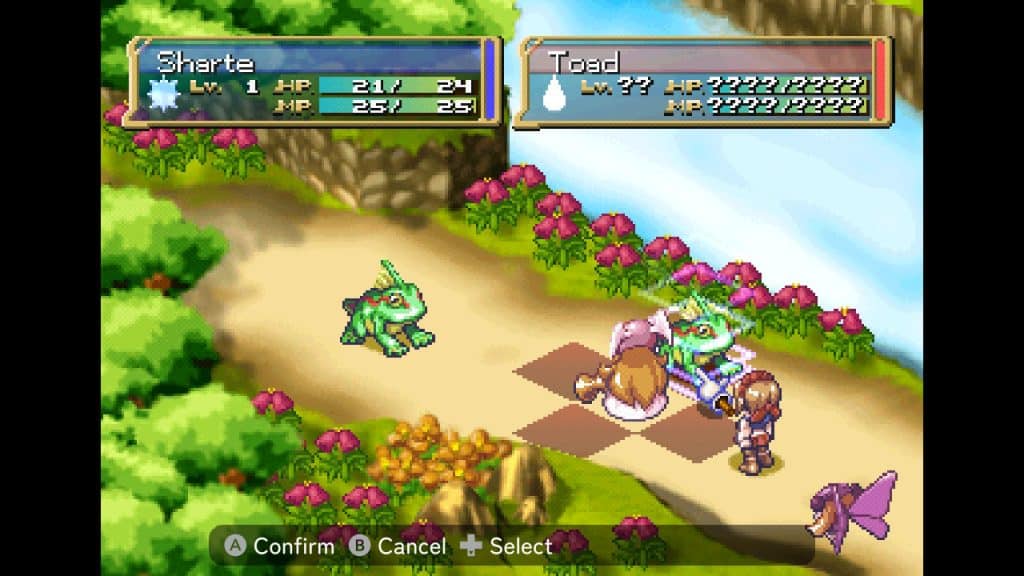 Along with La Pucelle: Ragnarok, this collection includes Rhapsody: A Musical Adventure. For those unfamiliar with this title, it is NIS's first attempt at making a tactical RPG. This means it, unfortunately, lacks some of the charm found in their later releases, but it's by no means a bad experience.
In this adventure, players control Cornet, a young girl blessed with musical talent and the ability to talk to puppets. Aided by her best friend and puppet Kururu, the two travel trying to save her love, Prince Ferdinand, from a curse inflicted upon him by Marjoly.
What stands out about this adventure is a couple of things that long-standing fans will appreciate. The first is the cute and charming world offers a very different tone from their later titles. From there, you can see a lot of the company's history, like your rival, Etoile Rosenqueen, is the basis for that name appearing in future titles, edition names, and even the last name for NIS America's online shop. Also, Majorly appeared a few times as an optional boss in later titles, like the first three Disgaea games.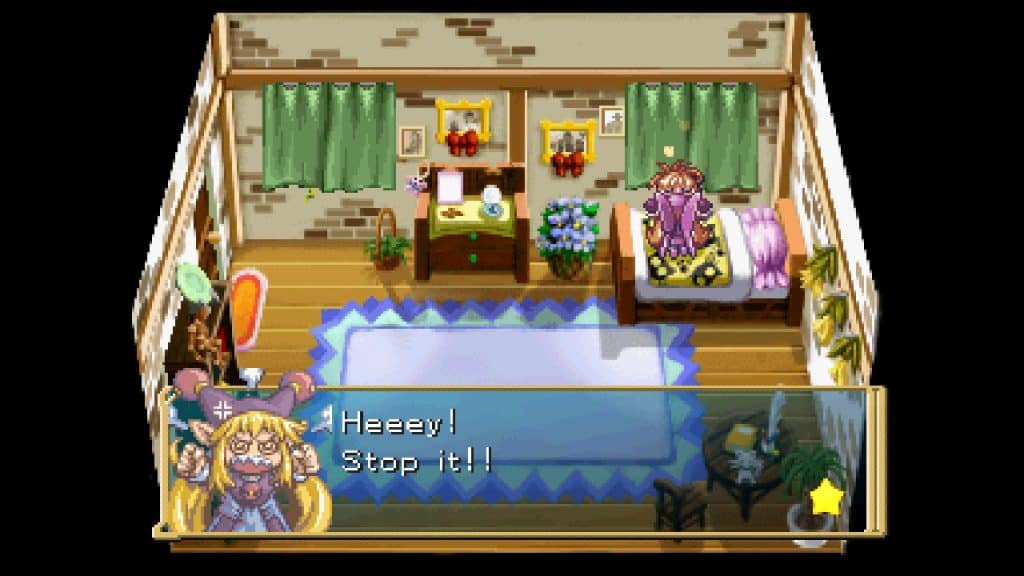 Despite the long-standing history, the gameplay itself is nothing special. While it plays like their other tactical RPGs in a general sense, it's not very difficult, and each character takes their turn at a different rate instead of making all their moves in a single go. It also features random encounters and something of a world to explore. Still, the music-based buffing system is exciting, and there is more than enough depth to keep players engaged.
The unfortunate thing about Rhapsody: A Musical Adventure is that it's another game that never saw a remaster. Like the other titles, there is a letterbox and some rough-looking content. The text stands out a bit more, though it feels like an older title.
Prinny Presents NIS Classics Volume 3: La Pucelle: Ragnarok / Rhapsody: A Musical Adventure Review Verdict
What I love about the Prinny Presents titles is that they add context to the previous characters. This is why I've tried to infuse some of the franchise's history in these reviews, as they're a massive part of the appeal. Even if these are not the most robust adventures NIS has ever made, La Pucelle: Ragnarok remains an enjoyable game. It's a character-driven story filled with interesting characters that you'll likely grow to love. Rhapsody: A Musical Adventure is a little rough around the edges, but it helps you appreciate how far they've come in a game that aged better than some later released games. For these reasons, this is a must for fans and something to consider if you enjoy tactical RPGs.
[Editor's Note: Prinny Presents NIS Classics Volume 3: La Pucelle: Ragnarok / Rhapsody: A Musical Adventure was reviewed on Nintendo Switch, and a copy was provided to us for review purposes.]