Typically when people think of headphones, it's brands associated with sound. For traditional music headphones that would be Sony, Bose or JBL, with gaming having SteelSeries, Astro Gaming and HyperX, but there are a lot of smaller brands doing interesting things. This could be more "in the know" brands like Audeze to just simply being overlooked. When people think of Monoprice it's usually affordable cables, but their brands like Monolith offer the same concept to the world of audio. Their latest, M1000ANC, hopes to bring ANC and Dirac HD Sound to an affordable price. With this large ask, do they exceed expectations or are they a lot of flash and no substance?
As I've mentioned in a few reviews, I like to look at packaging for a couple reasons. Sometimes it's fascinating, other times it's legitimate wonder at what a really expensive item looks like, but in a lot of cases it tells the consumer what type of image the company wants to project. In the case of M1000ANC, it's a really conservative size and design that matches Monoprice's image. On the front there is a simple sentence listing key features, the products name, Dirac logo, with a glossy version of the Monolith logo almost hidden in the background. The other sides just reiterate some version of the aforementioned front, be it the logo, features, product name or all of the above.
Simple Packaging for a Product that is Anything But
Inside is surprisingly straightforward. There are a couple of pieces of cardboard, a simple divider, and M1000ANC covered in a protective plastic bag. Under this are a couple of accessories, including a bag I believe is made of nylon, a USB-C cable, a 3.5mm (TRS) cable, and a manual. After a slight battle with removing the bag, a task that is surprisingly hard to accomplish without destroying the plastic, M1000ANC was ready to go.
At first glance, M1000ANC has a good balance between quality and value. On the outside, most of the headband is matte plastic, that is securely held together by a metal band and thick metal firmly holding the earcup in place. The earpads are nice and plump, with a soft leather feel that feels soft to touch. A slightly more rigid feeling leather is used on the headband, which isn't quite as nice but works fine to grab and hold M1000ANC. This pair of headphones also features the commonly used fold-up design, making them easier to take on the go or use in a wide variety of cases.
Unlike a lot of headphones we've looked at, M1000ANC feels a bit lose and springy. As a result, they're really easy to take on or off, along with likely being a bit more comfortable, though it might not offer the same experience as a tighter headset. As for the looseness, it makes things easier to get in place, just don't be surprised if they feel like they have a mind of their own. It won't impact performance, just something that stands out when being held or trying to pack up. Just holding onto the headband and moving them a specific way often resulted in the two sides fighting to fold up to the middle first. 
On a high note, they feel built to handle this task. There is a fair amount of give when twisting, turning or just opening. I don't think they'd withstand the extreme conditions something like Astro Gaming's A10 can, though more than you'd likely throw at it through normal use.
In terms of connections, these support Bluetooth or 3.5mm. This is perfect for most people, as you can go completely wireless or if that isn't an option, wired for PlayStation, Xbox or something you prefer a wired connection on. Not only is connecting straightforward, the ability to put it into pairing mode by pushing the power button twice is incredibly useful for swapping multiple devices. So if I want to use them on my TV and then with my Mini PC, it's just a couple of clicks and it's done.
Performance will hinge on the situation. I found sounds with strong bass did well, though it often came at the expense of vocals. Even when tested against a different headset, the same songs had a heavy low. When using songs with a lot of highs they were okay, with the range being a lot better. But, for the most part, they worked fairly well at delivering the sound across a wide range and conditions.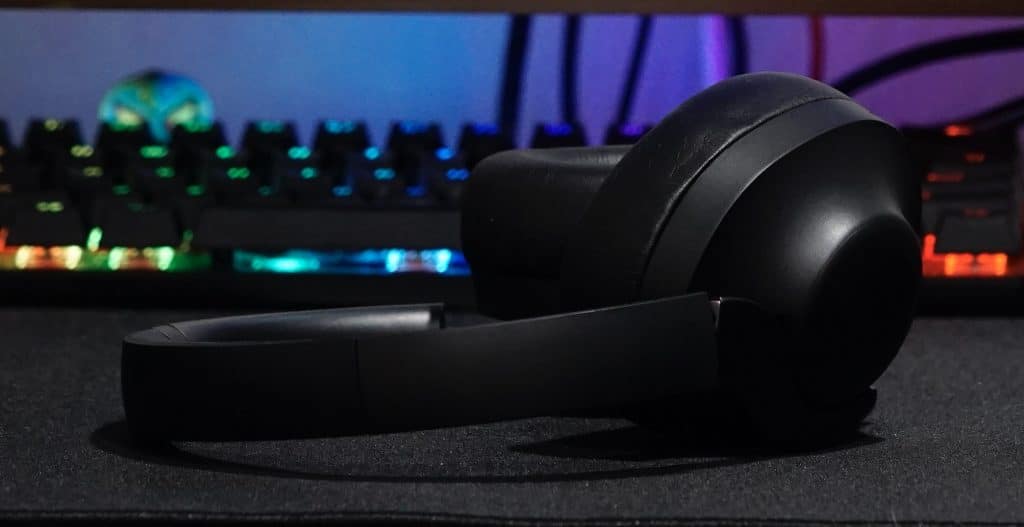 ANC also did quite well in a number of situations. For example, the sound of my computer's fan or Dyson generally went away if music was playing, along with some annoying background noises. When you need to give something else attention, they do feature conversation mode that works quite well. This is the M1000ANC version of covering the right earcup to decrease sound volume to talk to someone else without removing the headset.
In addition to testing music, these were used with gaming and performed surprisingly well. The sound profile worked quite well in a wide variety of games. I didn't lose some of the fun sound effects in Destiny 2 or miss a Ridden coming in Back 4 Blood. It was just finer sounds or more subtle details that were lost.
Where M1000ANC stood out the most was enabling Dirac spatial sound. For most games it just made the sound space feel larger and more inviting. It's to the point where I honestly wouldn't play with it off. One highlight was Resident Evil VIII where it helps bring out the impending terror of the location. It's the difference of feeling like a sound is on the right side and having the unnerving sound of something rustling to the back right. It also helped with music by bringing out the sound stage, a feature that helped some songs really stand out.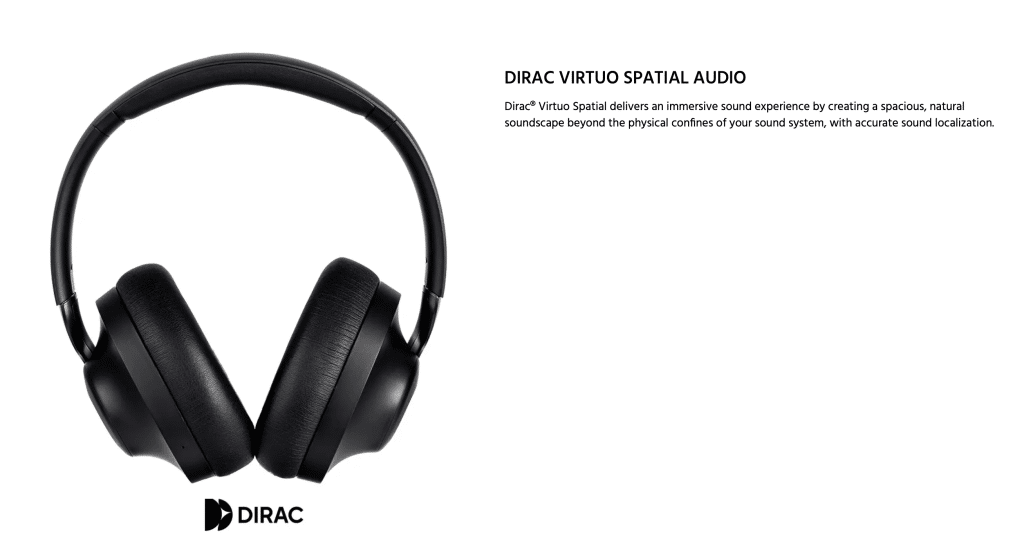 For as much as M1000ANC does right, gestures are a notable shortcoming. Like a lot of headsets with touch gestures, I found them very hit and miss. Thankfully, volume up and down worked relatively consistently, it was play/pause that sometimes missed the mark. In some cases I would accidentally activate conversation mode instead of getting the desired action.
Monoprice Monolith M1000ANC Review
The important thing to remember with any product is what's important to you. For the money, M1000ANC are surprisingly good and hold their own against similarly priced items. This, along with Dirac can make a strong case for them over a good number of other options. Especially if these are going to be used for movies or light gaming.
[Editor's Note: Monolith M1000ANC was provided to us for review purposes.]