Headsets are designed around a number of different use cases. Some specific consoles, others versatility and a few double down on a single selling point. HyperX's CloudX Stinger Core Wireless is one of the most accessibly priced wireless headsets for Xbox, making it a strong consideration for many gamers. However, with so many other options out there, is it worth it for Xbox fans or does it just fit a specific use case?
CloudX Stinger Core Wireless comes in a rather basic package. The colors were altered to better match the Xbox branding, with a strong emphasis on that specific feature. Multiple sides mention the flip to the mute mic, 17-hour battery life, and mic monitoring. Inside is a simple plastic blister case holding the headset in place, with some documents and a single meter or so long USB-C to USB-A cable.
HyperX Sticks with Their Usual Design with an Xbox Flare
Those familiar with HyperX's budget Stinger line might be surprised that CloudX Stinger Core Wireless is a slight step up, but not quite on par with the next tier offering. The largely plastic frame sports a metal headband slider, an extremely versatile microphone, and slightly plush headband and ear pads. This gives the headset a more lightweight design, making it comfortable for moderate gaming sessions, though it might not hold true long term.
To match the Xbox branding, HyperX also dyed the back part of the leather green to indicate Xbox. It's a subtle-ish choice that allows players to show their fanfare, without it being overly overt. Similar things can be said about the grey, a strong contrast to Sony's white, though it's far more likely that detail will go unnoticed. Beyond that, it looks similar to any of the other Stinger headphones.
What makes CloudX Stinger Core Wireless stand out is the unique feature set. The most notable is support for Xbox One and Series' direct pairing. This means no dongle or additional equipment is needed to make it work with the console. Just click a button on both products and they should connect. The benefit is not only a cleaner look, it's saving a slot for a future accessory.
Beyond that, HyperX included a chat mixer. This still uncommon feature makes it a lot easier to adjust voices on the fly and helps in a number of situations. One of the biggest is when playing with someone via cross-play, being able to isolate voices can be somewhat hit and miss in a way the headset overcomes. It's also perfect for those intense moments when your team is getting overran and you simply can't look at multiple menus.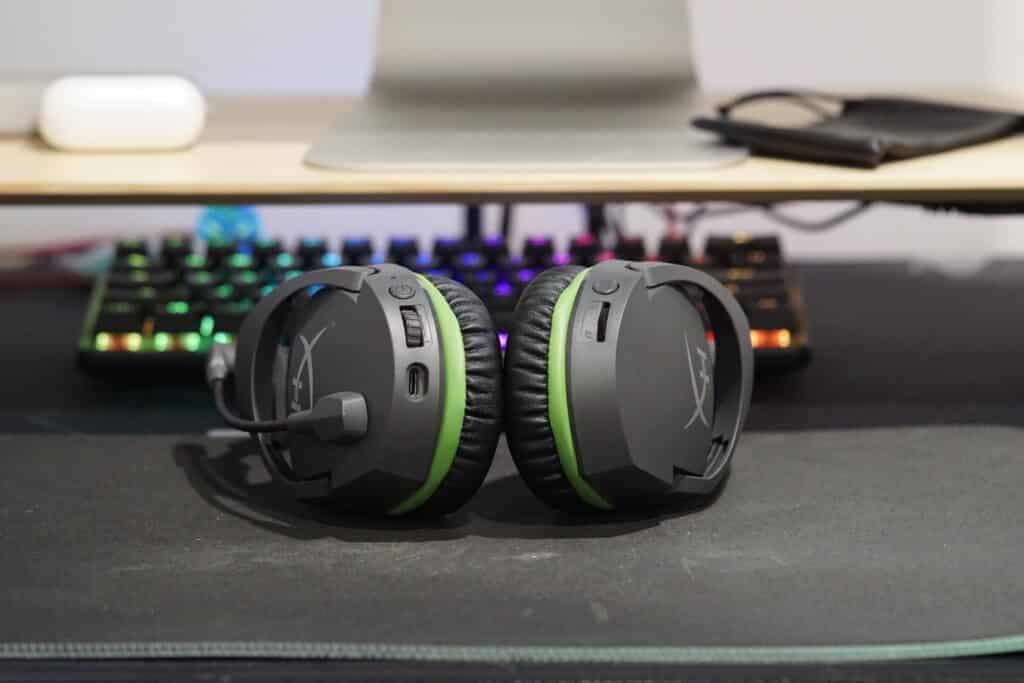 Only a Few Options and Controls
While these features are great, they do come with some notable downsides. The first is this is an Xbox headset first and only. There is no dongle to plug it into a PC, nor is there a 3.5 mm out. When it says compatible with Xbox One and Xbox Series, it actually means only those consoles.
The other is sound, which can be hit and miss. With support for Windows Sonic, certain experiences can really stand out with CloudX Stinger Core Wireless. However, other games lack the richness found on other headsets. For example, you might hear gunfire, an incoming threat, the howling echo of a cave, but you usually won't feel the sensation around you. The outcome will vary depending on what you're playing and ultimately looking for. Battletoads will likely feel the same, whereas Outriders has a certain hollowness to it. The type of thing where you'll hear the main sounds, just not the detailed clanking sound of a bullet hitting metal or the haunting noise of bullets piercing flesh that more detailed drivers can deliver.
Similar things can be said about the microphone. Positioning is great, as is the mic monitoring but it's not the most detailed microphone around. It's more than enough to casually play with friends, do a raid in Destiny 2, it just lacks the clarity to really stand out.
HyperX CloudX Stinger Core Wireless Review Verdict
The best way to understand HyperX CloudX Stinger Core Wireless is to ask yourself what features are most important to you. If you really want a wireless Xbox headset without a dongle, it's a fantastic choice. However, if you're looking for next-level sound or versatility, this likely isn't the choice for you. Beyond that, HyperX did a good job including features like a mix amp and adding as much as they could, at a very reasonable price point.
[Editor's Note: HyperX CloudX Stinger Core Wireless was provided to us for review purposes.]