Google's short-lived cloud gaming venture, Stadia, went down for good at the beginning of this year, taking with it its sole launch-day exclusive that never managed to escape the dying platform. That is, until now. Tequila Works' GYLT may not appear as the typical platform-selling exclusive, void of groundbreaking graphics and innovative mechanics, but that doesn't mean there's nothing to see here with the indie title's breakout onto other platforms.
GYLT is a psychological horror game that shares some DNA with iconic franchises, such as Silent Hill and Alan Wake. While Tequila Works may not have achieved the lofty heights wherein the genre greats reside, it certainly has found a way to charmingly carve out an introductory horror experience for those that may want to comfortably splash about the shallow end before diving into the darker depths.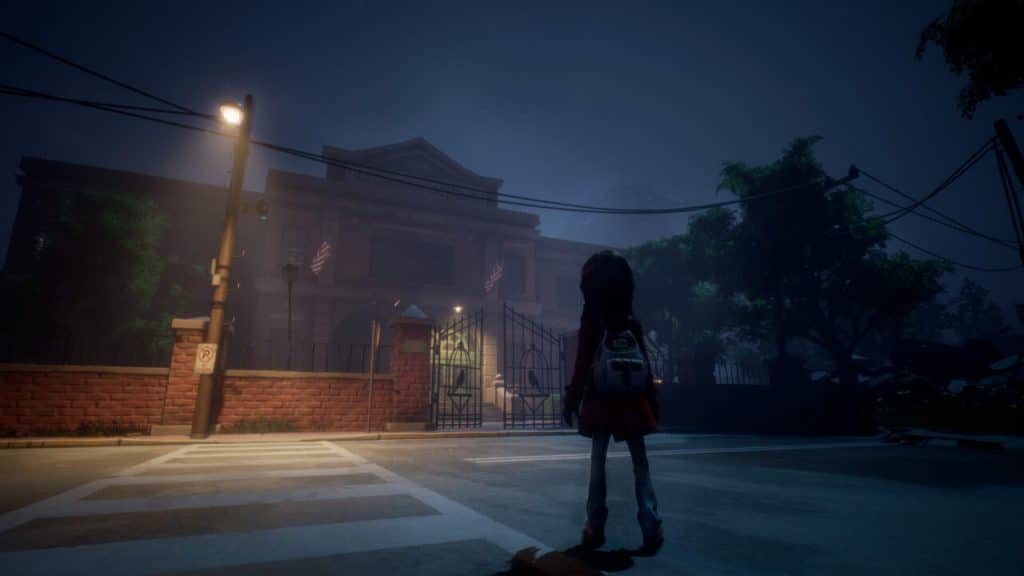 In GYLT, players take control of a young girl named Sally, who refuses to give up on the search for her cousin Emily. Despite every other Bethelwood resident having seemingly moved on from the search for Emily, Sally is not content with such inaction and hasn't let the month-long disappearance completely discourage her, as we see in the opening moments as she continues to hang "Missing" posters. The loving act is brought to a halt rather quickly as a group of middle school bullies run Sally and her bike off a trail and pursue her through snowy outskirts of their small town. The impromptu journey leads our heroine to pass into an otherworldly (and poorly-lit) counterpart of her known world, one filled with roaming monstrosities, à la Silent Hill.
Armed with only a health-restoring inhaler and a battery-powered flashlight at first, players will navigate the twisted, apocalyptic, and abandoned rendition of Sally's hometown. Stealth is the name of the game here. Sally isn't equipped to go head-to-head with the terrors surrounding her. Instead, players will need to sneak around the ghastly beings inhabiting the upside-down world in which Sally has found herself. It's easier than it sounds, though, largely due to the rigid and outdated scripted AI behavior making for a relatively light challenge.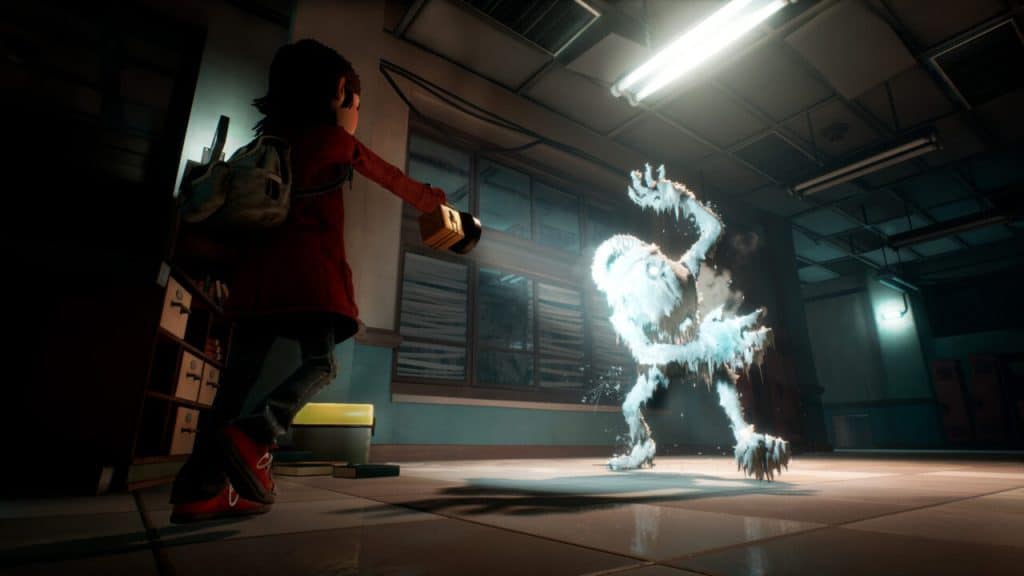 Other than illuminating the oppressive darkness, the flashlight also finds a use as an offensive tool. Weaponizing the flashlight will certainly feel familiar for anyone who has taken a stroll through Remedy's Alan Wake. That said, the more common use of the flashlight is often found embedded in the rudimentary puzzles littering the adventure. Later, a fire extinguisher is added to the mix to freeze enemies as well as seal blown pipes. But mostly players can look forward to the standard act of turning valves and picking up keys to continue their forward trajectory.
In spite of GYLT's kid-friendly presentation, the roughly 6-hour story contends with heavy themes of mental health and bullying. In fact, I'd say this is GYLT's standout component. Tonally, GYLT nails it. The often suffocating atmosphere coupled with the lore-building collectables make for an emotionally-heavy experience. It's enthralling in its tragedy, but the biggest tragedy of all is that Tequila Works doesn't dive into it further. The world looks like it wants to be dug into, but there's little to unearth. Even taking into account the game's three different endings, so much feels unresolved by the time the credits roll.
GYLT Review Verdict
GYLT: GYLT is a gateway horror game. Taken as an introduction to the genre for a younger player, GYLT certainly succeeds. That isn't to say that older, more experienced players will find naught to enjoy in Tequila Works once Stadia exclusive, but they would be hard-pressed to identify systems and mechanics that feel like true modern-day implementations rather than their older iterations. NPCs and puzzles seem to adhere to the designs of yesteryear, creating a mechanically-basic outing for Sally. And yet there's a charm that is able to penetrate these enveloping issues. The combination of the twisted Pixar style aesthetics with the heart-wrenching presentation of bullying elevate GYLT just enough beyond its failures to be enticing. If only Tequila Works had more to say about their engrossing world, GYLT would have undoubtedly ascended further. – Joshua
[
Editor's Note:
GYLT
was reviewed on PlayStation 5, and a copy was provided to us for review purposes.]