Every year Metacritic lists the top gaming publishers based off the average score and quality of five or more games released in a calendar year.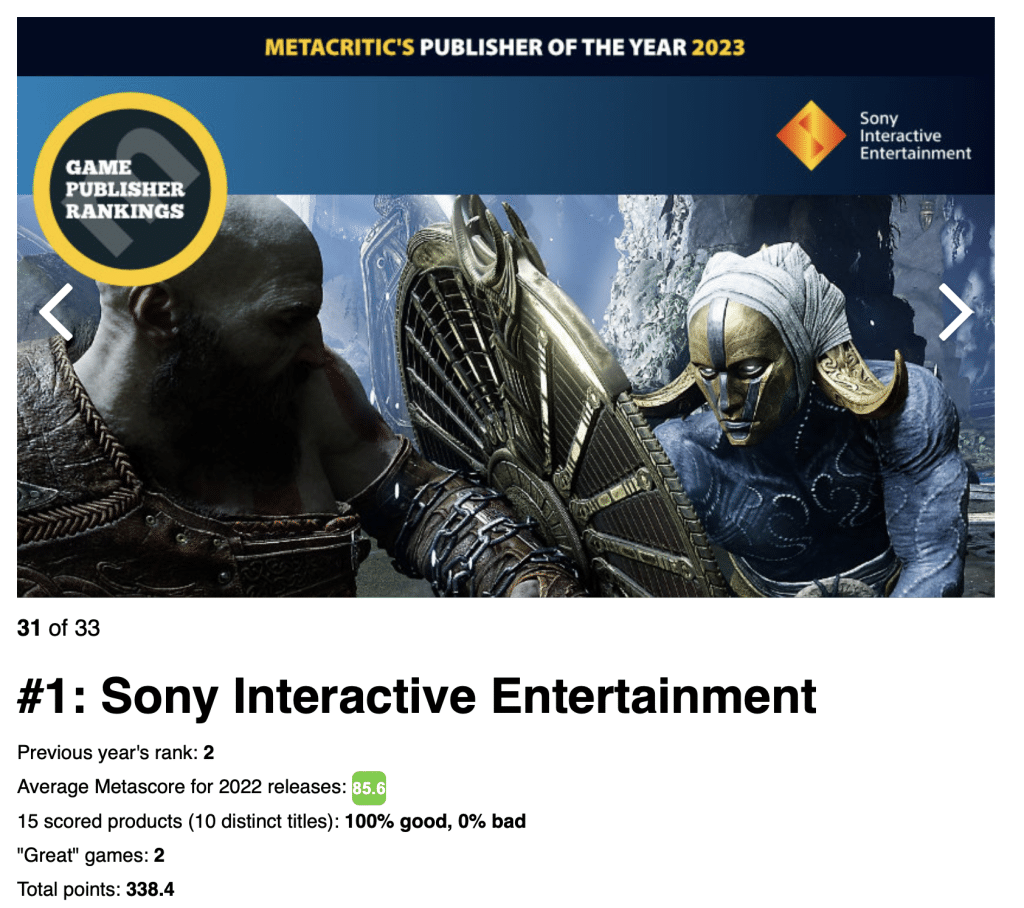 With an impressive score of 338.4, the "2023" award went to Sony. This shouldn't come as a surprise, as last year Sony came in second place, with this year having a number of fantastic titles on PlayStation and PC.
This year had a lot of fierce competition, with the full top 10 listed below.
Paradox Interactive – 322.7
Activision Blizzard – 304.8
Focus Entertainment – 304.5
Take-Two Interactive – 304
Capcom – 299.2
Sega – 294.6
Annapurna Interactive – 293.8
Humble Games – 287.9
Devolver Digital – 285.5
Several of these placements make sense due to some lucky, and unlucky swings this past year. Annapurna Interactive benefited greatly from the success of Neon White, along with the delightful cute Stray. Similar things happens with Devolve Digital, which killed it with Cult of the Lamb and more. On the other end we have Activision Blizzard taking a substantial hit from the unsurprisingly negative reception of Diablo Immortal.
Some players might be surprised to see some familiar names absent from the top 10.
Nintendo performed slightly better this year, coming in at 12th. This was largely due to the divisive elements of Pokemon Scarlet/Violet, along with some weak released like Nintendo Switch Sports.
EA came in at 17th, a substantial drop from last year. Bandai Namco unfortunately came in at 24th. Despite the release of Elden Ring helping them immensely, titles like Dragon Ball: the Breakers hurt their average. Similar things held true for Square Enix, which has titles like Babylon's Fall to thank for 26th place.
Both NIS America, and Idea Factory performed significantly well earning 32nd, and 35th respectively. This allowed both publishers to beat THQ Nordic, and Ubisoft, who came in a bit lower at 37, and 38 respectively.
Finally, you might notice that Microsoft's name is absent from the list. Despite winning last year, they did not release five games within the calendar period, making them ineligible for any place.