Bethesda Softworks announced Mighty Doom, a mobile rogue-lite set in the Doom universe, for Android and iOS devices.
For more information on what to expect from Mighty Doom, please check out the official overview below:
INTRODUCING THE MINI SLAYER

Take control of the Mini Slayer, an all-new, miniaturized but mighty character based on the iconic DOOM Slayer. When an unknown energy surge rips through a Gibbo toy factory, the Mini Slayer is brought to life and transported to an alternate dimension. Your mission? Kill every demon that stands between you and your stolen pet bunny Daisy.

ANIMATED DOOM UNIVERSE

Experience the original and brand-new 'animated DOOM universe,' an alternate reality of the DOOM universe inspired by DOOM Eternal's collectible toys. Adorable gore and violence await in your never-ending war against mini-Hell and its demons.

RUN & GUN ARCADE ACTION

Unleash your power and slay thousands of mini demons in this adorably violent and intense top-down shooter. Arm yourself with legendary guns, upgraded gear, and powerful skills as you use your reflexes to shoot, dodge, and glory kill your way through waves of demons, iconic worlds, and challenging bosses.

ROGUE-LITE CHALLENGE

Wage your mighty crusade. If you fall in battle, rise again and continue the fight by leveling up, upgrading your weapons and gear, and finding new combinations of skills to overwhelm and destroy the mini demon hordes.

Official Website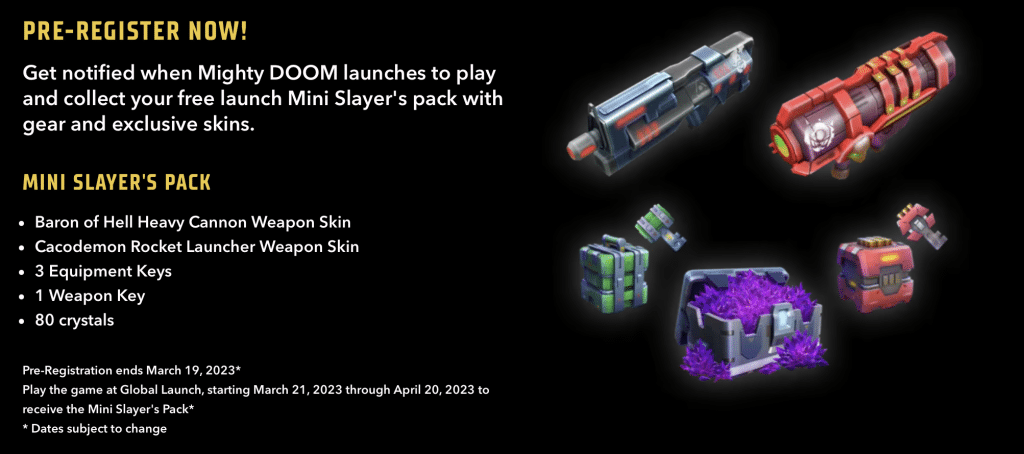 Those interested can currently preregister for Android or iOS to earn the mini slayer's pack. This includes three equipment keys, one weapon key, 80 crystals, and an exclusive Baron of Hell heavy cannon weapon skin, and Cacodemon rocket launcher weapon skin.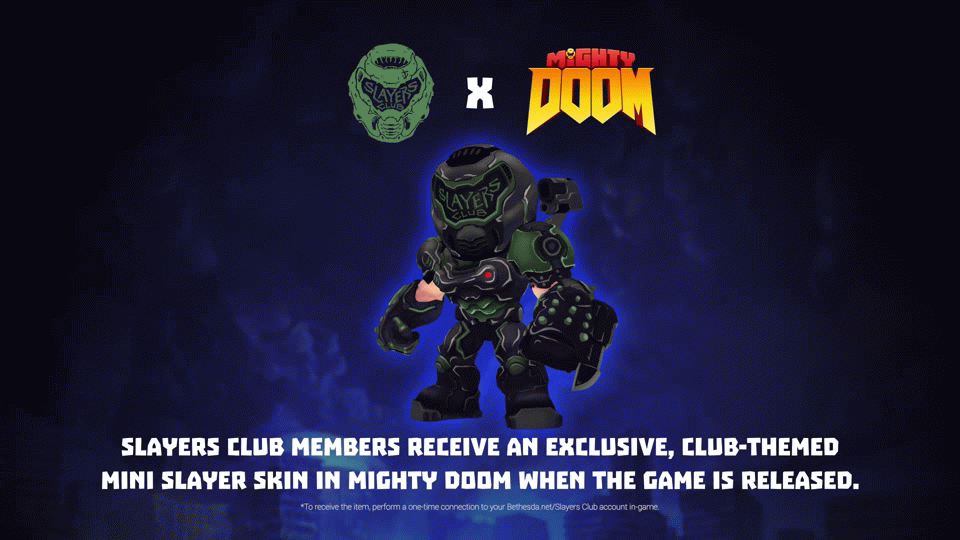 Members of the free-to-join Slayers Club will also receive a unique skin. This is unlocked by linking your accounts, and logging into Mighty Doom once.
Expect all of this and more when Mighty Doom releases on Mar. 21.