With Marvel's Guardians of the Galaxy releasing today, many are excited to play as Star-Lord and command Groot, Gamora, Drax, and Rocket Raccoon as they attempt to save the universe. With gameplay that is somewhat different than Eidos Montreal's Marvel's Avengers, there are things that may be new, even to veterans, that is important to know if you want to be successful. So, let's save the galaxy with these tips for Marvel's Guardians of the Galaxy.
Save the Galaxy With These Tips for Marvel's Guardians of the Galaxy
Don't Be Afraid to Command Your Team
Every character has a variety of special attacks that Star-Lord can command them to do. When used correctly, not only do they make short work of foes, they offer other benefits like combo gauge. Best of all, most of them are designed with a set purpose, like Groot has a skill that locks them in place, Gamora can unlock an ability to stun a variety of enemies, and more. Using these to your advantage will make even hard seem easy.
Combos Unlock Skills
Hitting enemies and maintaining damage isn't just helpful for clearing foes, it helps unlock new powers and abilities. These are further enhanced by the aforementioned commands. Just capturing three or four people with Groot's vines and blowing them up with Rocket Raccoon's bomb can make a substantial impact on how many points you receive.
Look for Components
While the game is somewhat linear, there are optional paths that can lead you to components. These unlock abilities, including one that marks nearby resources when using your helmet. These can be invaluable long term.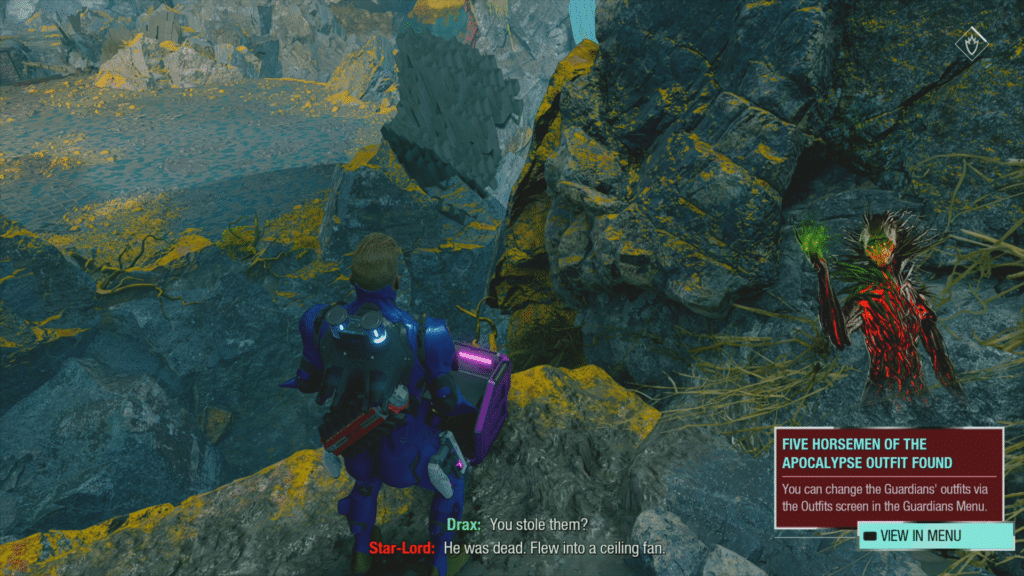 Optional Paths Sometimes Contain Costumes
Every outfit can be unlocked in Marvel's Guardians of the Galaxy, provided you can find them. Typically these are in more obtuse locations, often requiring some time and effort to find and unlock. If you find out you made a mistake, sometimes reloading a checkpoint will give you another opportunity to go back and find the missing costume.
Know What Every Guardian Does
As you progress through Marvel's Guardians of the Galaxy, players need to utilize their unique skills and abilities to complete levels. Not only is this helpful for sections you can't figure out, it also makes finding the aforementioned secrets a lot easier. Just knowing a pillar can be lifted by Drax or something can be cut by Gamora is the difference between getting the prize and losing it.