Gearbox's latest trailer showcases gameplay for their upcoming Borderlands spin-off, Tiny Tina's Wonderlands.
Along with the trailer, Gearbox revealed three editions for Tiny Tina's Wonderlands. The standard edition includes the base game, with PlayStation 5 and Xbox Series owners needing to step up to the Next-Level Edition. This edition includes the next-generation version of Tiny Tina's Wonderlands and the Dragon Lord content pack. Finally, the Chaotic Great edition, includes the aforementioned bonuses and a season pass that includes the Butt Stallion pack and four expansions. Preordering any of these will unlock the Golden Hero armor pack.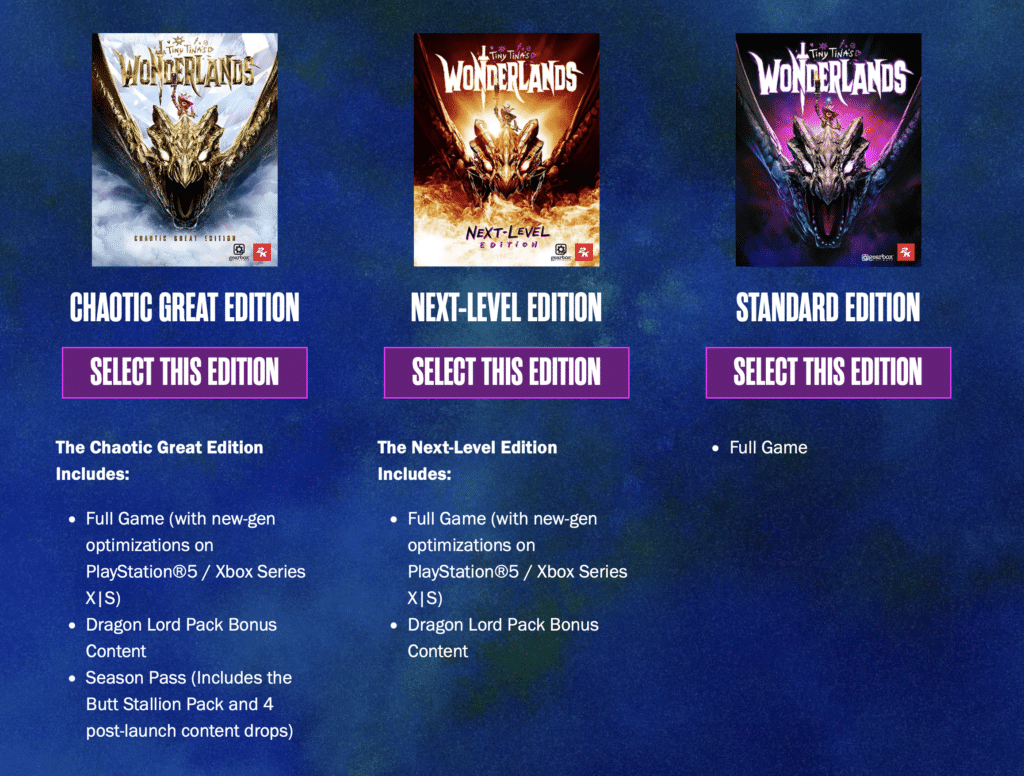 Fans of physical special editions can also purchase Tiny Tina's Wonderlands Treasure Trove. This $99.99 bundle includes a plush Butt Stallion, Bunkers & Badasses module, Butt Stallion's castle paper craft, pins, cloth map and tarot cards. Before you get too excited, the bundle does not include the game, simply a collection of collectibles from it.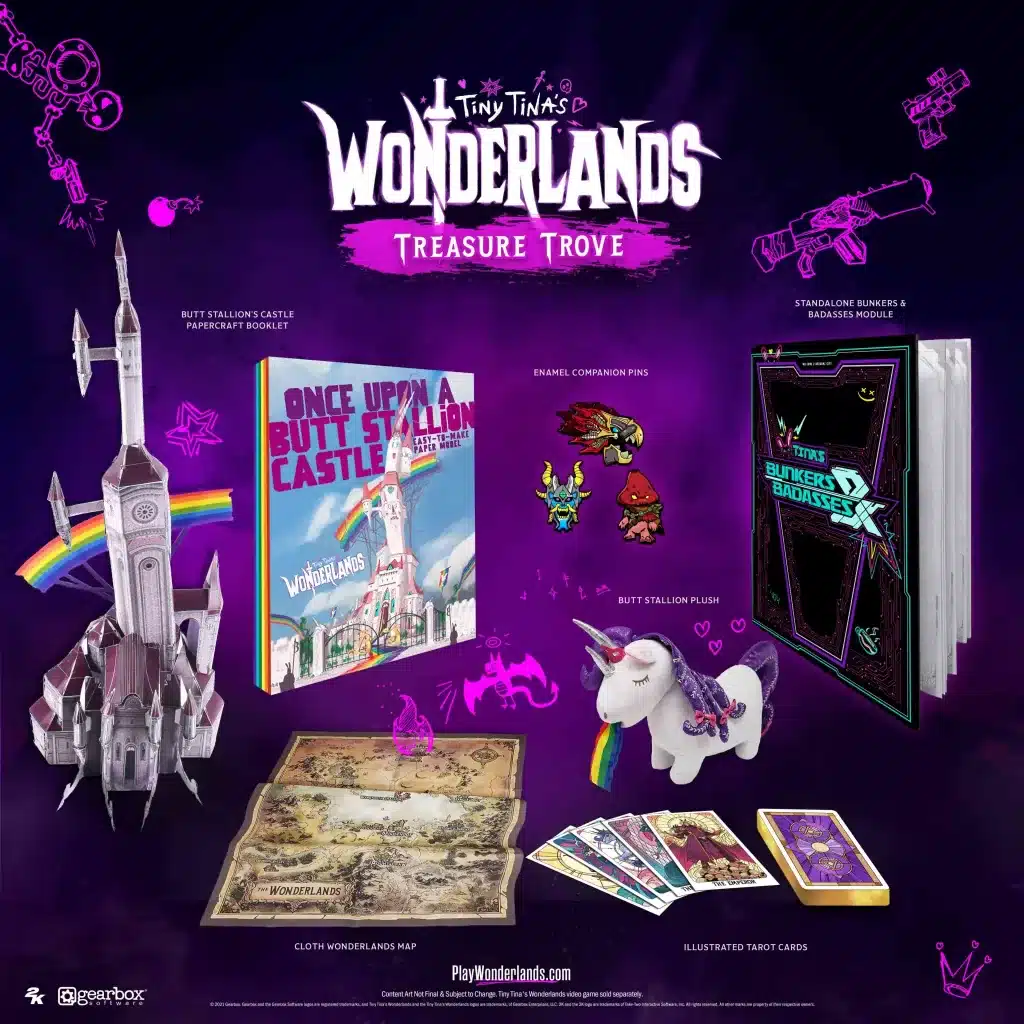 Gearbox is also offering a special Town Crier pack, which includes the Wanderlust armor pattern and Thine Humble Devs banner icon, for subscribing to 2K's newsletter, having a shift account and signing into this account when Tiny Tina's Wonderlands releases. If you're missing any of these things or just want to check your status, simply check the link above.
For more information about Tiny Tina's Wonderlands, you can find the official overview below:
In this epic high fantasy take on the looter shooter genre, players can create and customize their own multiclass heroes as they loot, shoot, slash, and cast their way through outlandish monsters and treasure-filled dungeons on a quest to stop the tyrannical Dragon Lord. Bullets, magic, and broadswords collide across a chaotic fantasy world brought to life by the utterly unpredictable Tiny Tina, who makes the rules, changes the world on the fly, and guides players on their journey.

Tiny Tina's Wonderlands is a full standalone experience with a rich, story-driven co-op campaign for up to four players, as well as repeatable end-game content. In a brand-new trailer released today, 2K and Gearbox showcased the game's unique themes, fantastical setting, and all-star celebrity cast.

Joining players for the experience are headstrong captain Valentine (Andy Samberg), rule-obsessed robot Frette (Wanda Sykes), and the beloved, bomb-chucking Tiny Tina (Ashly Burch), who serves as players' guide through this extraordinary tabletop realm where rules rarely apply. During their quest to defeat the Dragon Lord (Will Arnett), players will meet a cast of lovable misfits like a lute-wielding Bardbarian and their very own Fairy Punchfather.

Press Release
Expect all of this and more when Tiny Tina's Wonderlands releases on Mar. 25, 2022 for PlayStation 4/5, Xbox One/Series and PC.