Starbreeze and Deep Silver released a roadmap for Payday 3 that covers what players can expect from the game's first year.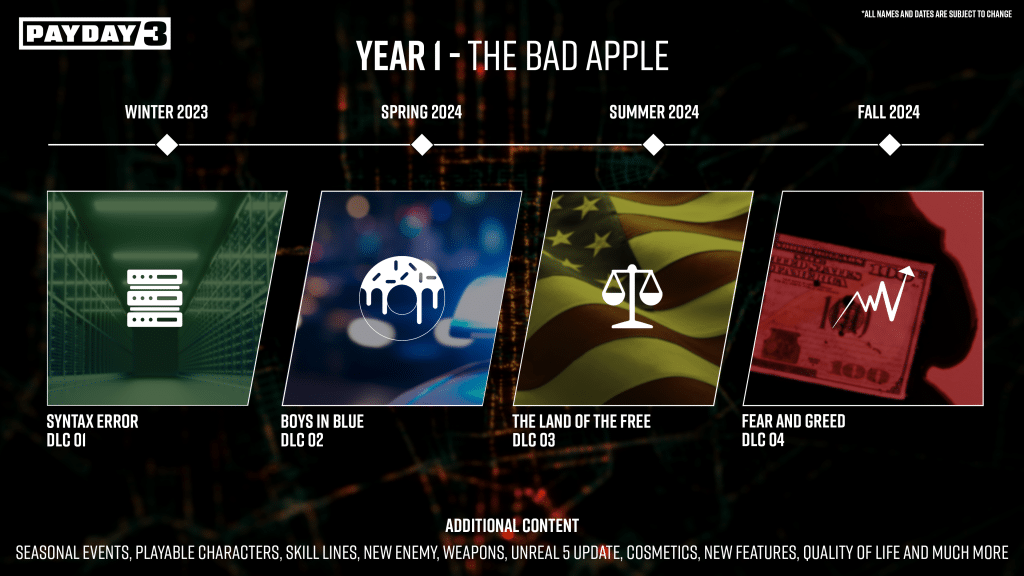 Following release players will have the first DLC, Syntax Error, available in winter 2023. Shortly after Boys in Blue will drop in Spring 2024, followed by The Land of the Free sometime in summer 2024, ending with Fear and Greed in fall 2024.
Details were not given on these updates, in fact even their names are subject to change, though potential content includes new characters, enemies, weapons, "Unreal Engine 5 upgrades," cosmetics, quality-of-life improvements, additional features and more.
While the distant future isn't particularly clear, Starbreeze revealed the final two playable characters available at launch, Pearl and Joy.
Following the reveal Starbreeze described Pearl and Joy with the following description.
Pearl is an expert con artist and infiltrator who is as comfortable running scams on the street as she is rubbing elbows with the rich and famous. She leaves nothing to chance, and it's a rare occasion when things don't go her way. Make no mistake though, she plans for every contingency, even the rare occasions where she has to pull out her own weapons.

Joy is a genius hacker and security expert who is now an official part of the crew. As a merciless heister, Joy is a dangerous combination of strength and subterfuge. With no respect for the law and a twisted sense of humor, Joy is a wildcard character who ends up being an ace during any heist.

Press Release
Expect all of this and more when Payday 3 releases on Sept. 21 for PlayStation 5, Xbox Series, and PC.