Strictly Limited Games and Amata K.K. have teamed up to release a physical and special edition version of Last Labyrinth for PlayStation 5, and Nintendo Switch.
Like most Strictly Limited Games collaborations, a limited edition, special limited edition, and aluminum art card will be available for preorder tomorrow at 6 pm EST / 3 PM PST.
The limited edition version of Last Labyrinth will include the game, manual, and will be individually numbered for $39.99. PlayStation 5 will be limited to 999, with Nintendo Switch hitting 2,000.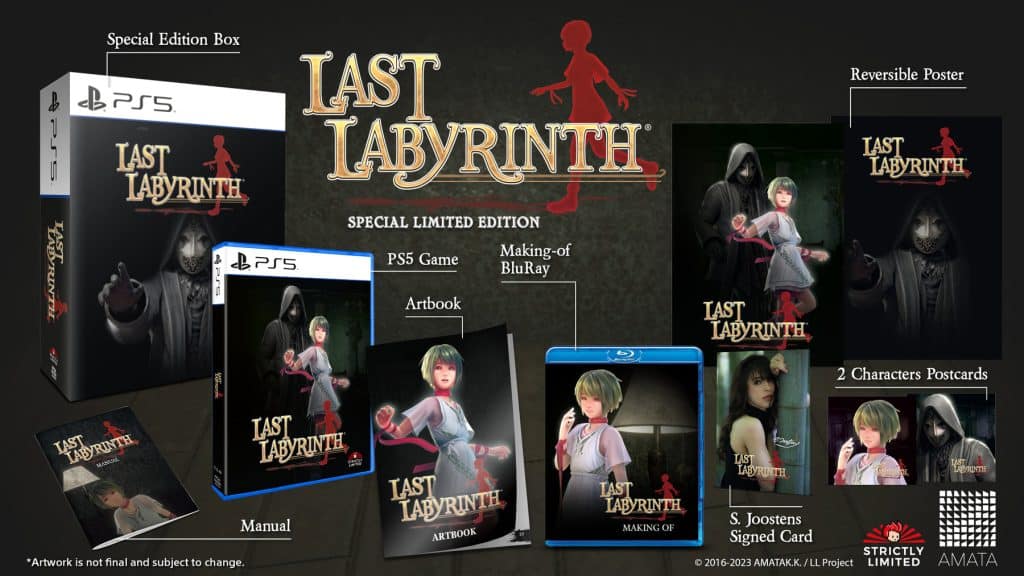 As for the special limited edition, it includes the limited edition content plus two post cards, making of Blu-ray, art book, poster, signed card, and special box for $59.99. These will be a little rarer, as only 666 PlayStation 5, and 1,000 Nintendo Switch copies were made. It should also be noted these editions are different than the previously released PlayStation 4 version that is almost out of stock.
For those unfamiliar with Last Labyrinth the official overview can be found below.
In Last Labyrinth, you awaken in an unfamiliar mansion. You find yourself vulnerable and tied up, with your arms and hands bound, immobilized in a wheelchair. Your only hope for escape lies with Katia, upon whom you are dependent. Katia relies solely on nonverbal cues to interact with you and navigate through the game.

This unique form of communication adds an extra layer of challenge and immersion. You must rely on subtle gestures, eye contact, and body language to convey your intentions and understand Katia's instructions. This communication style creates a sense of intimacy and cooperation between the characters, requiring a deep understanding and trust to unravel the mysteries of the mansion. Katia presents you with a series of intensive, meticulous, and inventive escape room puzzles. These riddles progressively grow in complexity and diversity, encompassing challenges related to numbers and brain-teasing tasks. Each puzzle must be solved in order to advance in your venture.

Strictly Limited Games Press Release