NIS America confirmed their upcoming Disgaea sequel, Disgaea 7: Vows of the Virtueless, will release on PlayStation 4/5, Nintendo Switch, and PC in the west this fall.
Along with the announcement, NIS America detailed some features in Disgaea 7: Vows of the Virtueless.
The demonic realm of Hinomoto is changing and the days of noble warriors are numbered. Bushido, the moral code for the values, ethics, and lifestyle practiced by the inhabitants, has been replaced by the Hinomoto Code of Destruction. Disgaea 7: Vows of the Virtueless tells the story of lazy warrior Fuji and bushido fangirl Pirilika, as they find unlikely allies in each other in their fight against a tyrannical regime while discovering the true meaning of honor and redemption.

Character Classes: Disgaea 7 contains over 40 character classes, including four new additions: Maiko, Bandit, Zombie Maiden, and Big Eye.

Auto-Battle: Returning in Disgaea 7, once you clear a level, you can play through it again by engaging with enemies in auto-battles. This can help you gain additional experience while also saving time in your playthrough.

Online Ranked Battles: A first in the series, AI-driven ranked battles allow you to face off against other players online. The system creates optimal strategies based on your opponents' movement patterns and the characteristics of the stage. Stacking victories will lead to an improved rating, while losing will hurt your standing.

Item Reincarnation: Similar to the character reincarnation mechanic in the previous Disgaea games, which also returns, you can now reincarnate items, transforming them into something completely different. The more you do so, the more powerful the item becomes!

Hell Mode: Some characters have a "Hell Gauge" that fills up during battle. Once it's maxed out, they switch into "Hell Mode," which boosts their stats and unlocks unique skills.

Sightseeing: Once you've brought peace to a region of Hinomoto, you can stop by for a visit. Get to know the inhabitants of Hinomoto as they return to their normal lives, with bonus dialogue and opportunities to recruit new companions (after you beat them in battle, of course).

Jumbification: Each character in Disgaea 7 can supersize themselves, growing in both size and strength, which boosts their stats and damage output. Be careful though, as enemies can also do the same!

Disgaea 7: Vows of the Virtueless releases on PS4 and PS5 in Fall 2023. Text options include both English and French, with English and Japanese voice options. 

PlayStation Blog
To go with the announcement, NIS America also confirmed Disgaea 7: Vows of the Virtueless will receive a limited edition.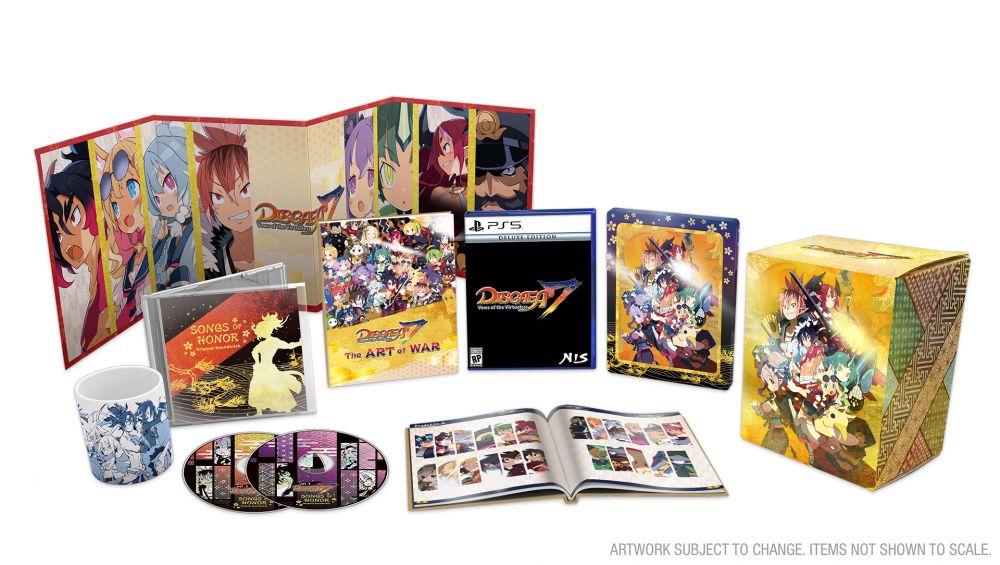 The limited edition is available for PlayStation 4/5, and Nintendo Switch for $99.99. It includes a copy of Disgaea 7: Vows of the Virtueless, hardcover art book, OST, steelbook, mini byoubu art display, tea cup, and special box. Those looking for a little more can buy the plush set for $158.99. This edition includes one of the previously mentioned limited editions, along with a Lil' Fuji & Lil' Pirilika Plush. These plush are not exclusive to any editions, and can be purchased separately for $36.99.