Roughly a week ago Disgaea RPG got a massive update that added and changed a lot of things. One of the biggest was increasing the level cap to 7,900, though you can technically go beyond even that now. This update was huge for players, since it adds a wide variety of things to grind and obtain. Naturally, players started looking for the best place to level in Disgaea RPG.
Despite the natural assumption being the latest and highest Gate of Experience, which would be 19, there is actually a better place to grind, assuming you want to put in the time.
Best Place to Level in Disgaea RPG
Overview
The best place to grind would actually be Full of Admiration! 2. This is one of the newly added stages in story mode, which has two distinct advantages over Gate of Experience, though it isn't without disadvantages either.
Just casually testing, my Killidia with the same team, support and equipment got nearly 400 more levels more than me using a skip ticket on Gate of EXP 19. In addition to that, this stage can be ran endlessly, meaning there is no limit to how many levels you can gain besides resources. But, even then, the stage has the potential to drop the new reincarnation statues, including level four ones. These can not be obtained from other stages and allow players to exceed the current level cap, though their drop rate is so low it isn't worth grinding.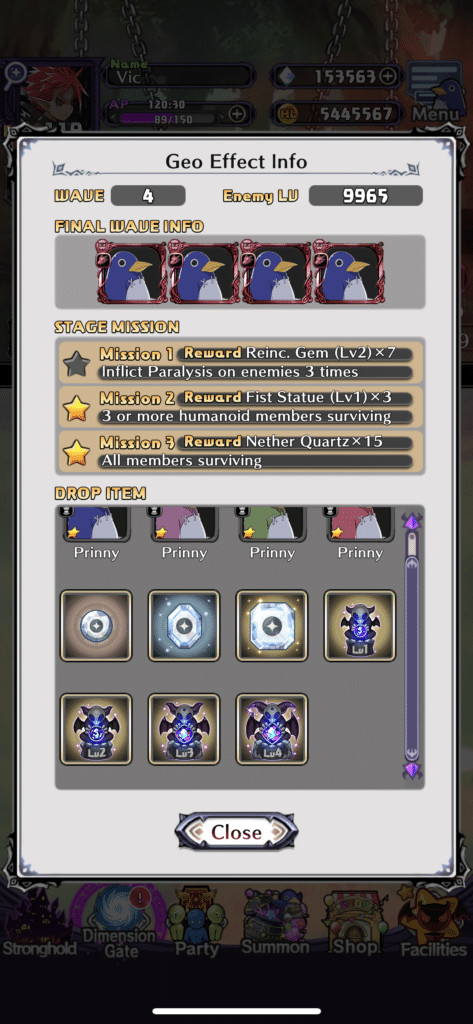 As mentioned above, there are disadvantages to this method. For starters, the stage can not be skipped, meaning you can't casually level whomever or stack experience items unless those won't be detrimental to completing the stage. It's also fairly long grind, I think it took roughly five hours of playing and around 6,000 AP to get to this stage. Plus, the barrier to complete these stages gets higher and higher. To reasonably complete the version in question, you need a character with around 40 million attack after buffs. On the upside though, these enemies have 48 speed and won't force players to rely on things like the old Prism Ranger method. There are also less enemies, giving players more flexibility.
If all of this hasn't scared you off, let's get into set up.
Unlocking Full of Admiration! 2
To unlock this stage players need to unlock Part 1 Anecdote Stop the Prinny Bomb and make it to third platform in chapter three.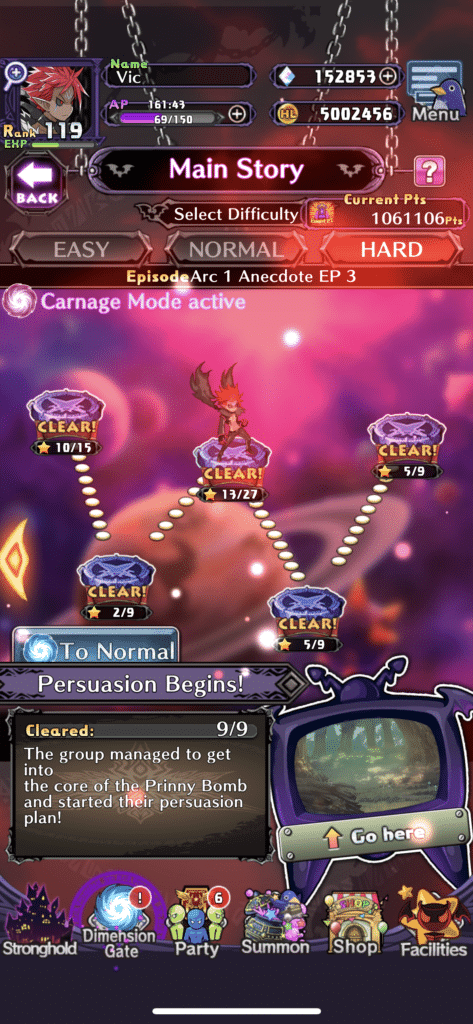 What makes this time consuming is, even if you have this story stage unlocked and the Land of Carnage bill passed, players need to beat all three chapters on easy to unlock normal and all of those to unlock hard. On the upside, those who can't complete the journey won't get nothing for their effort. The average stage is actually pretty good for experience, even if it isn't the one specifically mentioned here, and there are lower difficulty versions. Similar to how Gate of EXP 18 won't give as much as Gate of EXP 19, even unlocking the stage on normal will give you the same basic benefit in relation to the comparable EXP gate.
Tactics and Tricks to Win
Perhaps the most frustrating part of the journey is inconsistency. Every level is not harder than the last. Stages with bears or sludge enemies tend to be harder, as they're more equipped to take a hit. As a result, even if my core tactic was buff and use an area of effect attack, which attack and how they hit was very important.
This will, naturally, depend on your team. Anyone using Killidia will be held back by Raging Tempest, Tyrant Valvatorez will have an easier time on later waves and so forth. For this reason I can't give a relatable strategy for all. Still, keep in mind how much damage you do, turn order and perhaps think outside of the box.
My Bunny Seraphina has enough speed to beat Killidia even after one Raging Tempest, making it easier to buff my character or a support unit if need be. I've also seen Killidia units with 75+ speed, which are actually superior to higher damage ones, since they can often get SP without needing to do damage or can, with two Raging Tempest, move fast enough to go twice before an enemy attacks.
With all of this you should be in good shape to win or have a good idea of what you need to get from future banners.