Once you get the characters you want, figure out the basics and start obtaining more things via gems, gold becomes an extremely valuable resource in NieR Reincarnation. It's, unfortunately, unavoidable with character and weapon levels taking a chunk out and bringing a memoir to level 15 can cost you 100,000+. It will come and go fast, especially if you want to hit 60,000+ force, but there are tricks to earning gold quickly.
How to Quickly Earn Gold in NieR Reincarnation:
Purchase Coins with Automata Medals
There are a lot of great items in the Automata Medal shop. Rare upgrade materials, characters, weapons and so much more. However, one of the most commonly overlooked items are coins. These can be purchased for a couple medals and depending on rarity give up to 10,000 gold, making them invaluable for anyone strapped for cash.
And, best of all, Automata coins are pretty easy to get.
Obtain Explorer's Tickets
Perhaps the oddest and most easily overlooked item in NieR Reincarnation are explorer's tickets. What makes them useful is how quickly they increase player levels. It's entirely possible to gain a single level per ticket, giving over 100 energy each time. This makes it even easier to farm the aforementioned Automata medals and other tasks.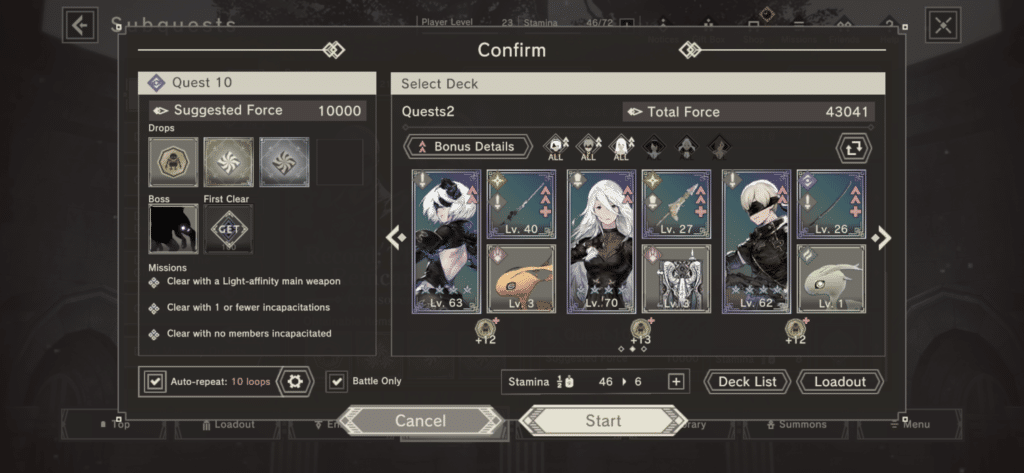 Sell Two Star Weapons
While not the best method for obtaining cash, weapons can be sold in a pinch. Just be careful selling anything above two stars, since these can be great resources while building four star or better gear.
Farm Dungeons
Once you finish leveling characters and weapons, one of the simplest things to farm are memoirs. They give massive stat boosts, I've actually gone up multiple thousand force by leveling the right ones, with all kinds of handy skills and types. Dungeons award these on successful completions and can give up multiples per run. With each run costing five to 12 energy an attempt, it's entirely possible to gain 20,000 or more gold in 10 runs.