Audeze surprised a number of audiophiles with the announcement of their first electrostatic headphone, Audeze CRBN.
Prior to the announcement, I was lucky enough to have an opportunity to meet with Sankar Thiagasamudram, Audeze CEO, and experience Audeze CRBN myself.
During our meeting I was able to listen to a couple songs with Audeze CRBN. Let me start by saying, my experience comes from listening to a couple rock songs connected to what I believe was a STAX SRM-D10 and a newer MacBook Pro using Apple Music.
To put it simply, I was impressed by what Audeze CRBN delivered. Not only did the first song sound like I was literally there, the soundstage was massive and full of life. Nothing was lost, with the vocals sounding extremely crisp and clear. It reminded me a lot of what made me consider a pair of Expression ESL 13A, just with none of the drawbacks you'd find in a traditional electrostatic speaker.
The build on the production model was also surprisingly nice. Similar to Audeze beloved LCD line, CRBN has a different grill that stands out in a truly unique way. They're also surprisingly light at just 300g (.6 lbs), compared to the LCD-GX I'm use to being 454g (1 lbs) and their current planar flagship, LCD-4, at 690g (1.5 lbs). This helped make them feel comfortable, along with the design working better with my head.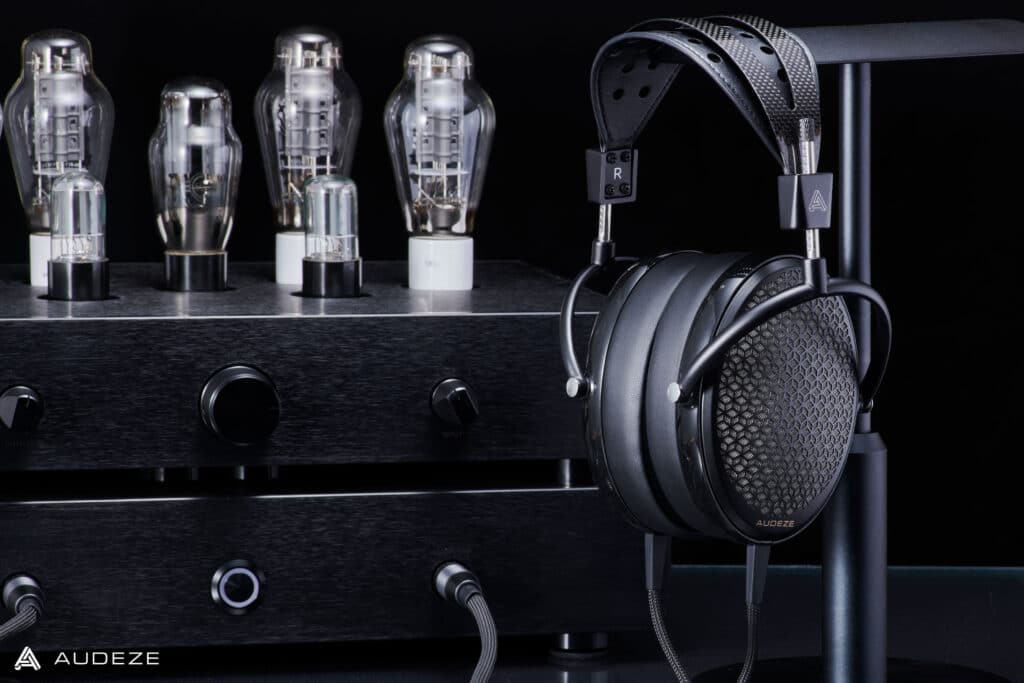 In addition to delivering a great experience, the story behind Audeze CRBN is just as good.
The Journey

The concept and technology behind CRBN was originally developed to support
neuroscience research, specifically to combat doctor and patient challenges when it
comes to MRI machines. In working with Prof. Mark S. Cohen, UCLA School of
Medicine, Semel Institute for Neuroscience and Human Behavior, and with SMRT
Image, a leader in two-way audio-video communication technology for the medical, the
objective was to apply noise cancellation, improve patient comfort, and enable better
diagnostics within MRI applications.

Conventional headphone driver technologies such as moving coil, planar, and
electrostatic cannot be easily used in MRI (magnetic resonance imaging) applications
due to the ferrous metals required in the headphone design. Audeze engineers
developed an innovative patent-pending driver solution using an ultra-thin film with
carbon nanotubes suspended inside the film. The result is a unique driver that has
uniform conductivity and is fully MRI compatible, improving patient comfort and
communication between doctor and patient.

From Neuroscience to Audiophiles

From this technological advance, Audeze created one of the best sounding transducers.
The Audeze CRBN headphones designed using our patent-pending carbon nanotube
diaphragm offers extreme neutrality, very light weight, and has an amazingly accurate
bass. The proprietary ultra-thin carbon nanotube diaphragm delivers an exceptional
level of detail and immersion – it's as though there's nothing between you and your
music.

Audeze Press Release
Those interested can purchase Audeze CRBN today for $4,500. This includes the headphones, travel case and a specifically designed premium electrostatic cable. However, this does not include a 580 Volt Pro Bias amplifier, which is required to use Audeze CRBN. A list of confirmed working amplifiers can be found here.