I don't think there is any topic bigger than Blue Box Game Studios and their supposed upcoming placeholder titled game Abandoned. There have been theories of it being Silent Hill, Siren, another major franchise or just a simple developer in way over his head. Despite today promising some answers, the night ends with far more questions than we had before.
Before talking about the current happenings, let's go over the story so far. For years, Blue Box Game Studios has worked in relative obscurity. There was a Kickstarter that mysterious ended with someone buying them out, a short lived Android game and an early access title that was met with relatively unfavorable reviews. But, all of this changed when they announced Abandoned on PlayStation Blog.
Due to some weird elements, people started wondering if this company was a front for Hideo Kojima to reveal Silent Hill. Things didn't start to snowball until a couple days ago when their Twitter account tweeted the following.
This has lead to endless speculation, theories and off-the-wall coincidences that you can read about in our previous posts on the topic (First, Second, Third). Since we're now in the weekend, making it less likely for things to change, and the promise of Geoff Keighley getting pictures of Abandoned to share, but instead the craziness increased.
At the time of posting, Keighley has still yet to receive any of the images from Hasan Kahraman. Instead, Kahraman supposedly mentioned Keighley would do a Tuesday reveal of Abandoned, something Keighley denied having involvement in. Despite initial theories that Keighley was in on it, he confirmed Kojima was not, to his knowledge, involved and we have all the information he has. Later, Keighley talked about it on Twitter, restating confusion at the situation and hope it leads to a good product. Reddit user jbo1992, captured the exchange, which can be found here.
In addition to Keighley weighing in, Dusk Golem, notable Capcom insider that has previously offered information on the supposed Silent Hill game, offered an surprisingly measured reply.
One of my thoughts just loosely following this is I think their may be some wires getting crossed in evidence.

I know not all believe me, and that's fine, but there is at least one Silent Hill game in dev. Is it the Blue Box Studio stuff? I don't personally think so, but I don't know that. I think there's a lot of evidence this isn't a wacky Kojima conspiracy thing either, about as much evidence as it is for those digging into it (and I'd argue more).

I think some are equating that any proof a SH game exists it must be this, & visa versa. There's some very interesting evidence for certain things I'm looking into unearthed from people going crazy for this, so I'm thankful for it, but I can't shake the feeling that some are drawing the wrong conclusions. There's a lot of interesting things, but I don't personally think it makes the image many think it's making. Given on Abandoned I know as much as anyone else, so this is purely just my speculation and opinion.

Dusk Golem on ResetEra
While some started trying to distance themselves from the situation, Kahraman commented to someone on PlayStation network about both Demon Blood (Siren Head) and Abandoned.
After a firm confirmation Demon Blood and Abandoned are different things, Kahraman couldn't confirm Abandoned isn't Silent Hill, going on to say his team isn't even sure what it currently is. Some users instantly thought of a previous remark Kojima made about Death Stranding, saying even he doesn't understand it, but it's possible there is a simpler explanation.
While there are countless theories about what that means, ranging from him trying to obtain the rights to Silent Hill or being a pawn in a larger scheme, Mark Delaney, contributor at GameSpot, offered some different insight.
If you heard my Twitch Q&A last night, you know that Hasan told me what Demon Blood is on the PSN. People saw it on his profile and thought it to be some sort of clue. I alluded to the fact that it's not some missing puzzle piece this sub would care about but since it's still being speculated on, I'll just tell you here in the hope that you put it to rest. 

Demon Blood is a quick game jam-type of game Hasan made for his nephew who enjoys Siren Head. It will never be sold. It exists on the dev side of PSN, which regular consumers can't access. That's all it is. A gift for his nephew. The way he described it sounded like Slender but with Siren Head. It was made for literally one young kid and that's its entire audience.

Delaney on Reddit
That being said, this was far from the only interesting thing to happen with Kahraman. Users found an Instagram account that was believed to be Kahraman's, that was followed by both Keighley and Corey Barlog, creative director at Santa Monica Studio. Briefly there were some images, that lead to stock image website GettyImages, before being taken down and Blue Box Game Studios Twitter claiming it was fake.
Finally, Konami Shop choose today to reveal new merchandise for Silent Hill, with the most notable being this one with Pyramid Head. On reddit, stickflip posted an image explaining the design to people. The next combined the various different Silent Hill logos over the years, with some odd space to the side. This would be perfect for an S or the number five, leading to theories of it being a tease or possibly existing assets that was poorly changed following the cancellation of Silent Hills.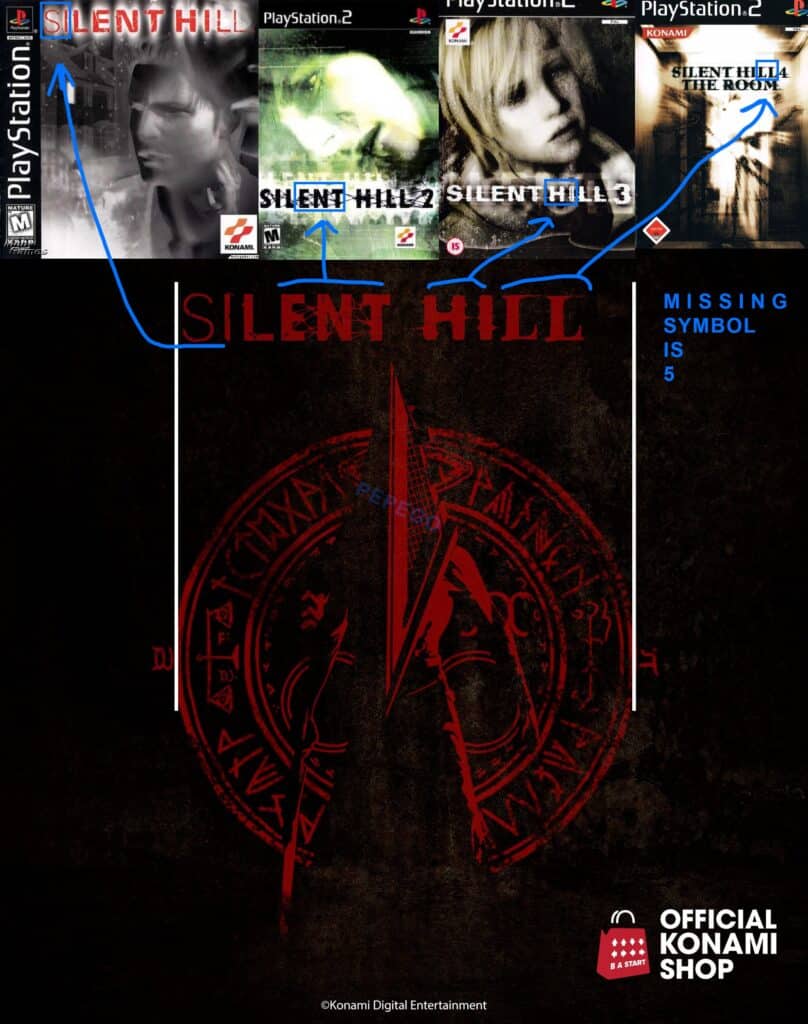 Like all theories, there are some counter points. Twitter user MasharuLaw, found of indie studio Challengia Games, commented that the logo is actually centered, despite theories of it being off center.
With the odd occurrences with Official Konami Shop, many users contacted them asking about a future Silent Hill game and being told to stay tuned. The hopeful were met with a lot of criticism, though still interesting to see them possibly lean into the rumors just to sell merchandise.
Make sure to head back tomorrow as we continue to look at this ongoing event.