The Hunting: Blood Water Curse was recently listed on the PlayStation Store, which gives more questions than answers about Blue Box Game Studios.
In addition to the listing, some users were able to get the site to reveal The Haunting: Blood Water Curse will be available for early access on June 25, 2020 for PC and PS5, with a PS4, Xbox One and Xbox Series version set for release this summer.
If you haven't been following the news recently, Blue Box Game Studios has been teasing their upcoming game Abandoned, which some people think is an elaborate hoax for Hideo Kojima to announce Silent Hill. While there is a lot of questionable proof, it still makes for a rather convincing case. However, with The Haunting: Blood Water Curse appearing on the PlayStation Store, it starts to point towards an even weirder situation.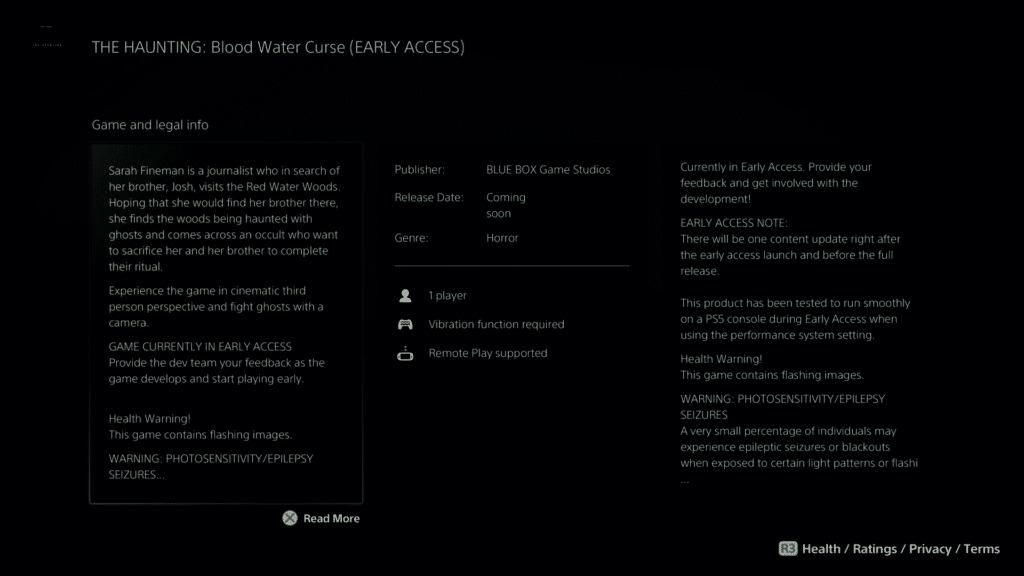 Just looking at the listing, it matches what you'd expect from The Haunting: Blood Water Curse. The same game appeared on Steam on Dec. 20, 2020 and all the information about it lines up with the Steam listing.
Sarah Fineman is a journalist who in search of her brother, Josh, visits the Red Water Woods. Hoping that she would find her brother there, she finds the woods being haunted with ghosts and comes across an occult who want to sacrifice her and her brother to complete their ritual.

Experience the game in cinematic third person perspective and fight ghosts with a camera.

Steam Description
Nothing is different about the overview, though the early access note on Steam is a little different. On PlayStation 5 it gives a timeline for updates, whereas the Steam listing is a little more abstract.
THE FOLLOWING WILL BE ADDED IN THE NEW CONTENT UPDATE SHORTLY

The new content update is on the way, this update changes the game into a cinematic gameplay experience. The game is no longer first person. The gameplay perspective will be presented in cinematic third person.

Steam Description
What does stand out isn't the listing, but the publisher. PlayStation 5, unsurprisingly, lists Blue Box Game Studios as being behind the game, whereas CREATEQ Interactive is listed for the Steam version. A Steam update, made on Apr. 9, mentions CREATEQ Interactive is taking over and Blue Box Game Studios is not Hideo Kojima.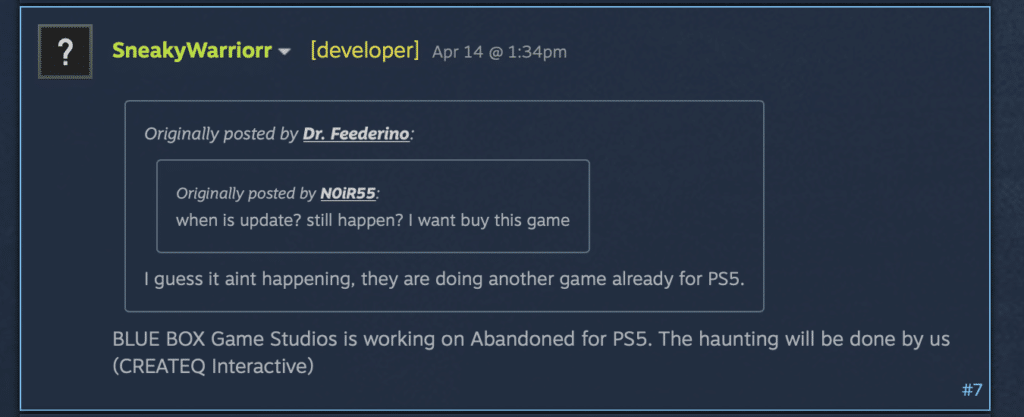 Where things start to get interesting is a reply from the developers on the Steam community page. In a reply by SneakyWarriorr, better known as Hasan Kahraman, talks about the shift in a rather unusual way. Even though he is credited as game director for Blue Box Game Studios, the Steam post indicates he works for or possibly is CREATEQ Interactive. Even the PlayStation 5 listing of The Haunting: Blood Water Curse indicates it's published by him specifically and "t/a Blue Box Game Studios."
For those looking to go further down the rabbit hole, CREATEQ Interactive does not seem to be a legitimate company. Documents indicate Blue Box Game Studios is, though they also point to their headquarters being an apartment complex. An interesting detail considering their latest tweet.
What is really interesting is there is another company in the Netherlands named Createq. This almost certainly real company, specializes in making marketing solutions for retail stores. These would be things like a headset station you see at a Best Buy or Target, which are typically created, built and serviced by a third party team. According to their location, they're roughly an hour away from where Blue Box Game Studios is listed to be.
While we will almost certainly know what Abandoned is and how The Haunting: Blood Water Curse's early access fits into this puzzle next week, it's starting to become increasingly clear this is not going to end with Silent Hill. Especially given this situation becomes increasingly more confusing as time goes on.