Earlier today Nintendo held a Direct to showcase third party titles and touch on some of their upcoming classics for this holiday season. These include finally giving the Princess Peach game a name, new Splatoon 3 DLC, the return of F-Zero and even some unexpected third party reveals.
Nintendo Direct – Sept. 2023
Princess Peach: Showtime!
Princess Peach: Showtime!: The leading lady is ready for her spotlight on Nintendo Switch. Just as Princess Peach and her retinue of Toads are attending a show at the Sparkle Theater, the wicked Grape and the Sour Bunch take center stage to cause a ruckus. Now it's up to Peach and Stella, the theater's guardian, to save the play – and the day. Luckily, Peach has gained some showstopping abilities: She can now use the power of Stella's ribbon – and she can transform! For example, Peach can become a Swordfighter to fend off foes with sensational swordplay, mix it up with martial arts moves as Kung Fu Peach or show off her sweet skills as a pastry chef. And one more thing – she can even crack the case as Detective Peach! In this adventure, the gameplay changes depending on Peach's role, and even more surprising transformations are waiting to be revealed. Princess Peach: Showtime! makes its debut on Nintendo Switch Mar. 22, 2024. 
Paper Mario: The Thousand-Year Door
The Nintendo GameCube game returns with updated graphics. Turn the page and join Mario and friends in an RPG adventure to discover the legendary treasure behind the ancient Thousand-Year Door. Will Mario complete his papery quest, or will he crumple under the pressure? Find out when Paper Mario: The Thousand-Year Door unfolds on Nintendo Switch in 2024. More information about this game will be available in the future.
Luigi's Mansion 2 HD
Explore multiple spooky mansions and clean house as the easily scared Luigi in this visually enhanced version of Luigi's Mansion: Dark Moon. Evershade Valley is filled with chilling locales to visit and clever ghosts to capture. Luckily, Luigi has the tools for the job – like the Strobulb to stun enemies and his trusty Poltergust to vacuum up ghosts or interact with the environment. Good thing, because his paranormal escapades will take him to a variety of places, including a former plant research lab, a broken-down clock factory and an icy, snow-covered mine, just to name a few. Plus, hunt ghosts with up to four players online in group "exorcises" across different multiplayer modes, or conjure up fun frights in the local multiplayer ScareScraper mode. Luigi's Mansion 2 HD creeps onto Nintendo Switch summer 2024.
Super Mario RPG
The Super NES game is back with updated graphics and new features. Mario and Bowser form an unprecedented alliance to take on a fearsome foe, and joining them are Princess Peach and original characters Mallow and Geno. In battle, time your button presses with Action Commands to increase damage dealt or decrease damage received. Now when you time your attacks perfectly, you can damage all enemies at once. Successful Action Commands will fill the Action Gauge that, when full, will unleash a three-character Triple Move. The Triple Move changes based on your current party, so try out different combos. Just like the original game, you'll encounter bosses with colourful personalities in your adventure. This time, once you clear the game, you can challenge some of them again – but these powered-up bosses won't be easy! Super Mario RPG comes down the pipe on Nintendo Switch Nov. 17. Pre-orders are available now in Nintendo eShop and at select retailers.
F-ZERO 99
Rev up your engines and get ready to tear up the track, because with 99 racers on the course the margin for error is zero! F-ZERO 99 features courses and machines from the original Super NES game in challenging multiplayer* races brimming with high-speed, high-stakes action. Your Power Meter is your key to first place – it will decrease if you crash, or you can burn some of it to fuel a temporary speed boost. If the meter runs out, you're eliminated! You can even relive your F-ZERO glory days with the Super NES controller, available exclusively to Nintendo Switch Online members. Plus, complete goals while racing to unlock cosmetic options for your machine, so you can be as flashy as you are fast. Race your way to first place in F-ZERO 99, available exclusively for active Nintendo Switch Online members … later today!
Warioware: Move It!
Join Wario and visit a tropical resort brimming with a multitude of motion-based microgames. But there's no time to unwind, because these lightning-fast microgames are served to you one after another – so get ready to get moving! Up to four players can gently shake, wiggle and battle it out locally in Party Mode. With over 200 microgames and multiplayer modes aplenty, everyone's in for a laugh with Wario. WarioWare: Move It! launches on the Nintendo Switch system Nov. 3. Pre-orders are available now in Nintendo eShop.
Detective Pikachu Returns
This detective's got a second bolt of brilliance! In this cinematic adventure, Detective Pikachu and his partner Tim Goodman investigate various cases around Ryme City while searching for Harry, Tim's missing father. They'll also work with other Pokémon to broaden the scope of their investigations as they follow scents with Growlithe, smash rocks with Darmanitan and peer through walls with Luxray. Can Tim and Pikachu solve all the mysteries and find Tim's father? Find out when Detective Pikachu Returns launches on Nintendo Switch Oct. 6. Pre-orders are available now on Nintendo eShop and at select retailers.
Mario vs Donkey Kong
The rivalry that heated up on the Game Boy Advance system reignites on Nintendo Switch. Donkey Kong has stolen the Mini-Mario toys, and Mario is determined to track him down and get them back! Use your brain and brawn to make it through a barrel of increasingly challenging levels – and in this updated version of the game, you can even play with a friend in local co-op. Grab keys and navigate perilous platforms with handstand jumps and backflips and lead the Mini-Mario toys to safety. Then, prepare to face Donkey Kong head on! Mario vs. Donkey Kong launches on Nintendo Switch Feb. 16, 2024. Pre-orders begin today in Nintendo eShop.
Splatoon 3 Side Order Expansion
Challenge your slick skills in this new single-player campaign. Introducing the Spire of Order, where you'll strengthen your character's abilities as you ascend the Spire's floors again and again. Splatoon 3: Expansion Pass – Side Order for the Splatoon 3 game is planned to release in spring 2024.
Mario Kart 8 Final Wave of DLC
The final wave of DLC for the Mario Kart 8 Deluxe game is nearing the finish line! Drift and drive under an amber sky in Daisy Circuit from Mario Kart Wii. Or put the pedal to the metal with more returning characters, including Diddy Kong from Mario Kart: Double Dash!!, Funky Kong from Mario Kart Wii and, from the Mario Kart Tour game, Pauline and Peachette! Wave 6 of the Mario Kart 8 Deluxe – Booster Course Pass DLC sails onto Nintendo Switch this holiday season. Active Nintendo Switch Online + Expansion Pack members can enjoy this DLC at no additional cost. The DLC can also be purchased on its own. Stay tuned for more information in the future.
Tomb Raider I-III Remastered Starring Lara Croft
Uncover treasures and mysteries of the ancient world alongside Lara Croft in three classic Tomb Raideradventures – now remastered and featuring each game's expansion content. Face off against deadly foes, reveal dangerous myths and solve puzzles with upgraded graphics and the option to switch to the original polygonal look at any time. Tomb Raider I-III Remastered Starring Lara Croft is available for pre-order later today and launches digitally in Nintendo eShop and in the My Nintendo Store on Nintendo.com on Feb. 14, 2024, just in time to celebrate Lara Croft's birthday!
Prince of Persia: The Lost Crown
Prince of Persia returns in this action-adventure platformer. Meet new characters, uncover mysteries and explore an engaging narrative set in a mythological Persian world in this new installment of the legendary franchise. Prince of Persia: The Lost Crown launches on Nintendo Switch Jan. 18, 2024. Pre-orders are available now in Nintendo eShop.
Among Us – Fungle Map
Fungle Map: Grab your crew and get ready to explore a brand-new map in Among Us, the hit online multiplayer game of teamwork and betrayal. Welcome to the Fungle, a mysterious, mushroom-filled island teeming with hiding spots, tasks and secrets to discover – but beware of the Impostors bent on eliminating everyone! The Fungle map comes to Among Us this October.
SPY×ANYA: Operation Memories
Anya Forger has a new school assignment: create a photo diary. Spend time with Anya's family and friends at school, home, the beach, museums and other familiar places, and take pictures to fill up her photo diary with memorable moments. In addition to outings, play a variety of minigames to unlock costumes and add some flair to Anya's memories by dressing everyone up in style. SPY×ANYA: Operation Memories launches on Nintendo Switch next year.
Super Crazy Rhythm Castle
An unforgettably chaotic rhythm adventure is coming to the Nintendo Switch system. Time your button presses with the music to solve puzzles and battle bosses, and rock out to over 30 thrilling tracks – including songs from fan-favourite Konami games. Can you perfect "Bloody Tears" and "Vampire Killer" from Castlevania? Turn up the volume for Super Crazy Rhythm Castle when it launches on Nintendo Switch Nov. 14. Pre-orders begin today in Nintendo eShop and in the My Nintendo Store on Nintendo.com.
SaGa Emerald Beyond
A multilayered RPG full of rich stories awaits in SaGa Emerald Beyond! Experience the distinct and dramatic stories of six heroes with vastly different backgrounds, including a young man who fights with sentient puppets, a witch masking her identity, a crime-fighting duo, a songstress mech who lost her voice and body and a recently awakened king of darkness. Select a hero, then follow their journey through 17 interconnected worlds as they forge their own unique branching stories that unfold based on your choices and actions. Think strategically to master the turn-based combat to delay enemy actions and unleash devastating United Attacks. How the story unfolds is in your hands. SaGa Emerald Beyond launches on Nintendo Switch next year.
Eiyuden Chronicle: Hundred Heroes
Lead more than 100 distinct heroes and save the war-torn continent of Allraan in this modern take on a classic JRPG experience. Confront foes in strategic Duels and intense War Battles, recruit allies, manage your town and create your ideal six-character party in your campaign against the power-seeking Galdean Empire. Shape your story by dint of sword when Eiyuden Chronicle: Hundred Heroes launches on Nintendo Switch April 23, 2024.
Unicorn Overlord
Fight against fate and embark on a royal adventure to regain your reign in the timeless RPG Unicorn Overlord. From the creators of 13 Sentinels: Aegis Rim, Unicorn Overlord combines overworld exploration and an innovative battle system in the iconic Vanillaware style. Traverse the vibrant world, cultivate a grand army with over 60 distinct characters and grow your renown throughout the five nations in this epic fantasy experience. Liberate your kingdom and reclaim your destiny! Unicorn Overlord launches on Nintendo Switch Mar. 8, 2024.
New amiibo Figures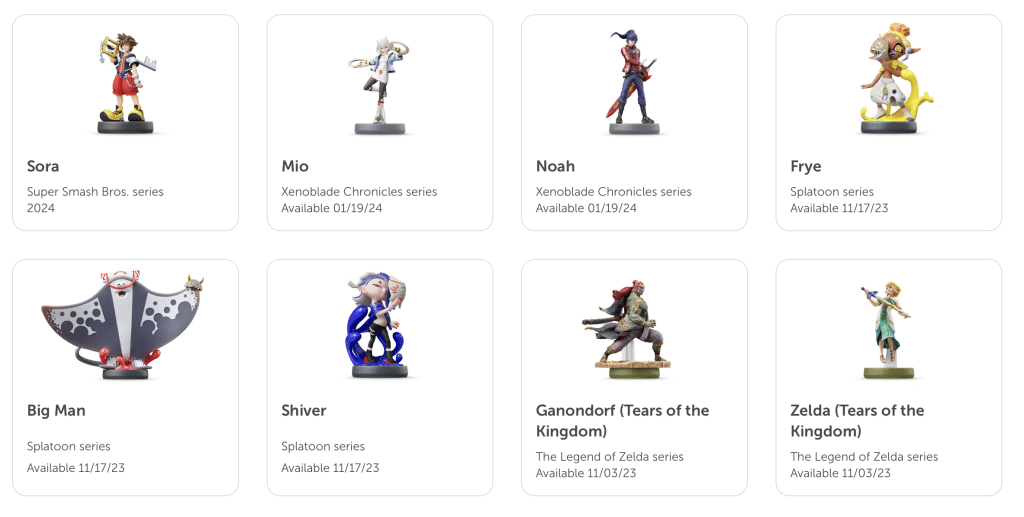 New amiibo figures are on the way! Zelda and Ganondorf from The Legend of Zelda: Tears of the Kingdom will release individually on Nov. 3; Noah and Mio from Xenoblade Chronicles 3 will be arriving as a set on Jan. 19, 2024; dropping in 2024, the final DLC fighter from Super Smash Bros. Ultimate … Sora from Kingdom Hearts! With the release of Sora, all Super Smash Bros. Ultimate fighters will have their own amiibo figures.