Over the years Utawarerumono has found a lot of success in Japan. Unfortunately, the series wasn't localized for a while resulting in it never having the same presence in the west. Atlas and later NIS America have made various efforts to change that, with the latest being Monochrome Mobius: Rights and Wrongs Forgotten. This experience was made in honor of the franchise's 20 year history and is as much a celebration as a chance to revisit the world. With lessons learned from the past, is Monochrome Mobius: Rights and Wrongs Forgotten a must or is it better left ignored?
Monochrome Mobius: Rights and Wrongs Forgotten takes place prior to the events of Utawarerumono: Mask of Deception. While you don't explicitly need experience from Utawareru: Prelude of the Fallen, it does help get a better grasp of the narrative.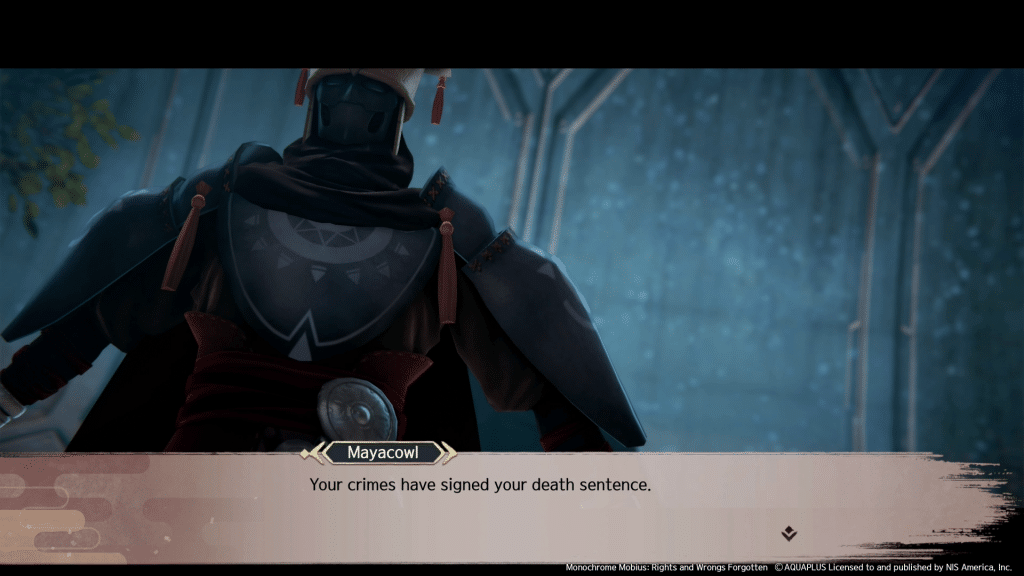 He Looks Interesting
As for the actual story, it follows Oshtor who eventually learns his deceased father might actually be alive. Unsure if this revelation is true, a chance event resulted in him seeing his father fueling his journey to find his father for answers. It sounds rather generic, but Monochrome Mobius: Rights and Wrongs Forgotten works by having strong characters carry the core plot. From the start there is a sense of intrigue that continues across the various locations as the answers start to reveal themselves.
While narrative is pretty strong, gameplay is fairly standard for a turn-based RPG. In a lot of ways Monochrome Mobius: Rights and Wrongs Forgotten is reminiscent of earlier Neptunia games. There are small maps with a couple branching paths, enemies appear on the overworld, with a preemptive attack giving you a head start.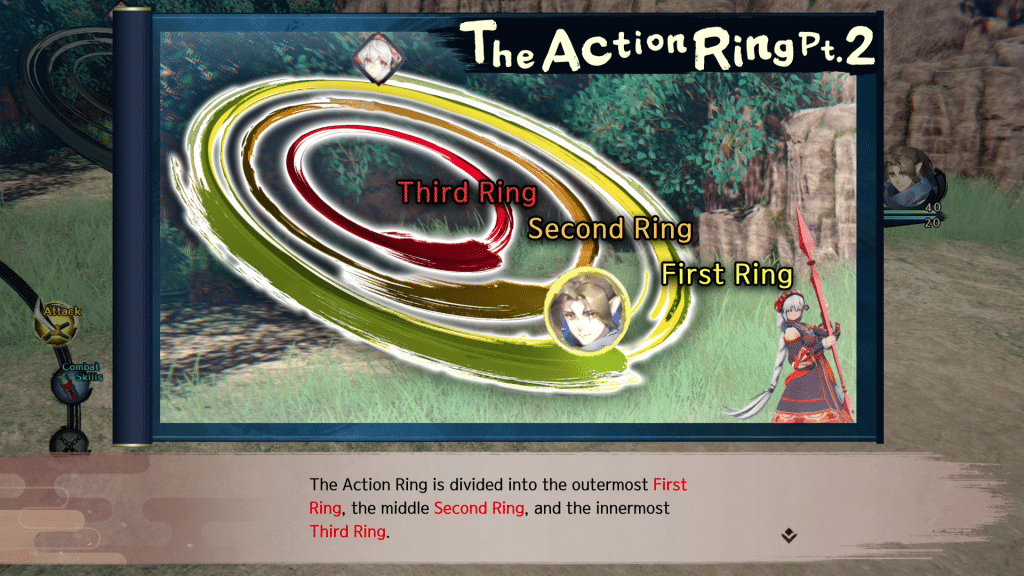 Fights themselves are a slight mix of standard turn based mechanics and an unusual rotating buff system. Basically, everyone takes a turn attacking, with the aforementioned buffs moving with each combatant. If the buff lands on the active spot with your player you receive a benefit, though no benefit is given to enemies. Beyond that there is a standard attack, special and super attack, plus stagger system. It can sound pretty intimidating, but most times a well leveled character shouldn't have issues dominating most foes.
Occasionally you'll level and can allocate stats. It's nice you have some control over build, as you can go in different directions to match your play style. Likewise, there is a fairly basic equipment and magic system as well.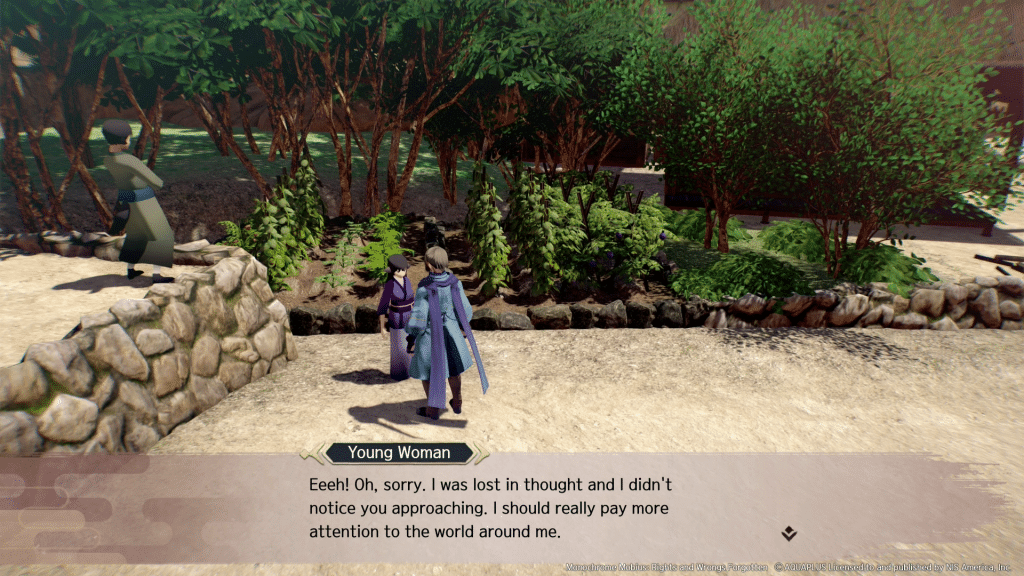 Hey, I can Talk to You
In addition to paths to follow, there are towns to explore. These are becoming increasingly uncommon, so some players will surely appreciate the ability to talk to random people. It also helps make Monochrome Mobius: Rights and Wrongs Forgotten feel more alive. Even if doing this is more of a time sink, it's something that makes a big difference to certain players.
For all the positives, there are a few negatives as well. Unsurprisingly, Monochrome Mobius: Rights and Wrongs Forgotten is not the best looking experience around. Aquaplus and Design Act did their best, but several locations feel empty and don't look particularly notable. This is surprisingly more common in towns where there are things combined with a lot of empty space. Fans of the series will likely not be bothered by it, nor will players use to this type of experience.
There were also some slight performance issues when doing certain things. Nothing too serious, though it's always surprising when a lighter experience like this has lag. It never quite goes away, just a random dip here and there.
Monochrome Mobius: Rights and Wrongs Forgotten Review Verdict
Monochrome Mobius: Rights and Wrongs Forgotten: is a good experience, but not a great one. It features some interesting ideas and is far more robust than their previous efforts; players just need to be into that type of thing to get the most from it. Thankfully, narrative adds a lot of value to this experience. Likewise, I appreciate the effort to make a more expansive combat system, even if it only goes so far. – Grant
Editor's Note: Monochrome Mobius: Rights and Wrongs Forgotten was reviewed on PlayStation 5 and a copy was provided to us for review purposes.