One of the unique mechanics in Thymesia is the ability to craft potions. This is done by unlocking the three slots, selecting three ingredients and gaining additional benefits from your potions. It's a great tool for anyone looking for an extra edge or simply want to maximize their potential. However, combining specific ingredients will unlock a fourth benefit, one that typically has a substantial impact on gameplay. Given these are well hidden and kind of annoying to figure out, we wanted to simplify the process with a quick guide.
Thymesia Potion Recipe Guide
Basic Information
The most important thing to know about crafting is each unlocked ingredient is unlimited use. Putting one in your potion does not use it, nor does using a potion with said ingredient. The only exception is the same ingredient can't be used on two different potions at the same time. For this reason it's an incredibly useful resource that has a substantial impact on difficulty.
Figuring out Recipes
If you don't want to go the direct route, every recipe can be figured out through random guessing or the intended unlock method of reading specific story pages.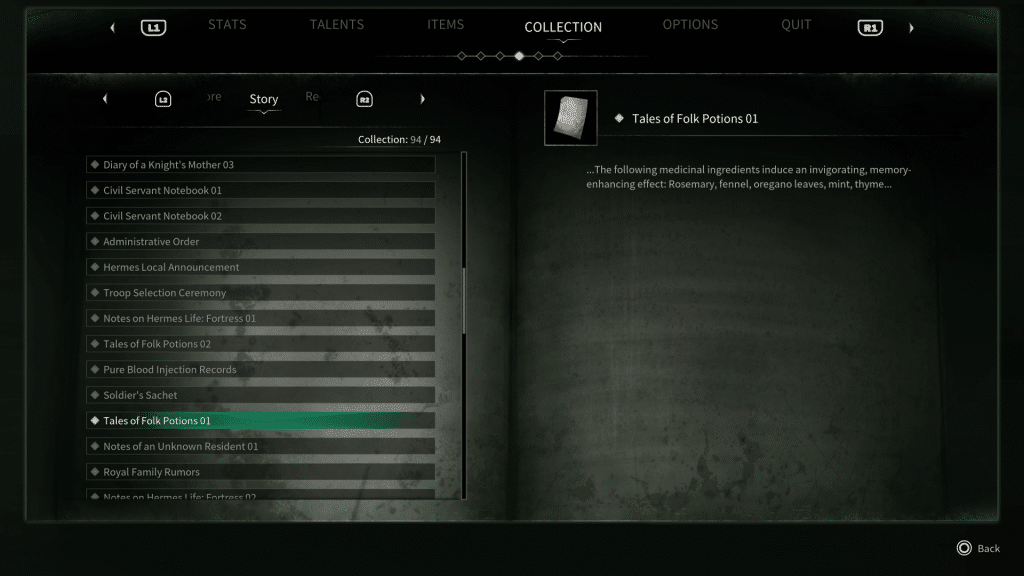 They look like the image above, so you try the various ingredients and one of them will unlock the specific effect. I don't suggest going down this route, but figured I'd explain it to anyone who rather experience that first.
Every Recipe
Pain Relief – Rosemary + Clove + Lavender = Reduces Damage Taken by 10 Percent
Circulation – Fennel + Oregano + Clove = Recover 5 HP every second
Refreshing – Fennel + Oregano + Mint = Recover 3 energy every second
Warming Up – Black Pepper + Garlic + Basil = Increases damage by 10 percent
Sweating – Mint + Black Pepper + Cinnamon = Gain one stack of offensive buff
Courage – Mint + Lavender + Black Pepper = Gain a stack of defensive buff
Focus – Rosemary + Mint + Thyme = Increases Memory Shard drops by 10 percent
Four Thieves Vinegar – Rosemary + Sage + Thyme = Increases max health by 100
Best Combo
I personally think Warming Up is the best option, but there is a strong case to be made for Four Thieves Vinegar. I would say the choice ultimately falls on how you play and where your struggles, if any, are. Finally, even though it doesn't list it, there is a roughly 30 second time limit on Four Thieves Vinegar and it does not stack.
Finding Rosemary, Sage and Clove
Rosemary, Sage and Clove are the only hard to find ingredients, with Rosemary being the hardest of them all. For Clove, it can actually be found in one of the Sea of Tree – Sub Quests and is an uncommon drop from a couple Elites, such as Katar. The same is true for Sage, which comes from the Elite Hammer and Fist enemies.
As for Rosemary, the only confirmed enemy to drop it are the Elite Knife ladies. This means Sea of Trees – God of the Fools is the best stage to grind, as there are about four of them in the gauntlet. Just be warned it might take a while to drop.