Earlier this week a new Kickstarter campaign started for Armed Fantasia and Penny Blood, two titles with some impressive talent attached.
Since the campaign launched, they're about halfway to their goal of $721,578 with 31 days remaining. There is also a stretch goal for $1 million, which isn't currently known but there are some playful hints to speculate on the Kickstarter page. Since this is a "double kickstarter," funding one helps fund the other, though you can select rewards based off what you prefer and at the level you desire, with a high number of options for each tier.
First up we have Armed Fantasia, is described as follows:
Armed Fantasia tells a dramatic story that unfolds in a world hurtling towards destruction. Players take the role of a group of Pathfinders and, with trusted ARMs in hand, embark on a perilous journey across a sprawling Westernpunk wilderness.

In a far flung corner of this world lies the land of Londenium, where a young man named Ingram loses his grandfather; the final tether binding him to his hometown. With no other reason to stay, and in hopes of reconnecting with his childhood friend, Ingram sets out on a new adventure as a Pathfinder, a branch of adventurers that utilize the powerful ARM (Aether Reaction Maximizer) weaponry to dispose of Anomalies that ravage the land.

Ingram's journey will lead him to cross destinies with many a new friend and foe, and become embroiled in a monumental battle that'll strike through Londenium's past and its future.
Naturally, this sounds rather similar to Wild Arms, which is no surprise given many members of the original team are present. These include Akifumi Kaneko as designer and scenario writer, Tomomi Sasaki, Michiko Naruke and more.
If this sounds interesting to you, Armed Fantasia has the following rewards that you can pick from.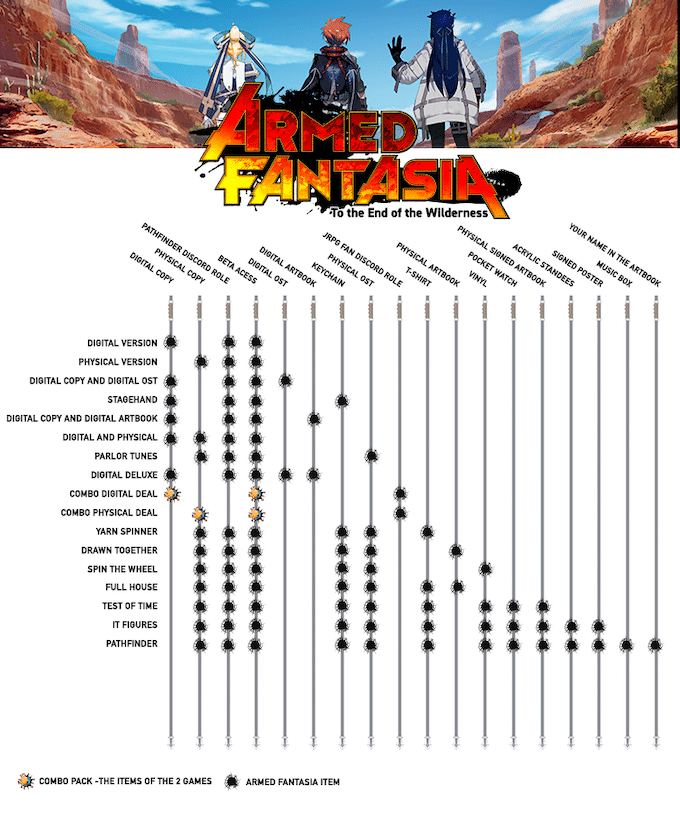 The other title mentioned in this campaign is Penny Blood. This is a gothic title that is described as follows:
Penny Blood presents a world twisted in gothic horror and nightmarish imagery rarely seen in JRPGs. In Penny Blood, players follow the story of Matthew, an investigator who embarks on a dark international probe through the iconic Roaring Twenties, amassing allies and confronting trauma in a world twisted by cosmic horror, malice and mayhem.

Players will circumnavigate the globe, from the USA to Europe and Asia, and explore nations either recovering or basking in the wake of one of history's bloodiest conflicts, oblivious to the turmoil that brews beneath the surface.

Penny Blood's story begins with Matthew Farrell, a lone wolf private detective in New York working for the Bureau of Investigation. Despite hating the accursed powers he inherited from his father, he utilizes his fusion transformation abilities to hunt down monsters at the behest of the Bureau.
One day, Matthew is tasked with investigating a strange incident that occurred at a mental asylum in New York. After rushing to the asylum, he finds it teeming with grotesque, rampaging creatures. Utilizing his hidden power, Matthew manages to achieve a narrow victory.

In order to unearth the truth behind the bizarre incident, Matthew's investigation will take him from America to the distant continent of Asia, including Japan and China, as well as to the far corners of Europe. Along the way, he will encounter those who fight for vengeance, those who seek to utilize the aberrant horrors for their own gain, and those who simply wish to destroy. Penny Blood tells the tale of a man who must become that which he seeks to vanquish.
Similar to Armed Fantasia, several people who worked on Shadow Hearts, like Matsuzo Machida as scenario director and designer.
Penny Blood also features a wide array of rewards for showing support, which can be found below: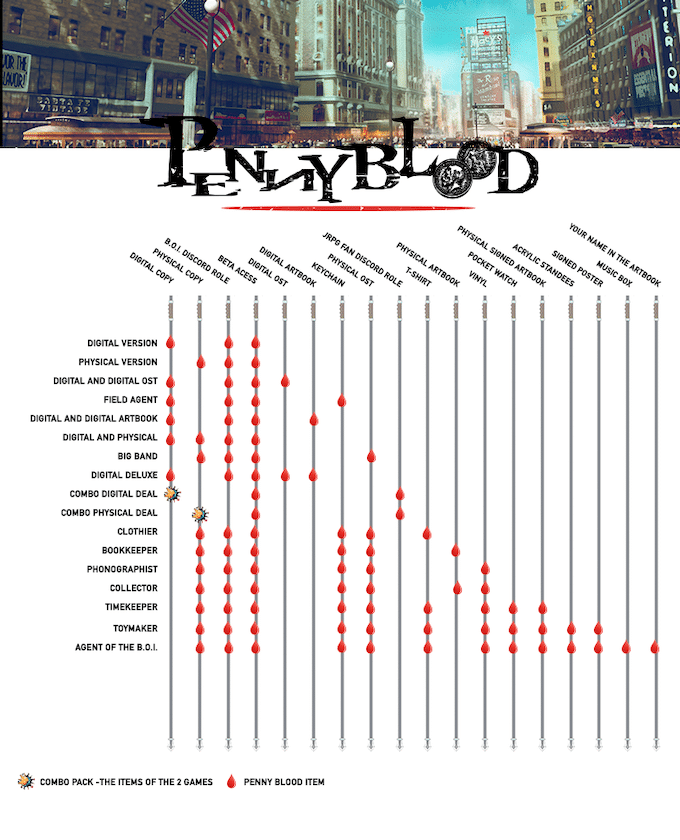 While there is a long road ahead, the two teams estimate delivery by Mar. 2025 for PlayStation 5, Xbox Series and PC. The campaign notes a Nintendo option, this this is in "hopes" of a hardware revision that makes it possible. As for the date, nothing is guaranteed, and it's entirely possible one comes first or both later, but it does give an idea of how far along they are. It will be interesting to see what comes of these two, given their history and content.