Godfall Challenger Edition might be the latest way to experience the divisive game, but it is also an update for the base game. Might to some players surprise, the update added some new features and six additional trophies to collect. However, unlocking them might be easy but they're not explained particularly well, so we're here to make it simple.
Godfall Challenger Edition Trophy Guide
Small Steps / Great Deeds / Great Victories
Following the update, players now have the ability to complete quest objectives to ultimately complete quests. The location isn't explained, though it can be found on the character page on the last tab.
Every objective gives different amounts of points, with legendary being the most valuable. For these trophies you need to complete 10 objectives like the one pictured above. Thankfully, these are pretty easy, I got five complete Dreamstones and five defeat 50 enemies in the Tower of Trials. The hard part is getting the objective, though I found finishing the legendary objective will always give something else but will turn legendary on a reroll. I was also never able to get two at once, though the tasks always seem to run opposite anyway.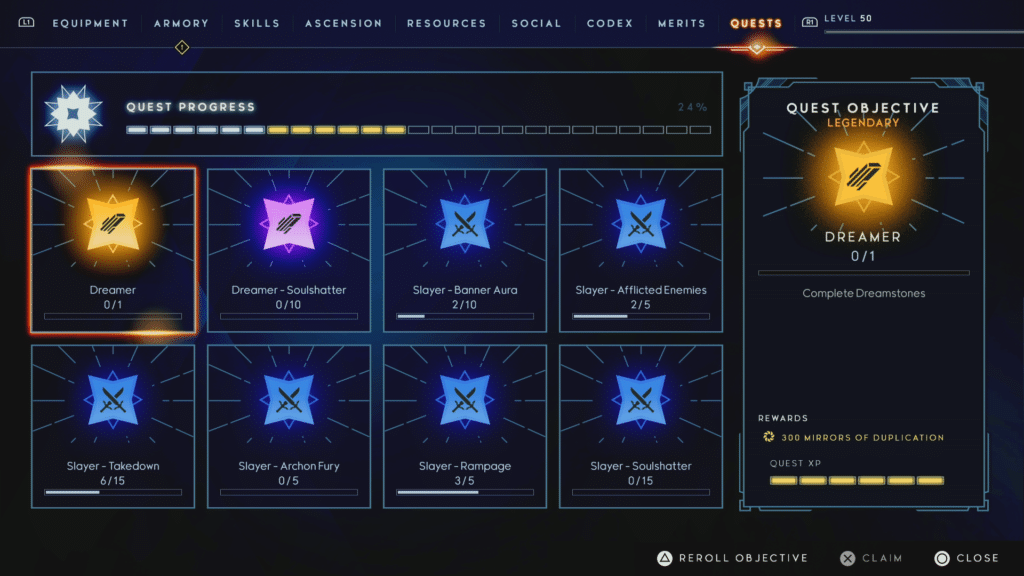 The best tactic is to rush the weakest Dreamstone you can do, followed by getting as many slayer objectives with Tower of Trial kills. You can easily complete four of five things at once if you have some decent luck with objectives.
The Road to Greatness / Valorian Hero / Valorian Champion
To complete a quest, simply finish objectives. There is no fear overfilling the progress bar, it will continue to the next one, with 10 being required to finish all the challenges. This shouldn't take long, though it can feel rather tedious. Especially if you focus on legendary ones, as I got 10 of those completed before finishing five quests.