Games like Stranger of Paradise Final Fantasy Origin and Elden Ring can be intimidating. Enemies hit hard, punish mistakes, with players stuck trying to figure out what they did wrong. Sometimes it's a skill, resulting in the ever so common "git good" response, with others being tactic. While Team Ninja did not make Stranger of Paradise Final Fantasy Origin as mysterious as the infamous Souls series, there are a couple of tips and tricks to make your initial journey a lot simpler.
Rarity Uses Different Colors
Being a long-standing Destiny player, you just associate colors with value. Green is worthless, purple is great, with orange/yellow being top tier. These colors appear in a lot of games, be it Godfall or Square Enix's own Babylon's Fall and Outriders, with all of these keeping the same relative coding. However, this is not the case for Stranger of Paradise Final Fantasy Origin.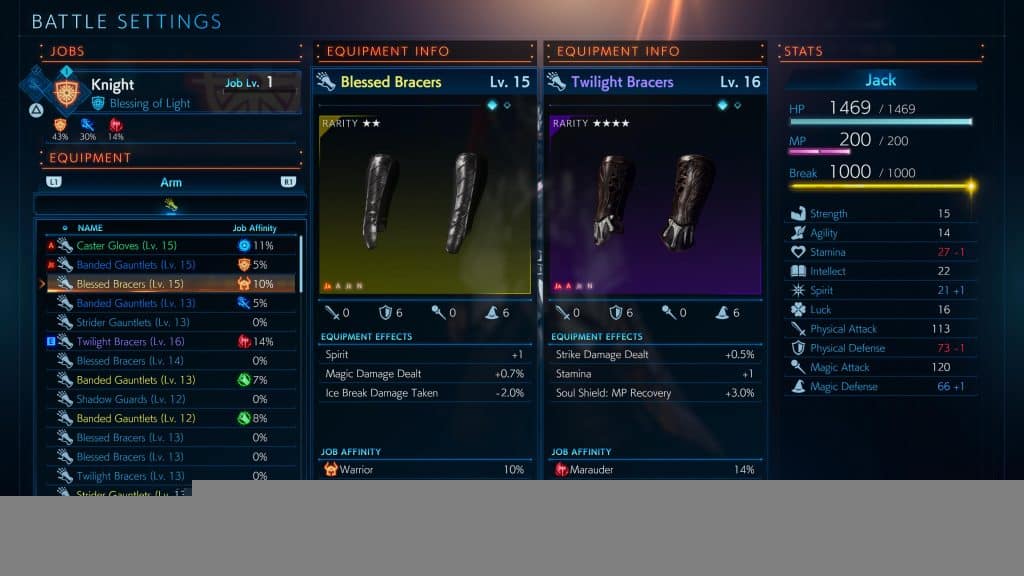 Items with the generic blue color are considered the lowest rank, one star, with the next highest being yellow/gold, followed by green and then purple. Adjusting to these new colors can be hard, though it's worth doing in the long run.
Use Anima Shards on Key Classes
As you progress you'll unlock a resource called Anima Shards, which gives job experience. They unlock different skills, abilities, benefits, and so forth for predetermined weapons. The big thing isn't leveling them, as much as progressing through them logically.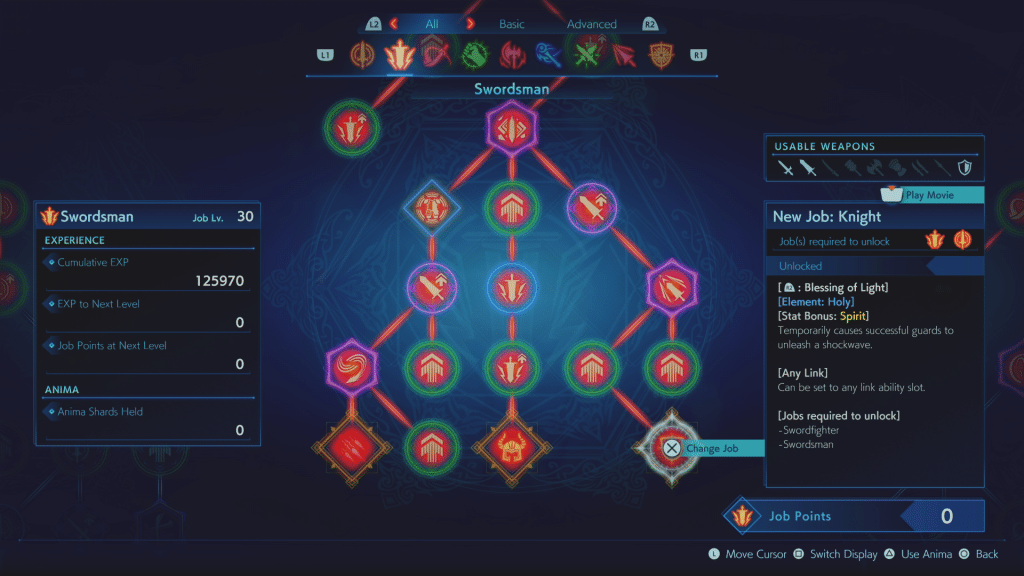 Every job will go one of two different ways. Either there is a variety of branching paths leading to another job or it's the final of that set. While I can't tell you which job will be best for everyone, it's smart to unlock as many advanced jobs as possible.
Most of these will require multiple classes, in the case of the image above that is Swordfighter and Swordsman. Unlocking that perk in both trees will give a new job, sometimes with jobs beyond that like Paladin pictured below.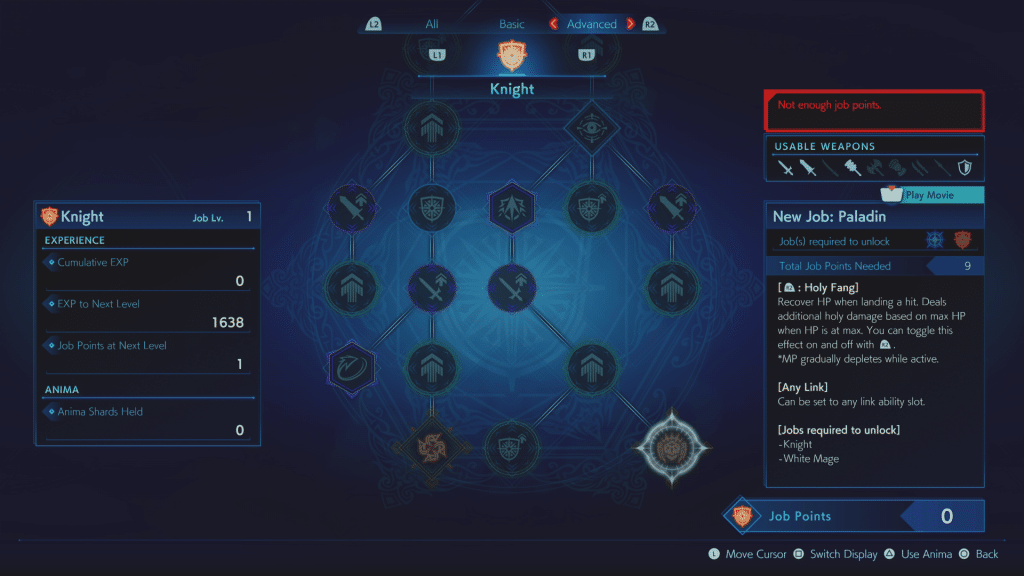 Instead of focusing on the job you're using, it's best to build the jobs that are useful but don't match your current style of play. For example, another Swordsman class is Berserker, which requires Swordsman and Marauder. I don't like using that style of weapon, so it's best to just use shards to level that class and unlock the Berserker class over maxing Swordsman early. This is also best done by going a more direct path. Instead of waiting for 30 levels to max a class, several can be done in eight or nine levels, making it extremely useful to focus on what matters.
Rebellion and Braveheart are Really Powerful for Early Game
Even if the preorder bonuses have a history of being underwhelming, both Braveheart and Rebellion start off really strong.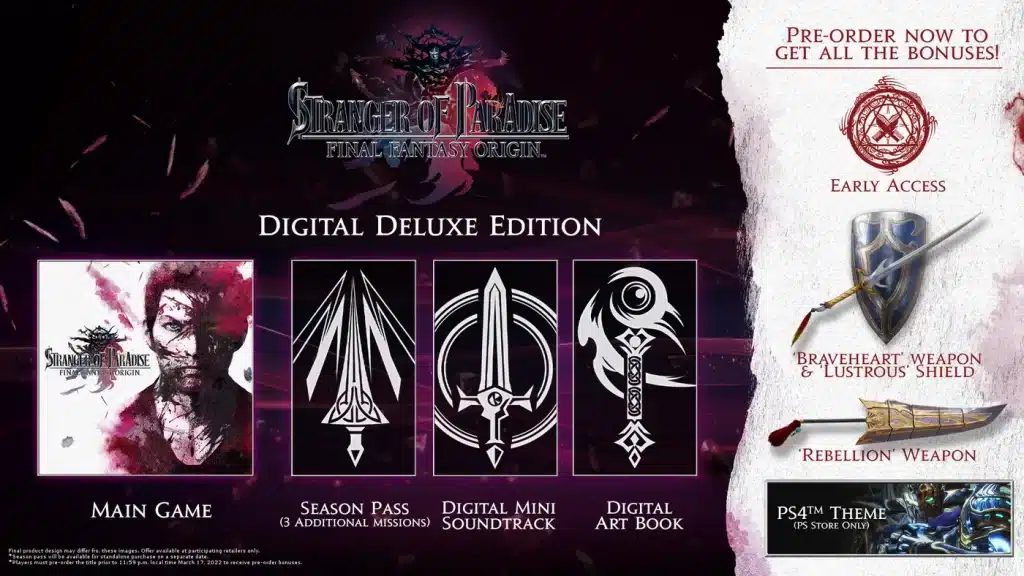 With both weapons having power you'd find a couple of chapters into Stranger of Paradise Final Fantasy Origin, they're extremely useful for those playing on hard or just need an edge. And for those worried about the experience, they're not massively overpowered either. Slightly lower weapons have about 10 percent less attack, meaning they'll give you an edge and not much else.
Pay Attention to Objectives
Given Stranger of Paradise Final Fantasy Origin uses a mission style of play, you don't actually need to survive or know how to beat some of the most tricky sections. Often times there are tricks to get around some of the most difficult parts.
Take the optional mission Azure Memories: The Believer. This mission requires five pirate kills to complete. After the first section, there are some fearsome foes, though if you head to the left, open the door and go up there is a save area that will reset any alerted foes. Defeating the pirate by it, even if you die to the things below, will complete that part of the objective and you can go forward. Likewise, in the end, simply killing the two pirates is all that you need to do to win.
That said, killing the powerful things typically give better loot and other benefits worth the risk. It just isn't worth it if the mission is too hard or you just want to unlock the trophy/achievements as soon as possible.
There is an Auto Equip Setting
Similar to Borderlands, Stranger of Paradise Final Fantasy Origin is not shy about loot. It isn't uncommon to clear a couple of missions and have a few hundred new options. Each will have different effects, perks, sometimes job affinity and so much more.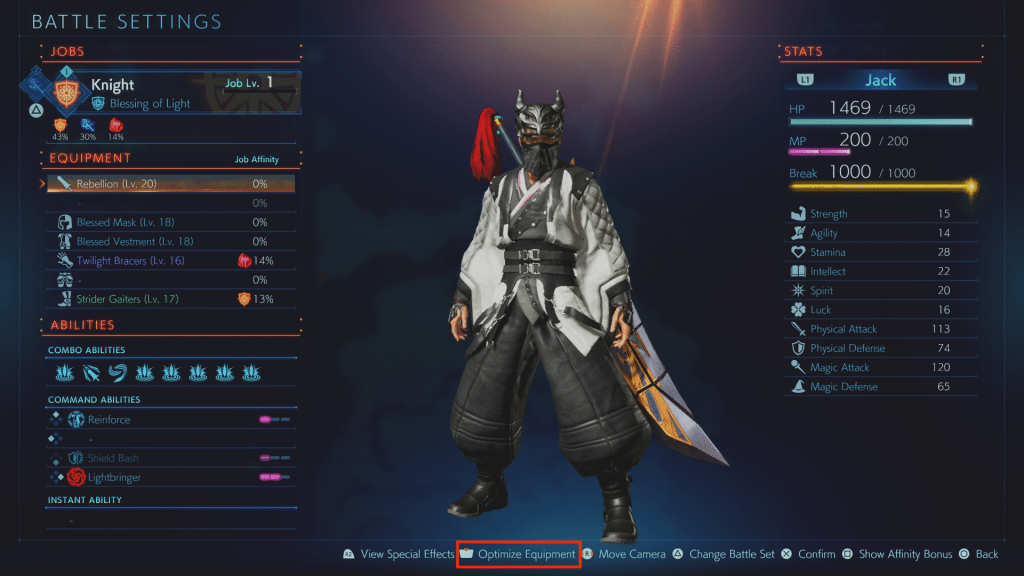 For anyone not willing to go through every piece of gear, there is a somewhat hidden option to "optimize" your equipment. What this will do is find the highest stat total gear and instantly use that. It will also only go through a selected weapon type, meaning there might be better options, just on an unused type. It's good for early games or situations where you just don't care enough to go through every piece of gear, though it's far from absolute.
Anyone worried it takes the fun out of finding gear, don't worry, it won't make the objectively best build every time. For example, I have pieces of equipment with better effects with one defenseless. Some might prefer that effect in exchange for the defense. Job affinity skills can also make a difference, among other things that will actually make the most of your gear. Still, a great option for those looking to move forward fast or equip in the middle of a run.