Sony revealed a bunch of information about Uncharted: Legacy of Thieves Collection, their upcoming remaster of Uncharted 4: A Thief's End and Uncharted: The Lost Legacy, for PlayStation 5 and PC.
Those interested in getting the most of these titles will be delighted to hear there will be three different graphic modes available.
Fidelity Mode – For those of you who have a 4K display and want super sharp resolution above all else to enjoy the stunning environments and details the Uncharted series is known for, select Fidelity Mode and play in native 4K resolution with a 30fps target framerate.

Performance Mode – We carried over the high framerate PS4 patch with Performance Mode, which targets a 60fps frame rate.

Performance+ Mode – If you're all about the smoothest gameplay possible and don't mind a resolution drop, try out our first ever Performance+ Mode which targets 120fps* at a 1080p resolution.

PlayStation Blog
In addition to graphics, some new features will also be present in Uncharted: Legacy of Thieves Collection:
Thanks to the power of the PS5 console, the load time is near instant so you can jump into the action faster than Nate or Chloe can draw their weapons (which, if you've seen Chloe take on a band of mercenaries before, is pretty fast). Enjoy Spatial 3D Audio* and know where the shots are coming from and immerse yourself in the ambience of the locations across both games. With the DualSense wireless controller's haptic feedback and adaptive triggers, we've fine-tuned the rumble and resistance here: feeling the 4×4 vehicles roll along in your hands or landing a punch and then rope swinging to safety has never been so rewarding.

PlayStation Blog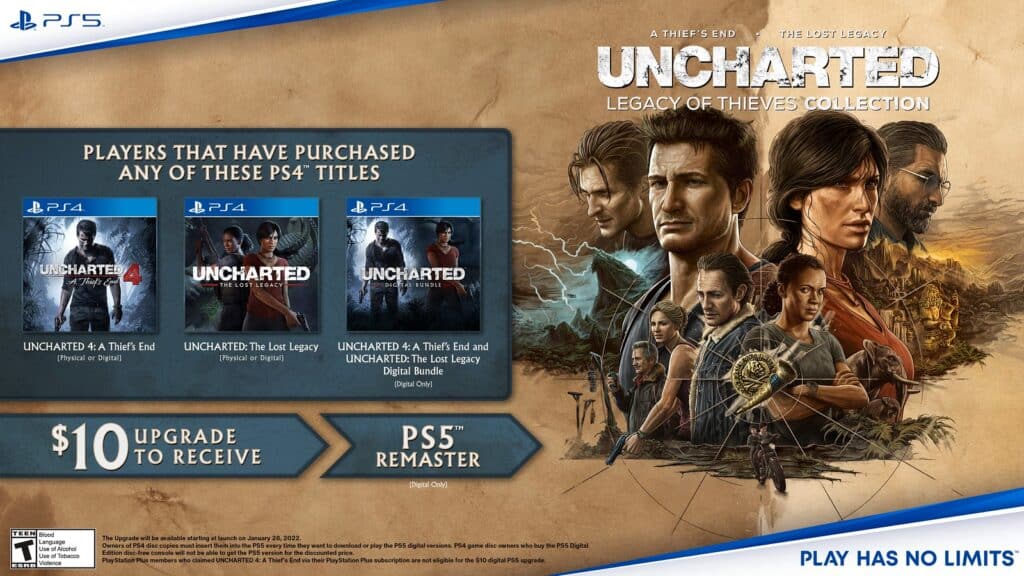 Existing owners of Uncharted 4: A Thief's End, Uncharted: The Lost Legacy, or Uncharted 4: A Thief's End & Uncharted: The Lost Legacy Digital Bundle can upgrade to Uncharted: Legacy of Thieves for $10. This includes those who purchased the physical version, though Sony notes you will still need the disc to access the games. Unfortunately, anyone who opted for PlayStation 5 digital version that owns the disc will also, simply, be out of luck. The same, unfortunately, goes for anyone who redeemed Uncharted 4: A Thief's End from PlayStation Plus back in Apr. 2020. For them and everyone else, the remaster will run you $49.99.
Sony also noted anyone who purchases the collection will also receive a ticket to see the upcoming Uncharted movie.
Between now and February 3, 2022 11:59pm PT, players in select countries can purchase or upgrade to Uncharted: Legacy of Thieves Collection on PS5 via PlayStation Store and receive a voucher code for one standard ticket to see the Uncharted movie in participating theaters starting from February 2022.. Must be a resident of Australia, New Zealand, UK, or US. Age restrictions apply. Ticket code delivered via email on or around Feb. 9, 2022. Full terms here. Stay tuned for offer availability in additional countries.

PlayStation Blog
Players can enjoy all of this and more when Uncharted: Legacy of Thieves Collection releases on PlayStation 5 Jan. 28, 2022. PC owners will have to wait a little longer, with Sony promising to release more information sometime in 2022.