There are a lot of things to be excited for during Bungie's 30th Anniversary. Those who purchase the pack can collect sweet loot, obtain Gjallarhorn and all kinds of cool cosmetics. Those who haven't purchased for one reason or another still have plenty to look forward to. Among the many items is Forerunner, a kinetic exotic sidearm, which is open to anyone to obtain. That is, assuming you know hot to unlock Forerunner in Destiny 2, though we're here to make that easy.
Step One: Collect Seven Strange Coins
So there are two ways of doing this. You can either do the event and get them through countries and postgame rewards or if you paid for the expansion, head to Xur's Treasure Hoard, immediately accept the bundle from Xur and then redeem a key. If done correctly, you should get two bundles, which contain a total of six keys.
Step Two: Complete Three Starhorse Bounties
If you haven't found Starhorse, simply head to Xur's Treasure Hoard and you'll notice it to the right of the celebration weapon mod chest.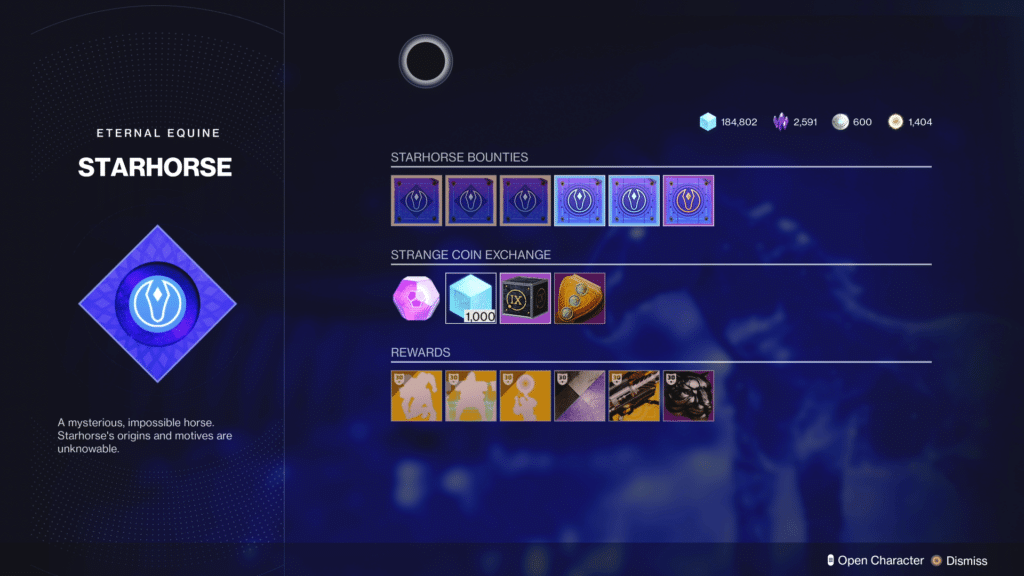 Every day Starhorse will have six bounties related to Dares of Eternity. While we can't comment on every bounty, all of the ones currently available require a specific type of kill and a minimum score, with the weekly requiring the higher Legendary difficulty. These also require a number of Strange Coins, so you might need to farm/some side quests if you want to do them all in one go.
The other notable thing about these bounties is that you're limited to one at a time. Naturally, you can do three in a day, you just need to return to Starhorse following each successful completion.
Step Three: Obtain the Strange Key
Depending on how you're playing, this will either instantly complete or require more attempts at Dares of Eternity, since you must have a vender rank of four.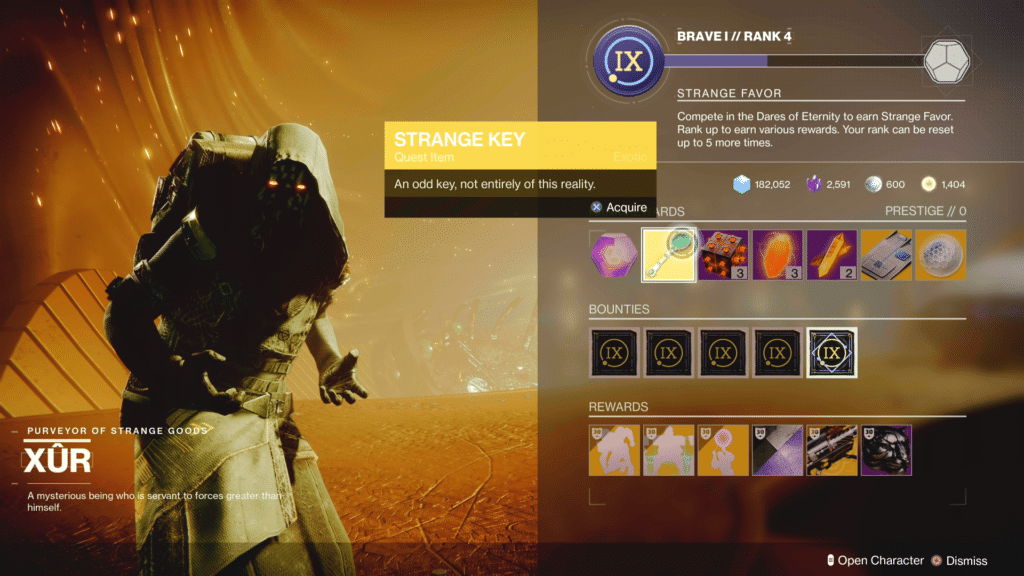 Please note, some people have reported perceived issues or accidentally deleted the key. As of now, it's a one and done thing, so don't get rid of it if you want Forerunner.
Step Four: Talk to Xur
This step should instantly complete after collecting the key.
Step Five: Use the Key
After getting the key you'll be directed outside, where you'll be at the starting area for the combat portion of Dares of Eternity. Unfortunately, there is no waypoint to tell you where to go, though it isn't hard to find.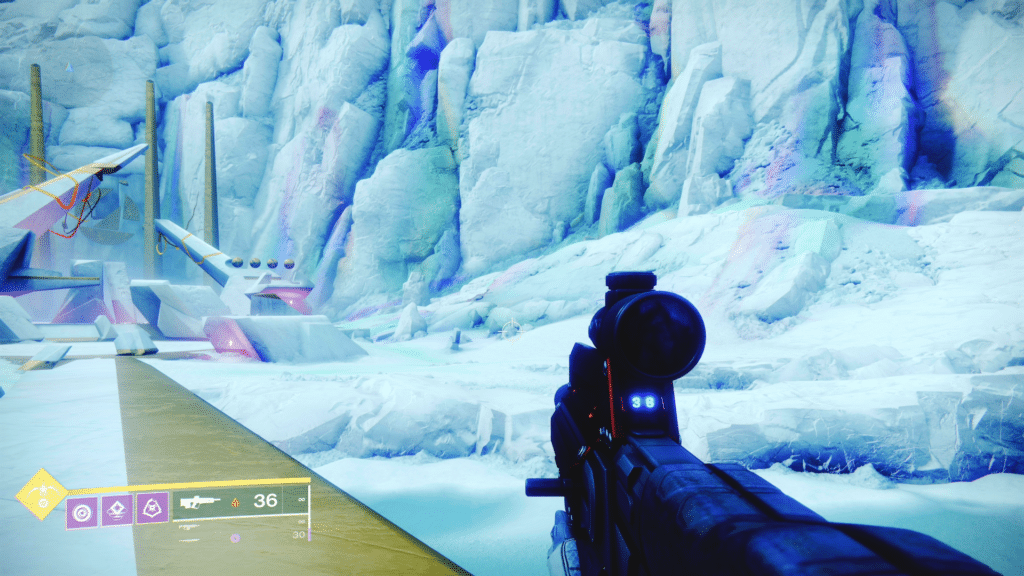 From the starting position, head to this general area to the right.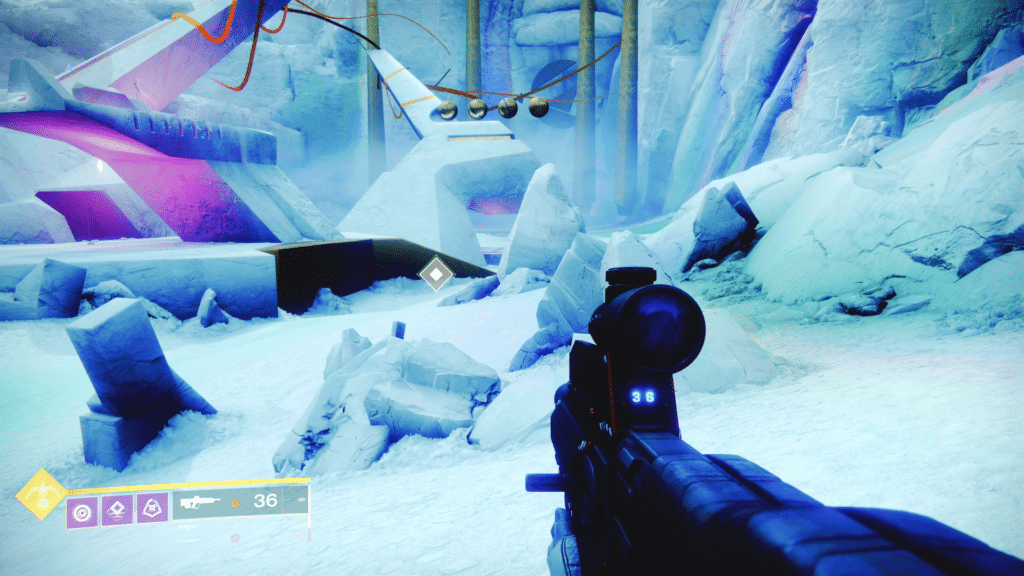 The spot with a waypoint on it is the objective. It should appear once you get relatively close to it. Some have noted issues using the key, so if it doesn't work as intended, keep trying until it does.
Once the key is used, you'll be told it opened a new path and should see a waypoint on the opposite side of the map. There will be a small cave, with a fairly short jumping puzzle, that you need to complete. At the end you'll get some parts needed to finish the quest.
Step Six: Talk to Banshee-44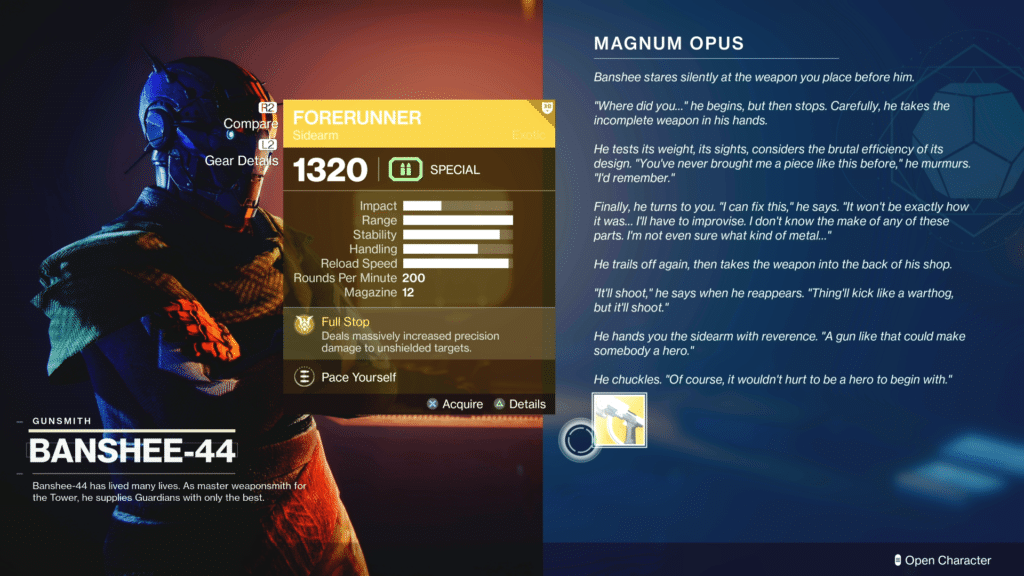 Speaking to Banshee-44 will complete the quest and you can enjoy your shiny new exotic.
It's a fearsome sidearm for anyone looking for what is arguably the best version of the archetype.