Holidays are stressful, especially with technology and life constantly evolving. With COVID-19 changing so many things, people are looking to the holidays as a way to not only help others but improve their own experience. To make it easier, we're breaking up each listing by the system, overviews of key tech products, the tech itself, and even different generations to prevent confusion. So, without further ado, here are our suggestions for PC.
Holiday Gift Guide 2021 – PC
Games
N/A
Unlike consoles, PC games are a bit more complicated. For example, Forza Horizon 5 is one of our suggestions from the Xbox guide. Players can purchase it from Steam, Microsoft's own storefront, or download it as part of Xbox Game Pass for PC/Ultimate. In most cases, codes can't be returned and it makes for an underwhelming experience. Not only does your gift, no matter how thoughtful, fall flat, but this could also turn into an unexpected hassle that no one wants to deal with. Likewise, even gift cards suffer from this, as different people will value different storefronts. For these reasons we won't list any games for PC and suggest sticking to accessories, though if you really want to go down this path, many of the games listed in the PlayStation and Xbox Holiday Guides also work on PC. Another safe bet is going with one of the growing numbers of Sony games released for PC. Something like God of War is going to make an impact on a number of new players.
Accessories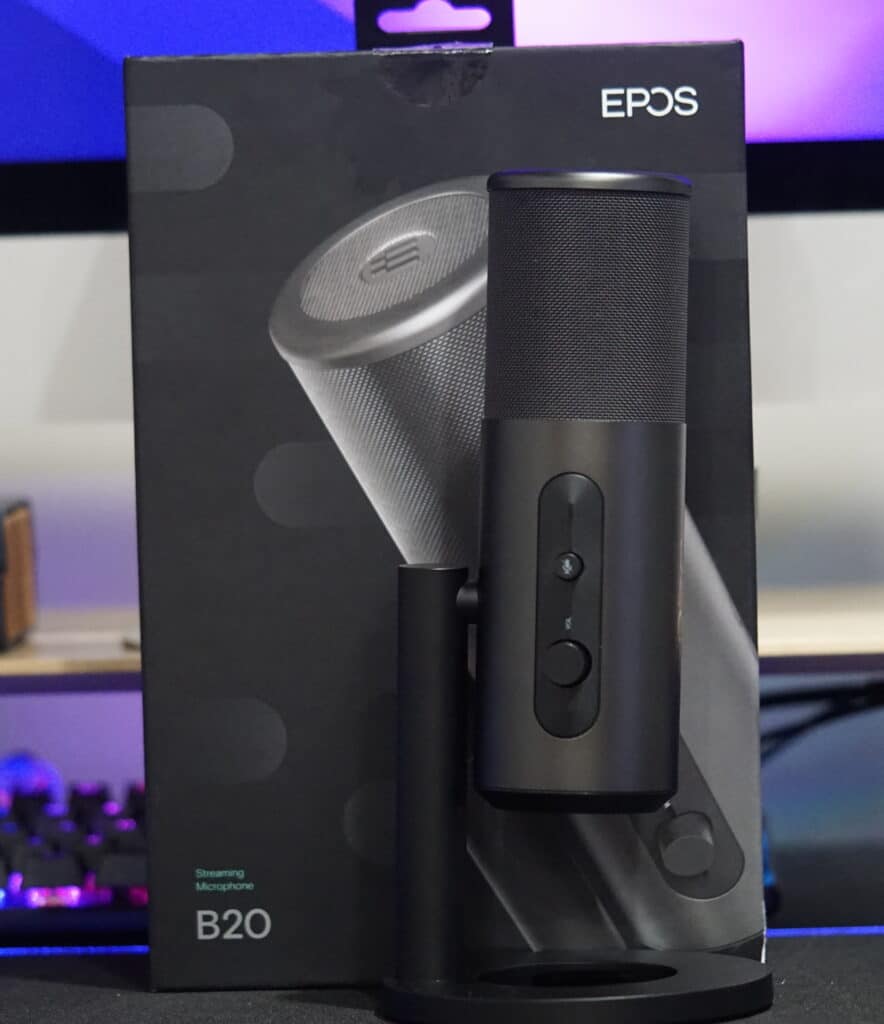 EPOS B20
EPOS went in a very different direction with their first USB microphone. Instead of going for a fairly traditional look or attempting to capture certain demographics, B20 is simple and clean. Everything about it is sleek, simple and to the point, including the base that has leads wires through the back for a more elegant look. It also helps that it performs quite well, working in a wide variety of settings.
Razer Seirēn
As a contrast to EPOS' more modern take is Razer's Seirēn series of microphones. These are perfect for someone who wants their workstation to match their likes. With fun colors like Quartz, which is a pink color, or Emote, their special microphone that showcases faces through a delightful LED panel, they turn even the most boring of products into something fun.
Expand Their Set Up
At this point you can honestly get anything with RGB, making it hard to keep up or even know it exists. If you know someone interested in these products, I strongly suggest seeing if they have a brand preference. Most major players like Razer, HyperX, SteelSeries, Corsair, and the like have specific software designed to integrate all these components. As a result, if they have a keyboard, headset, and mouse from a specific brand, you're likely best sticking with that brand.
In the event they don't, Razer offers the most complete lineup on the market, most of which come in a variety of colors. If you anticipate they'll only want key products (keyboard, mouse, headset), HyperX and SteelSeries are both fantastic choices.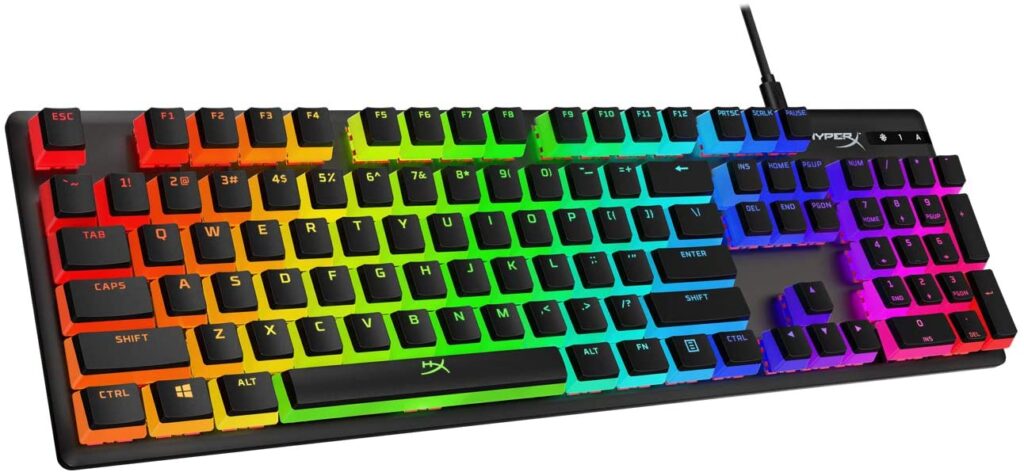 Keycaps
During the holidays my mom would always go out of her way to find something unique and fun to show she cared. One of the simplest ways to show this is to look into keycaps. With most gaming keyboards using some variation of Cherry MX switches, it's surprisingly easy to get a wide variety of alternate caps.
These can be fun, like Aukey did a set based on Fortnite, HyperX makes "pudding" keycaps that help bring out your keyboards RGB, with countless other sets out there. Anyone looking for a more personal touch should consider a place like Etsy though. Just be warned you might spend an hour looking at the wide variety of options.
INNOCN Portable Monitor
With the rise of work from home, more advanced setups, and more, a growing number of people are purchasing multiple monitors. Some opt to purchase something simple, others just select the cheapest, though INNOCN's portable monitors offer versatility and options for only a little more.
Their PF15-PRO model offers a second touch screen that can freely be used on the go. It's extremely helpful knowing it can supplement your desk when you're home or your laptop on the go. This is a huge bonus for content creators who might need another screen on the go. We personally found it helpful for an external streaming window, as you can interact with others with a simple tap of the screen. Those interested in Steam Deck should also be able to use this as a way to get a fuller experience outside of the home.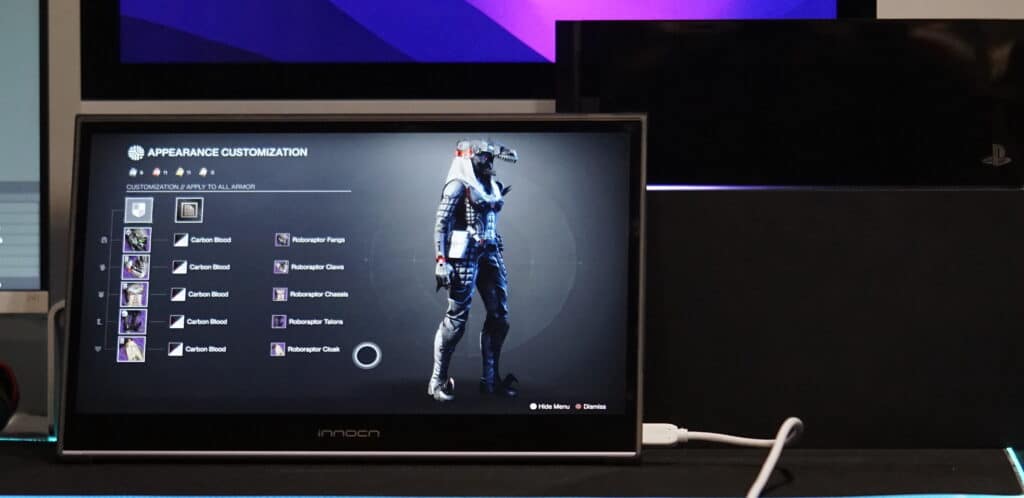 PU15-PRE takes the aforementioned elements and adds 4K OLED to the mix. Not only is this a huge upgrade in picture quality, but it also works even better for jobs where color accuracy matters, like photography.
And in honor of the holidays, INNOCENT has some coupons to save a couple of bucks on Amazon. These also stack with INC20PF15 on PF15-Pro for an additional $66 off or PU15INNOCN to save $80 on PU15-PRE.
Audeze Mobius
Right now 3D surround sound is huge in the audio world. Dolby has Atmos, Microsoft also uses Sonic, Sony implemented Tempest, with a few brands having their own options. Audio giant Audeze teamed up with Waves to bring players Mobius. What makes this headset so nice is, in addition to Audeze drivers and audio engineering, is WavesNx. Essentially, the headset has the ability to track your head's position and then alters the sound to replicate how it would sound if your head is facing whatever direction in the room in question. It sounds complicated, though it mostly does it by default, with surprisingly impressive results. Well worth considering to up your game or get the most out of your world. It also might come with a free copy of Resident Evil Village, a nice bonus for anyone looking to make the most of their headset.
Immerse Gaming | HIVE
In the event, they already have a nice pair of headphones and simply want to get more out of them, Embody's recently released Immerse Gaming | HIVE is a great option. It uses AI, which is explained quite thoroughly here, to deliver a more immersive sound experience. Those who tried it were surprised by how well it delivers and Embody is so confident they actually offer multiple demos and even a trial if you want to check it out first. Also, for the Final Fantasy XIV fans out there, there is a specially tuned version releasing next month.