One of the first questions you'll probably have is how do you unlock new demons in Soul Hackers 2. It's completely understandable, given that demons are as much a leveling tool as a mechanic. Thankfully, this is both a simple and complicated answer, stems from what you're looking to do and where you are.
How to Recruit Demons in Soul Hackers 2
Recruitment
When running around a level, you'll see various demons with an icon above their head. Some indicate items, others healing, a few mission-specific items, and another tells you it will have a possible new ally.
That icon looks like the one above. Most will lack the other stars around them, which indicates it's "rare," but all of these have the potential to offer a new ally. When you engage in this event, it will pick a random demon that appears in this area. If you've fought it, then it could appear.
After that, the demon will say something and then choose based on various factors. If you already have that demon with you, it says something polite and gives you an item instead. For demons beyond your current level, they will comment on how you're not ready for them. In the unlikely event your slots are complete, they will simply remark you can't take more demons and leave. This last one is important, as you always want to have an empty slot if you're looking for new demons.
If you don't have that demon, are strong enough to control it, and have space, it will give you a condition to join. Initially, these are basic asks like a small amount of HP, MP, maybe a trivial item, or something equally pointless. Long term, they're generally large sums of cash. Once accepted, they will join your party and can be used.
Demon Fusion
Shortly into Soul Hackers 2, there will be a shop run by Victor called Cirque du Goumaden. Here you can buy, fuse and reclaim demons to make your journey easier.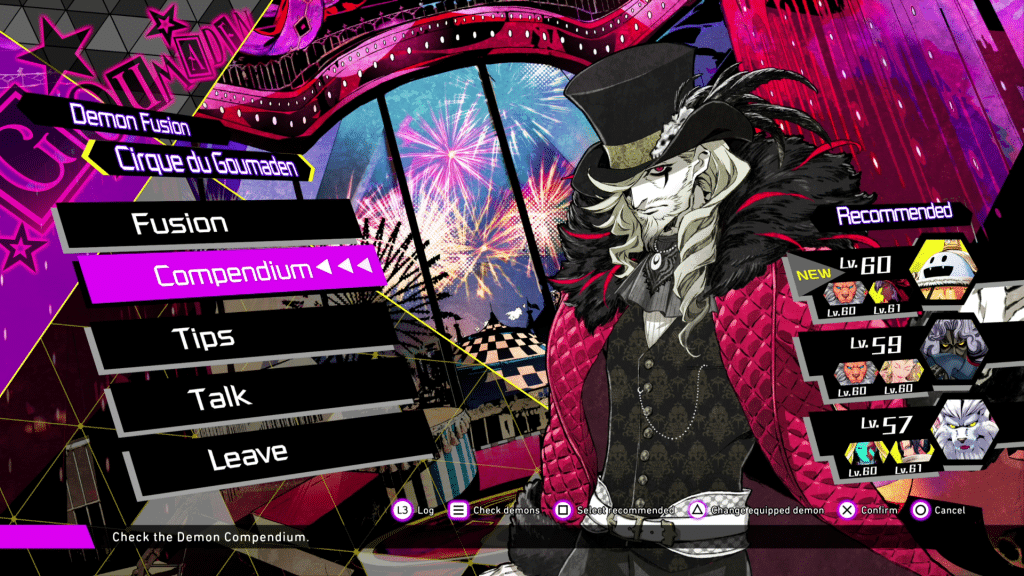 The first option, fusion, gives various ways to obtain different or more powerful demons. This starts with Normal Fusion, which looks at your available monsters and tells you which demons in your possession give another unit.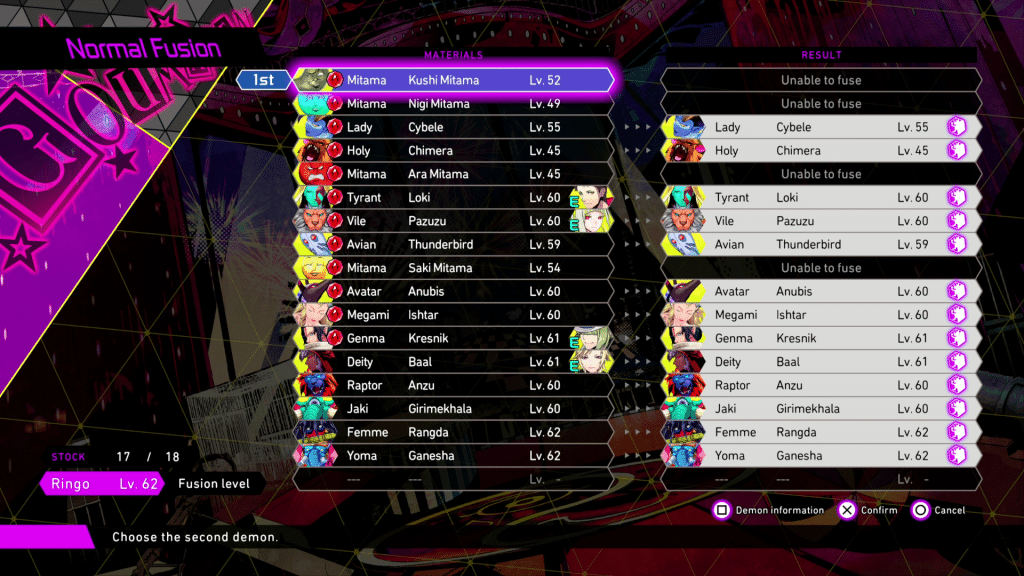 I'd generally ignore it unless you want to find a better unit that relates to a particular demon or enjoy free fusions (it doesn't cost money if you use two demons you have with you), and instead, use Search Fusion. Search does the same essential thing, except it shows every option you can currently make. The advantage here is that one combo might make a demon I now like, which in this case would be King Frost, and that would only appear under Baal or Pazuzu. The other, much more significant, benefit is being able to find new options.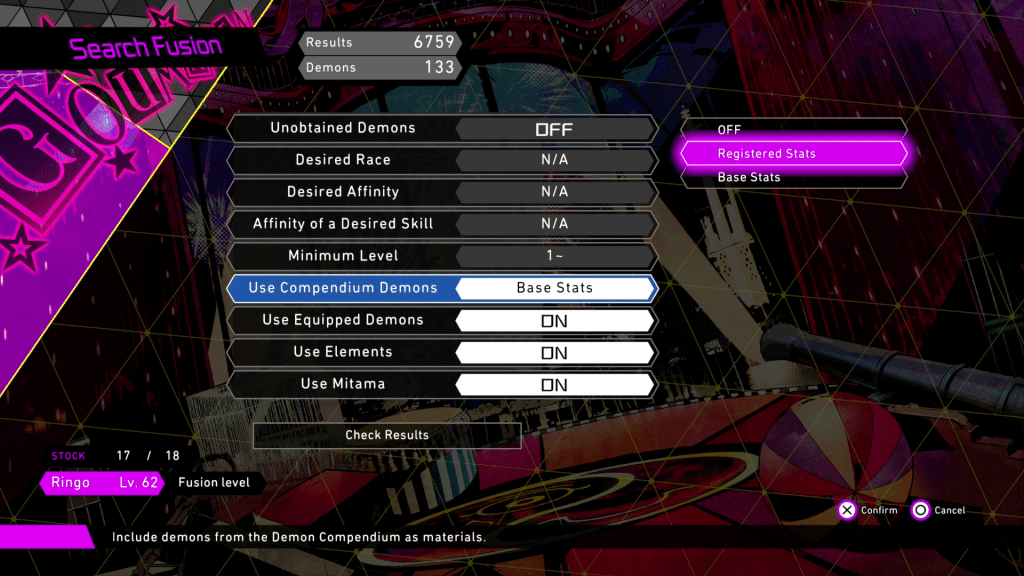 What I like is the ability to use compendium demons. This is another option that appears under, well, compendium, that shows every monster you've obtained. These can be freely purchased and added to your collection. In the case of search fusion, they can be used to combine and create demons you might not otherwise know exists.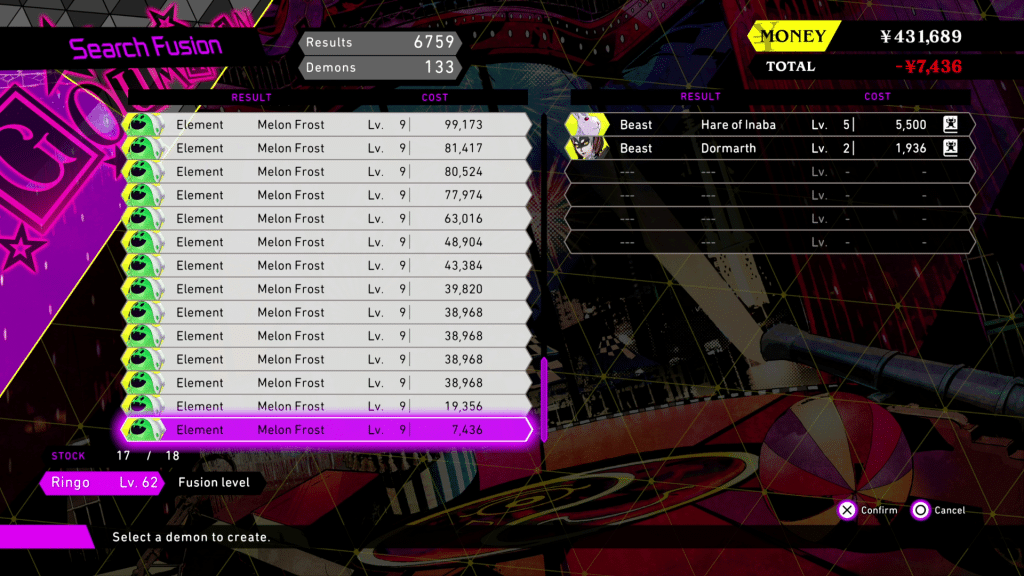 For example, Melon Frost is a level nine demon with only one combo in that range (Hare of Inaba/Dormarth) and only one slightly above it (Poltergeist/Mad Gasser). The rest are level 20+, so you might overpay or even know this demon exists outright. However, with a compendium, it will always show that it is a ¥7,436 demon instead of ¥100,000+.
Now, the big question is whether to use registered or base stats. For any demon you plan on using or like, I strongly suggest writing stats and trying to mitigate costs by using a demon with you. Like normal fusion, any demon with you does not have a cost associated with it, meaning a ¥700,000~ summon would drop down to a more reasonable ¥350,000~. For any demon you're just collecting, I use base stats and pick the cheapest option.
The difference between the two demons depends on a couple of factors. Any "base stat" version is the one you'd obtain through normal means, like the recruitment above. As for Registered, it will show one of two things. Either it will have the version you first obtained, thus initially registered (base will be base, and fusions will include all the initial skills it got), or a specific version you sacrifice to be registered. I fused a King Frost, accepting the first six skills offered so that you can see the difference in both skills and cost.
As for registering, it will make a copy of that specific version of the demon. This includes level, unlocked skills, and more. I had a Nigi Mitama with me for a while and used it for the example above. It gained 11 levels, all the skills, and more, but the cost skyrocketed. This is why it's a great feature, though one that can get extremely costly in seconds.
Finally, there is a category called Special Fusion. These are for demons that have a single combo, use multiple demons, and typically have an unlock requirement. It might be an optional boss or specific quest. They're some of the best demons and worth checking out.