Unlike the first boss in No More Heroes III, Gold Joe is more mechanic based than anything else. This isn't a fight that is hard, at least in the traditional sense, though it's incredibly easy to make a mistake. Travis explains the main mechanic, magnets, it's execution that makes it hard.
How to Defeat Gold Joe in No More Heroes III:
At the start of the fight, Gold Joe will do an attack that magnetizes you. If he doesn't, it will happen within a move or two. Whatever you get doesn't matter, but position does. Typically somewhere in each of the four corners is a red and blue square. You want to wait around these points and bring Gold Joe to you.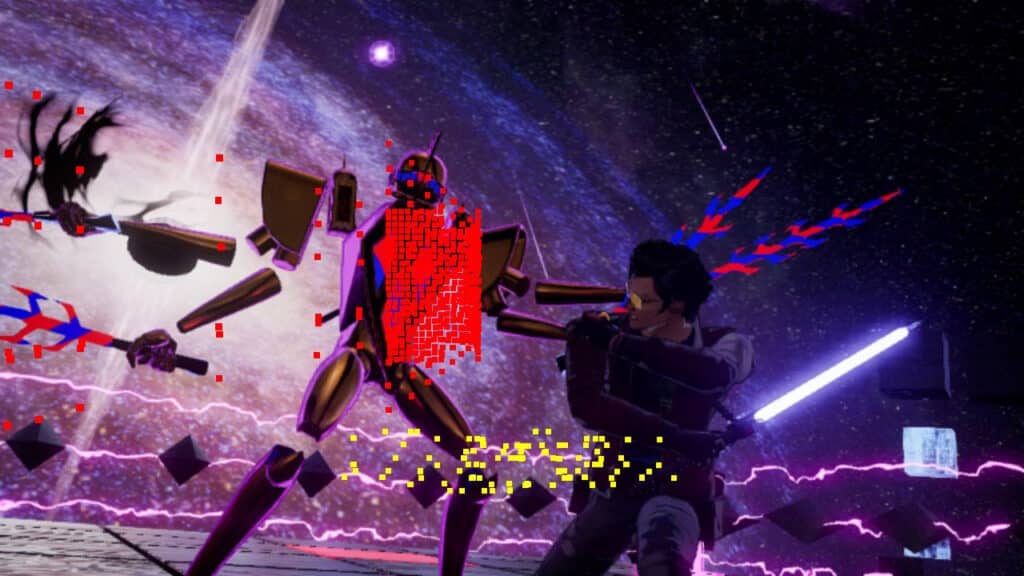 Now, Gold Joe doesn't have many attacks, so it comes down to one of two main tactics. You can either dodge his attacks and punish or wait for his magnetic moves. I suggest the latter, but the former works with enough skill.
The main part of any of these fights is going to be waiting for his colored attack. Eventually Gold Joe will use a move that utilizes the magnetic mechanics. At first he always pulls you towards him, so you need to quickly swap to the other color and push him into the fence. While he is down, punish him with a couple attacks and ideally a throw. When he gets to yellow health, he still pulls you towards him but this time he can run around. You want to do the same thing, except eventually he will be launched back. At red, he gains a third move that simply pushes you into the fence. Screwing this up will likely end in your death, so pay attention. He will also swap halfway through, so you might want to wait until the second move to start attacking. In either case, just stand so you can hit the other color before hitting the wall.