Bethesda is pleased to reveal The Elder Scrolls Online: High Isle today, the latest chapter in the award-winning MMO for PS4, PS5, Xbox One, Xbox Series, PC, and Stadia.
High Isle is the latest chapter for The Elder Scrolls Online that features a unique story covering never-before-seen locations, new mysterious threats, and more. The latest chapter will be released on June 6, for PC/Mac and Stadia, whereas consoles will get it on June 21st. Before the release of the much-awaited expansion, there will be DLCs that will be released, titled Ascending Tide DLC. As with all previous expansion, the upcoming DLC will transition players to the upcoming High Isle chapter this June. The Ascending Tide DLC will be released on March 14 for PC/Mac and Stadia, and March 29 for consoles.
Here's some of the features of The Elder Scrolls Online: High Isle:
High Isle provides a host of brand-new adventures and features for you to experience, including:
A new zone that showcases the islands of High Isle and Amenos
A complex main storyline of politics, honor, and intrigue that ties into the Legacy of the Bretons year-long saga
A new system called Tales of Tribute, an in-game collectible card game
A new 12-player Trial named Dreadsail Reef
Two new Companions, Ember and Isobel, who can join your adventures
New World Events called Fissures
New Delves, Public Dungeons, World Bosses, and a host of unique stand-alone quests
Updates and quality of life improvements
Additionally, can pre-purchase The Elder Scrolls Online: High Isle right now to receive unique pre-purchase items AND get immediate access to the Palefrost Elk mount and Palefrost Elk Fawn pet. Note that the pet is available only as a pre-purchase reward from now until April 4—don't miss out!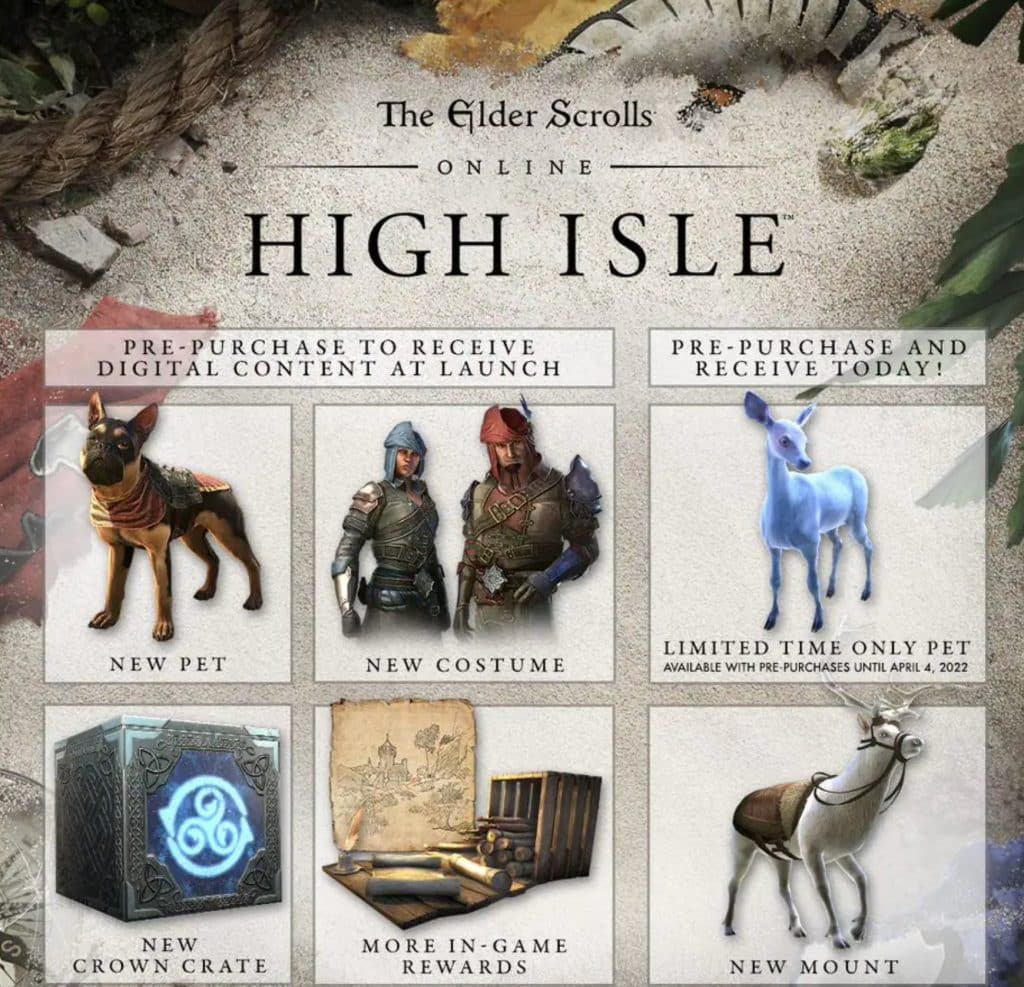 In addition to the Palefrost mount and pet, you will also receive the following pre-order rewards at launch:
Abecean Privateer's Apparel costume
Knights of the Flame Pup pet
1× Dark Chivalry Crate
3× High Isle Treasure Maps
2× Experience Scrolls, granting double XP
Check out below the cinematic trailer for High Isle: