Sony surprised everyone by announcing their plans to purchase Bungie, best known for Halo and Destiny, for an impressive $3.6 billion today.
With concerns of gaming moving to a more exclusive model, Sony started the reveal by expressing their stance on the potential issue:
First off, I want to be very clear to the community that Bungie will remain an independent and multi-platform studio and publisher. As such, we believe it makes sense for it to sit alongside the PlayStation Studios organization, and we are incredibly excited about the opportunities for synergies and collaboration between these two world-class groups. I have spent a lot of time with Pete Parsons, Jason Jones, and the Bungie management team to develop the right relationships where they will be fully backed and supported by Sony Interactive Entertainment and enabled to do what they do best — build incredible worlds that captivate millions of people.

PlayStation Blog
With this being a massive concern for Bungie as well, they offered a similar comment on the matter:
We remain in charge of our destiny. We will continue to independently publish and creatively develop our games. We will continue to drive one, unified Bungie community. Our games will continue to be where our community is, wherever they choose to play.​

Bungie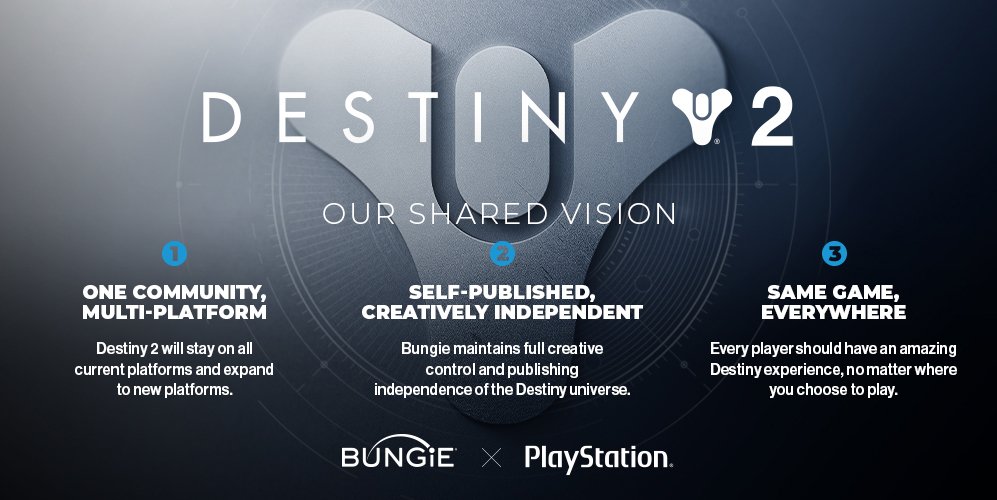 Bungie furthered this by posting their shared vision of Destiny, which makes some things clear about the franchises future:
Q. As a Destiny 2 player, does Bungie becoming part of PlayStation have any immediate impact on how I play and experience Destiny 2? ​No. Our commitment to Destiny 2 as a multi-platform game with full Cross Play remains unchanged.   ​We want you to play The Witch Queen on February 22, 2022, on the platform of YOUR choice. ​

Q. Will any announced seasons, events, packs, or expansions be changed or impacted by Bungie becoming part of PlayStation? ​No. Bungie retains full creative independence for our games and our community. Our plans for the Light and Dark Saga are unchanged, all the way through The Final Shape in 2024. ​

Q. Bungie has future games in development, will they now become PlayStation exclusives? ​No. We want the worlds we are creating to extend to anywhere people play games. We will continue to be self-published, creatively independent, and we will continue to drive one, unified Bungie community. ​

Bungie
With Bungie looking to pursue their vision and Destiny to remain multi-platform, it will be interesting to see what comes from this acquisition.