PlayStation's 2018 hit, God of War, is coming to PC next year. It's an exciting move by Sony as they continue to bring some of their most prominent first party titles to the PC platform. God of War is already a graphically stunning game, even running off 2013 hardware. Now it's going to get much more room to breathe on PC, but your configuration needs to be up to the task for those higher resolutions and framerates.
In order to prepare your rig for the best possible experience, Sony has revealed the system requirements for God of War's PC debut. Given the game's inclusion of DLSS and Nvidia Reflex, the developer seems to have aligned more with Team Green. And that's apparent in the specs below, which only show Nvidia GPUs. AMD owners will need to hazard a guess to figure out the equivalent Red Team GPU, assuming no glaring issues with performance on that particular hardware.
With that in mind, read on to see which category — Minimum, Recommended, High, Performance, and Ultra — your setup falls in.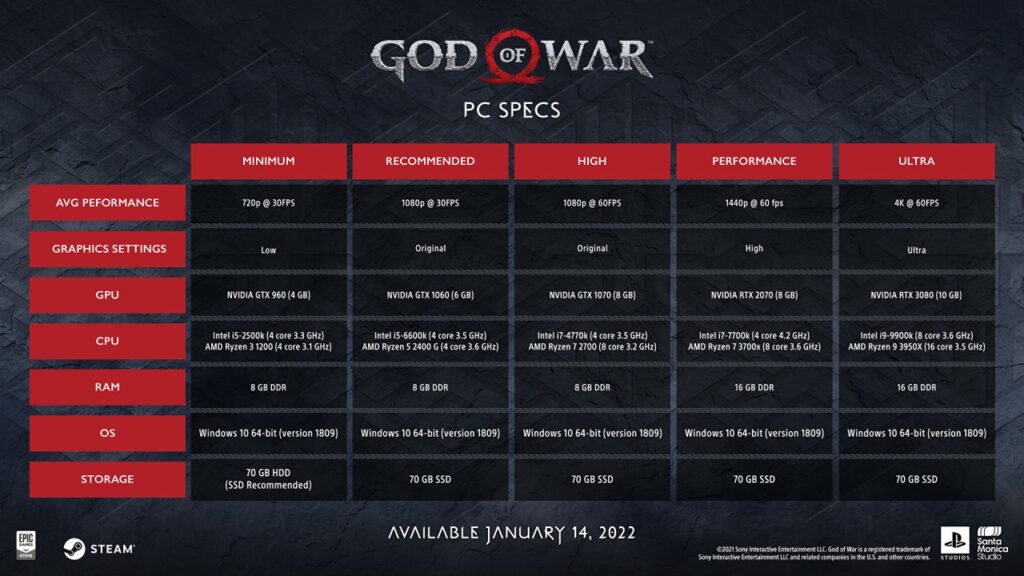 God of War will release on PC (via Steam and Epic Games Store) on January 14, 2022.