Around the time COVID-19 was starting up, I came into possession of a couple of items in the now discontinued Speck Travel line (one of the suitcases, Business and Travel Backpack). While not quite on par with my Nomatic bags, I was surprised by Speck's approach. There were passively mentioned features like the Travel Backpack had three additional packing cubes, a lot of thought and function that went into these products. When I saw their latest version, Transfer Pro 30L was up, I was excited to see what the bag had to offer. Now that I've gotten the bag in person, does it provide the same value as the previous bags, or has Speck lost its way?
As you might've guessed, there is no packaging for Transfer Pro 30L, just a plastic bag covering it and the smallest box they could fold it into. This doesn't really stand out, though it will take some time before it's in its proper form, the design certainly stands out next to the product image.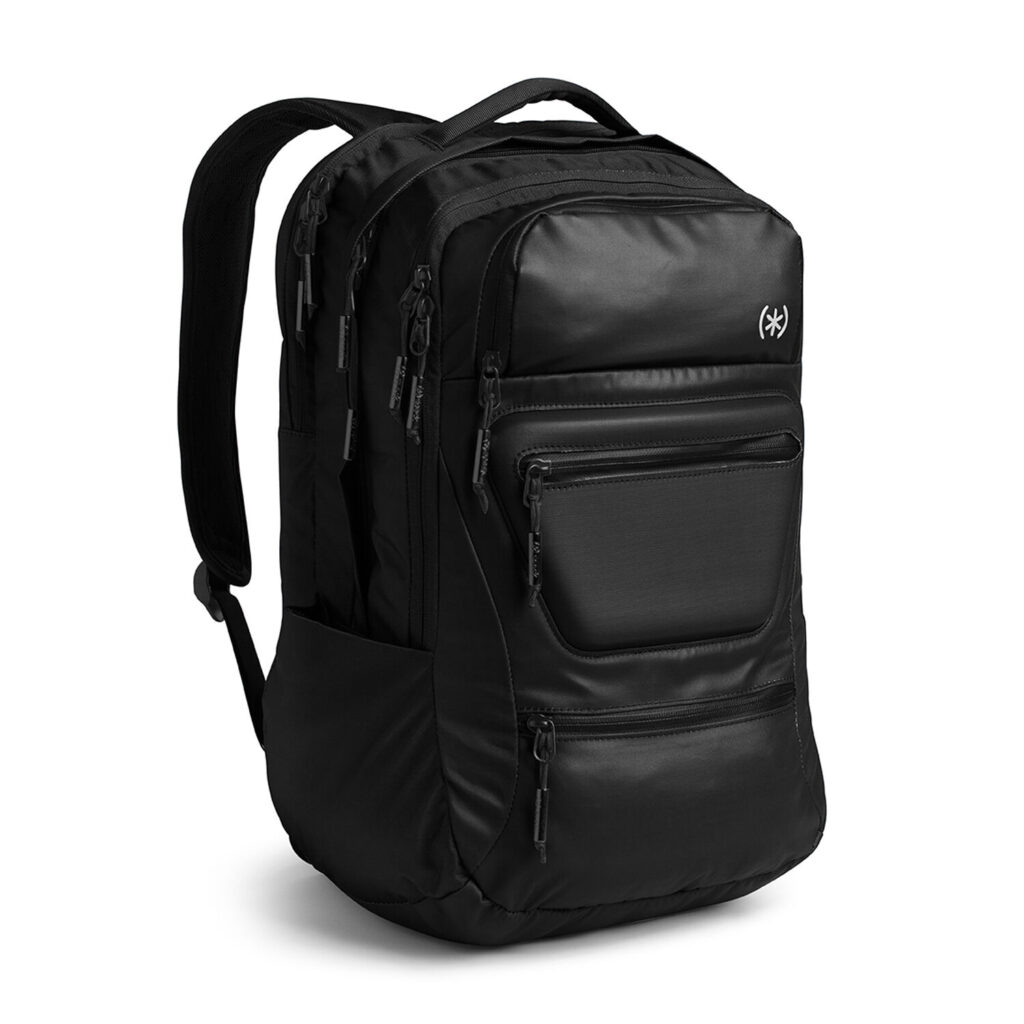 This image appears both on the website and tagged on the actual product. What stood out is the prototype does not match the actual bag in question. Where the image shows three back zippers, the product I received doesn't have a middle zipper, making it look like the Transfer Pro 26L with the same front portion shown here. Upon checking other reviews on this bag, it seems that the shown picture is simply out of date. Not exactly a deal-breaker, as the middle zipper is not explained on the website and likely was intended as an extender. This is something certain bags, like the aforementioned Nomatic, have that increase or decrease space as needed. Instead of having some slack, there is a zipper that holds the extra space close or can be unzipped to increase the size as needed. Instead, I think later designs of the bag were designed with a folded bottom that extends outward giving, but it does stand out.
That aside, the front is an odd collection of compartments. The top one has a fleece lining, the middle one has a finer, softer fabric with an EVA foam outer shell, with the bottom being nothing special. These can be used to hold items you want, like the top on has a clip perfect for keys, but the placement and size leave a bit to be desired. My iPhone 12 in a case barely fits in the middle compartment. I don't think an iPhone 13 Pro or anything larger actually will, making it somewhat impractical. The positioning also isn't that great on either bag, as I prefer having my phone on top.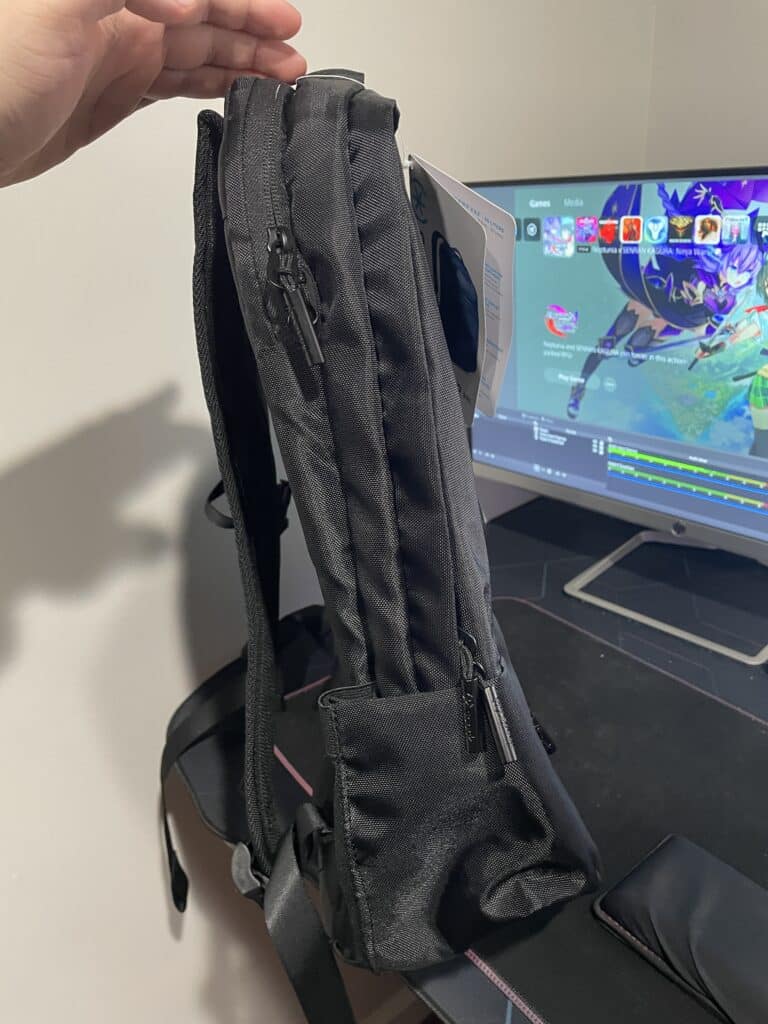 Notice the Distinct Lack of a Third Zipper?
Inside is equally underwhelming. The first compartment is quite spacious with a decent size opening to put things in or pull out, though there is a distinct lack of compartments. With space for two pens, a mesh pocket for something, and another pocket for a journal, there isn't much space for organization.
The other pocket, which the bottom picture shows how small the opening is, has two padded pockets. One is intended for a laptop and the other a tablet. Thankfully, the tablet pocket allows for my Surface Pro 7, allowing me to put my INNOCN portable monitor in the laptop pocket.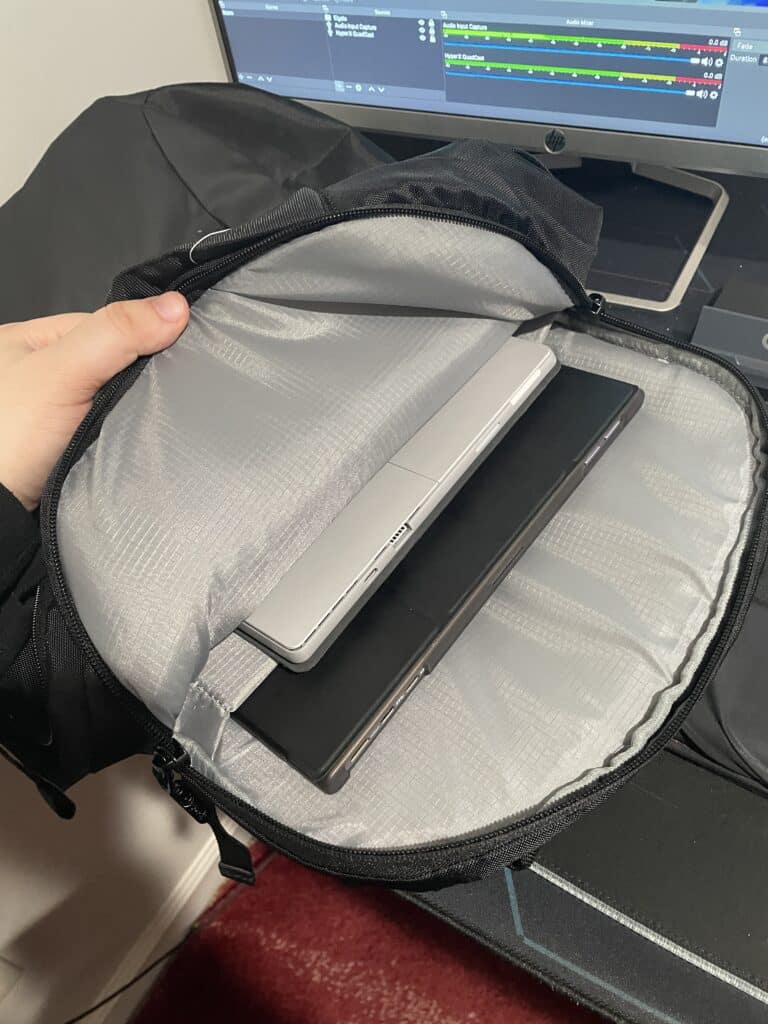 It's Enough to Get In, But Not Much to Work With
On the back, there is some light padding, two straps with reflective materials to make you more noticeable at night, and a water bottle pocket on each side. Where Transfer Pro 30L falls short isn't just form and function, it's honestly how much nicer the old Speck Travel bags were.
When the Business Backpack launched back in 2019 it was the same price as Transfer Pro 30L, which makes the differences between the two products so hard to believe. For example, look at the difference for the internal compartment. With Transfer Pro 30L, I cap off holding two pens, a power bank, and a journal. With the Travel Backpack, I can store the same two pens, notebook, and power bank, with another pocket to hold business cards, a docking station, truly wireless headphones, another two notebooks, and a screwdriver set. I could also easily continue to store things and build them out if I absolutely wanted to. And, best of all, if you notice the wire near the portable charger, it's for a built-in USB port, so you can connect it to a power bank and use it without opening the bag or having a wire come out of the bag.
So Much More Organized on the Old Version
Similar things can be said about the laptop compartment too. Here you can see it's a full opening, designed to be TSA checkpoint-friendly, holding the same devices. Super easy to get to, my laptop or monitor are completely secure and extremely easy to access, remove or change if need be.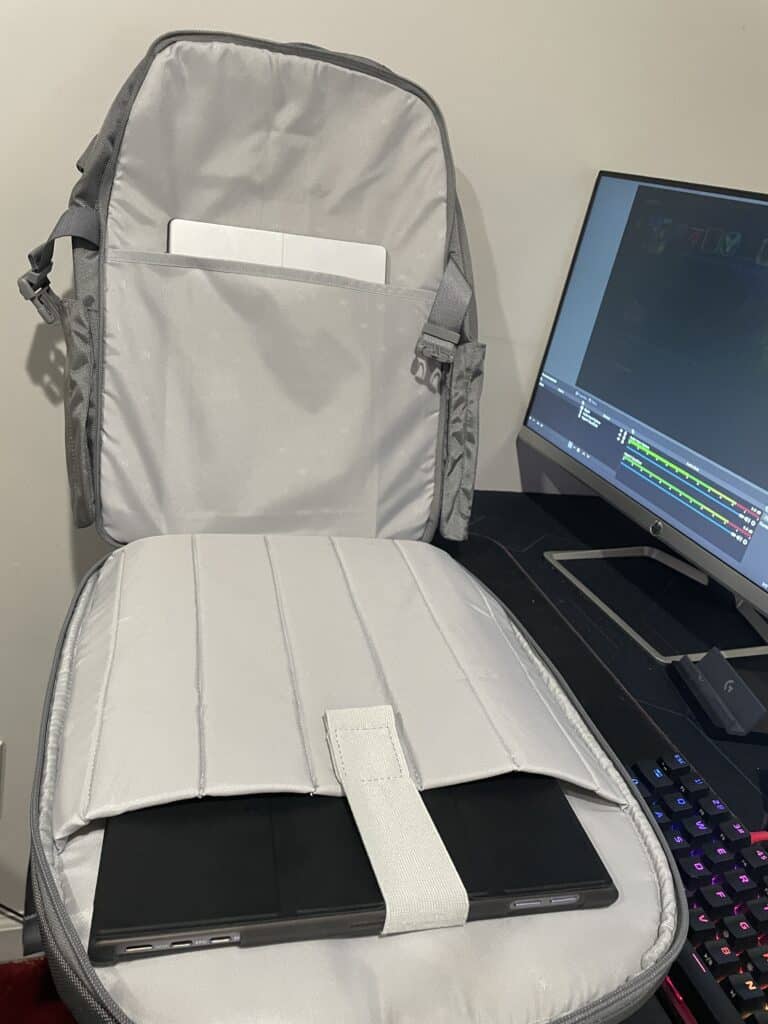 Even outside of the bag had so much more thought and effort goes into it. Each of the water bottle holders was better covered and have a magnet that holds them firmly in place when not in use. A reflective strip of the front and back to increase external awareness. Hidden pocket that faces your back for cash, credit cards, and other valuables. There is even an opening that allows it to slide onto a suitcase handle with ease. The only thing it actually loses out on is storage, as it's rated as containing 1.4L less, which is honestly nothing.
Speck Transfer Pro 30L Backpack Review Verdict
Transfer Pro 30L is in a weird place. The lower tier Transfer Pro 26L Backpack is essentially the same bag with slightly less storage, one less front pocket, and possibly a slightly different, though equally underwhelming, area for the organization for $20 less. Likewise, their previous Business Backpack was a substantially better product at the same price point as this bag. It feels like such a step back, in design, functionality, features, usability, and even look that it's hard to believe the same company released both in the span of three years. That isn't to say the Transfer Pro 30L is a bad product, it just misses the mark in practically every category.
[Editor's Note: Speck Transfer Pro 30L Backpack was not provided for review purposes.]