Watch Dogs: Legion caught the eyes of press and players alike when it first revealed its ambitious systems allowing the recruitment and subsequent controlling of virtually every NPC in futuristic London. Being able to play as anyone strolling down the dense, open-world streets sure sounded like a next-gen feature worth experiencing. However, upon launch, Watch Dogs: Legion found itself with a mixed reception. One reason for the varied response was due to the very feature that had piqued so much interest in the lead-up to release.
While the prospect of building out a DeadSec army with hand-picked members has its allure, we were ultimately left with a game lacking strong lead characters. The vast selection of digital citizens quickly lost their individuality as hours passed, becoming desired for little beyond their associated perks and load-outs. Chasing the preferred combination of skills and gear became the name of the game, which meant spending time with less-than-exciting characters to grind out districts in search of those prized professionals. And for those interested in aesthetics as well, finding an enjoyable appearance alongside the aforementioned skill and gear components was even more challenging — this hassle was lessened by an update allowing further customization of each character.
What it boiled down to is, Watch Dogs: Legion had interesting ideas but dull characters. Watch Dogs: Legion – Bloodline, the major story expansion, remedies the issues listed above and provides an experience more in line with previous installments of the series. The expansion stars previous Watch Dogs lead, Aiden Pearce, and memorable Watch Dogs 2 companion, Wrench. Although many of the core game's mechanics are still in place, the shift to zoning in on developed, set characters through a new narrative managed to be infinitely more engaging than the standard Legion fare.
Taking two prior characters from the Watch Dogs universe and allowing their stories to organically intersect in a meaningful way leads to a more appealing journey than taking on Albion as randomized NPC #284. Aiden may not be the most fleshed-out character we have ever seen as a protagonist, but Bloodline provides the former main character extra depth, bringing his story full circle. Wrench, on the other hand, is an anarchistic hacktivist with a personality not dissimilar to the beloved Merc with a Mouth. Aiden's dry, serious delivery is complimented well by Wrench's bubbly demeanor. The interactions between the two are handled well, more so than the random NPCs delivering throwaway lines to quest-givers at the pub.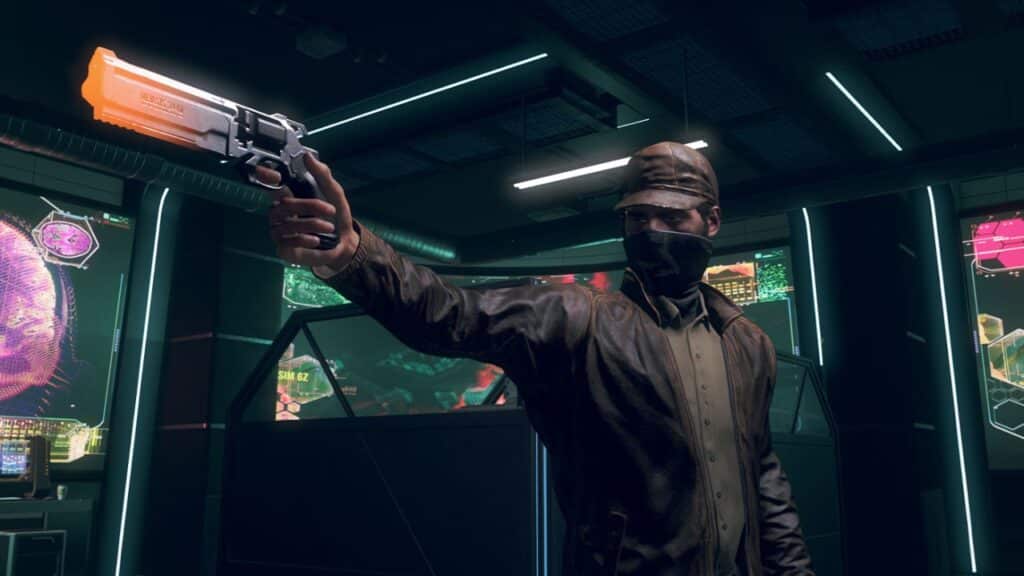 Additionally, the skillsets and gear associated with each character are more exciting than the general setup found tied to the DeadSec recruits strolling the London sidewalks. Aiden sports a fun combination of lethal and non-lethal weaponry, an active reload buff, and an overpowered System Crash skill. Alternatively, Wrench has a custom cargo drone named Sergei that can spew hacking grenades, the Lady Smash hammer (which also has an AoE hacking ability), and a veritable spread of non-lethal weapons.
Both characters can be made to be even more broken through the completion of side quests, which appear as Resistance and Fixer missions depending on the controlled character. Completion of these optional objectives will award character upgrades, opening up additional ways to take down the opposition. For example, Aiden can unlock the ability to hack riot drones by doing missions for Angel. Clearing out all side missions makes the already formidable Aiden and Wrench characters even more skillful. The routes available for character enhancement are a notable improvement over the static selections contained within the core game.
Perhaps being broken in terms of power is what makes Aiden and Wrench so fun. To a degree, players aren't forced to pick between styles of play among the sea of randomized inhabitants. Aiden and Wrench can satisfy a wide range of playstyles given the diversity of their unlockable upgrades. For instance, Aiden can ruthlessly eliminate enemies with his starting revolver or take a less bloody approach with a dart gun.
The styles of these two iconic Watch Dogs characters transition to the main game with just as much impact. Taking either one into the single-player campaign or cooperative missions offered a welcome boost to the experience, thanks to the viability and potency of each character's loadout. Also, playing the original campaign with Aiden and Wrench includes added dialogue, which was a pleasant surprise.
If it hasn't been made clear yet, the fact is that Bloodline elevates Watch Dogs: Legion above its middling state. It's a return to form for the series without completely undoing the improved mechanics in the latest iterations. If Legion has failed to truly enrapture you due to its lackluster cast, Bloodline may be just what you need to revitalize the game and experience it with new eyes.